Contributor:
Chumaporn "Waaddao" Tangkliang, TEA Thai Group and 1448 for ALL
---
Chumaporn "Waaddao" Tangkliang is working for TEA Thai Group and 1448 For All. She is also a spokesperson for Samanchon Party. Her gender at birth is female. However, she identifies herself as a woman who loves people of any gender, whether female, male, gay/lesbian or transgender.

Nowadays, LGBTQI couples are also part of our society and thus laws and policies should also be supportive of our modern society. Waaddao has been directly working with NGOs on these issues for the past 8 years, and has been advocating for same-sex marriage in Thailand for over ten years.

In 2012, before the government got involved, an NGO called For SOGI together with social media groups held a public hearing in Chiang Mai, Phuket, Phang Nga, Bangkok, and Nakhon Ratchasima. Waaddao also assisted in collecting information from surveys from lesbian groups, which then was developed as a research piece. Khun Natee Teerarojjanapongs, a social activist who specialises in working on LGBTQI movement, took legal action with the Administration Court of Thailand due to the refusal of registration of same-sex marriage. The Administration Court of Thailand, the Right and Liberties Protection Department and the National Human Rights Commission were the responsible units for this issue.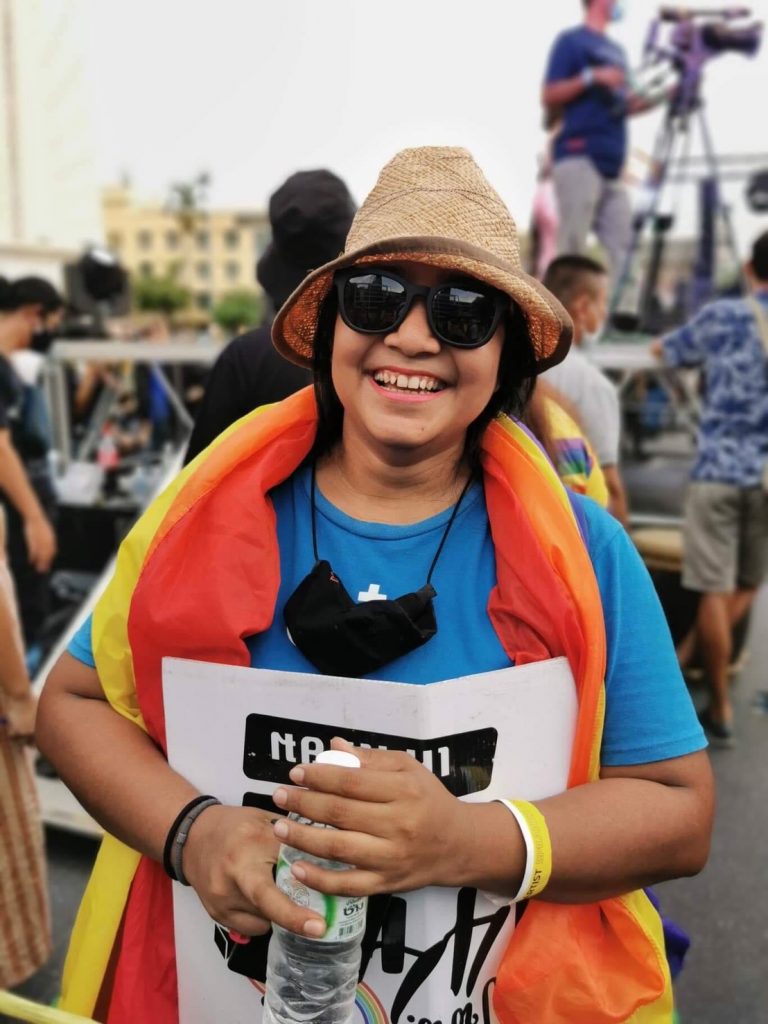 Moreover, we had a conversation with Khun Wirat Kanyasiri, a member of parliament, in order to support the legalization of same-sex marriage. Due to the coup d'état at that time, the issue was then postponed. There are many people who were in this working group, such as officers from the National Human Rights Commission, including Khun Ice who has passed away but should always be remembered for playing a significant role in this issue for the Law Reform Commission of Thailand and for the parliament. The working group also did research on legal processes in countries where same-sex marriage is legalized. Waaddao noted that the Marriage Law in Thailand has some limitations, such as the Civil Law.
As a consequence, the idea of a Civil Partnership Bill—which existed in a public version —centered around the idea of non-discrimination among genders, meaning male and female as well as heterosexuals are applicable to this bill.
Now we realized that we should amend the Civil Code as our core value in or work says that LGBTQI people are not different from cisgender people. Initially we, as a working group, feel isolated because we cannot see anyone to help and support us. During the first steps of civil law amendment support, we feel more confident to tell and share it to the people and the press. We extended the network and invited many activists to form the study group in order to disseminate a good understanding on the differences between the Civil Partnership Bill and the same-sex marriage law, because we can't do it alone. At that time only a few people joined us. Moreover, we attempted to gather new knowledge, such as community and civil awareness. We've been working on these issues and we also planned to disseminate this to the public.

Regarding the marriage law in Thailand, this involves not only amending Section 1448, but also the other sections or laws. So, to communicate with the general public we use the term 'equal marriage'. The draft was submitted to the parliament on June 18, 2020 and the parliament received it, signed by more than 20 members of parliament. There is a public hearing channel on the website due to the current situation of COVID-19, which doesn't allow gathering in public places. There are approximately six thousand people who gave their opinion on the website.
However, for civil society, there are also two main opinions. As we live in a democratic society, we have to embrace different opinions from various parts, and not only from civil society, but also among working groups on marriage equality. For the people who support the Civil Partnership Bill, they still need to amend the Section 1448 of the Civil and Commercial Law for marriage equality. So, we should not judge the people who agree or disagree, nor label people who think differently. Waaddao also addresses that her core value is to support equality.
One of the big challenges relates to how to communicate with the general public to point out the importance of equality in our society. Let's say, if same-sex marriage was legal twenty years ago, a lesbian woman would not suffer from hiding her sexual orientation. The communication strategy of marriage equality should not only focus on direct benefits, but also on indirect benefits to change people's perspective in our society on how to protect the LGBTQI people of the next generation, in order for them to not hide their identity. 
On the media front, we can see now that the trend of the Civil Partnership Bill is present, besides the trend of homoeroticism in TV series or in hashtags (#) on Twitter. We also invited a social media influencer to talk and promote our group. We interviewed Khun Anna Tvpool (a famous transgender YouTuber) and other social media influencers. In fact, we would like to invite APCOM. So, please feel free to recommend us to interview someone, to cooperate with any organization or to do media reports. This also includes strategic planning as we have now a strong network and team. Perhaps, we can meet and work together.
Speaking of the Civil Partnership Bill and marriage equality law, there are three patterns to support the family forming by law. The first is marriage, which is now applicable in Thailand. The second is Civil Partnership, which is applicable in many countries, except for Thailand. And the third is by Court. Now there are two cases in Thailand, which is the amendment of Section 1448 of the Civil and Commercial Law; and the Civil Partnership Bill.
The main point of the amendment of Section 1448 refers to marriage equality, the term 'male' and 'female' shall be changed to 'a person'. So, it will be applicable for everyone. Regarding the age of consent, this will be changed to the age of 18. For the Civil Partnership Bill, if you are a homosexual couple, you will be applicable if the state approves. However, applying for surrogacy is not applicable to this bill. Let's say, if a homosexual couple decides to have a child and go to the sperm bank, they will not get approval. So, this is a discrimination. Moreover, for couples of whom one of the partners is a civil officer, they will not be eligible to get any benefits from the partner who works as civil officer or state enterprise officer.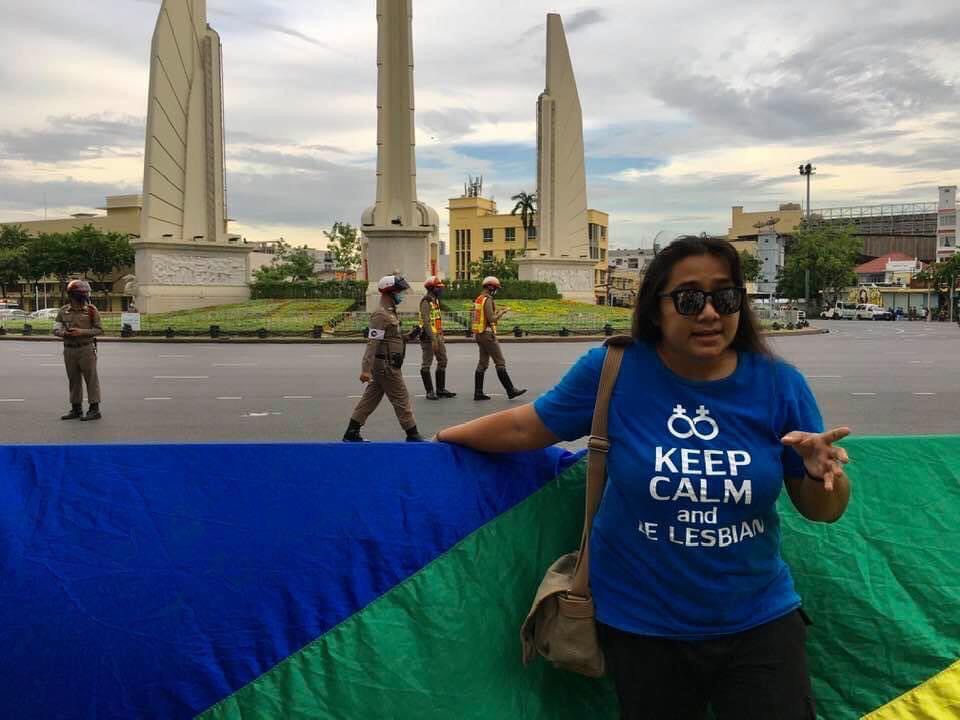 Moreover, if the bill is approved, how can we make sure if it will be applicable throughout the bill, because some cases can only be "judged case by case". So, this is a big issue for us and it can be viewed as treating us as second-class citizens which is unequal.
Regarding the disagreement on this law amendment, Waaddao says that we should hear from many people, as various organizations or sectors have different strategic plans to work on issues regarding their core value and identity to make clear objectives.
However, Waaddao wants the civil society sector to be united in coordinating meetings and discussions to advance the issues, and does not expect a paid salary but support for travel would be appreciated. "It would be so kind if APCOM would call for the donors to support our activities on gathering ten thousand names for drafting the bill, as a way to communicate to the general public about marriage equality. So, it would be a pleasure to work together," Waaddao says. "Now we have regular live feeds on the "1448 For All"  Facebook page. Please, visit us!"
---
Share this