Featured image: APCOM and SWING staff distributing food packages in August 2020
"We need a community-led and community-owned funding mechanism for communities working on LGBTQI and HIV issues in Asia Pacific, and Covid-19 really amplified the need for such mechanism for emergencies like Covid-19 but also to ensure the resilience and sustainability of activists and organizations to continue to do their important work in the region,"

Midnight, Executive Director APCOM
2021 looks like it'll be a continuation of 2020 due to surges of Covid-19 cases around the world, though there's hope of the vaccines which we hope will be equitably distributed globally.
From March 2020 until now many countries still impose strict Covid-19 measures, and these effects are still being felt through every person in the society but some might have felt more than other especially the LGBTQI and HIV community that have lesser social security net than the general members of the society. Without a doubt, the COVID-19 pandemic has generated an environment of fear, anxiety and uncertainty. It is best to address these situations with love, kindness and compassion. In these times where most of us as human beings are vulnerable, it is empowering to respond with actions that strengthen our connections, create sense of belonging and acceptance, and develop protection within the community. "Leave no one behind", as most of us are reminded of every time.
"…, we really appreciate the efforts of APCOM in taking this initiative. Once the pandemic recedes, it is imperative that the ethos of mutual caring and support becomes a permanent feature in public life relevant for all times."

Gopi Shankar Madurai, Shrishti Madurai, India
"APCOM has always done a lot when it comes to capacity building and community empowerment. Now on behalf of the whole staff of Dareecha and the community, I really wanted to say that whatever the amount is, whether it is one Rupee or any, if the community organisation is feeling the pain for the community, then we really mean it when we say Thank you!"

Muhammad Usman, Dareecha Male Health Society, Pakistan
"The community has been the foundation for all effective responses to health pandemics, from HIV and until COVID-19. We send our warmest thanks to those who have contributed to the #coronaAPCOMpassion fund. These acts of solidarity throughout the region show that our communities are larger, stronger and more interdependent than ever."

Yayasan Gaya Dewata, Bali, Indonesia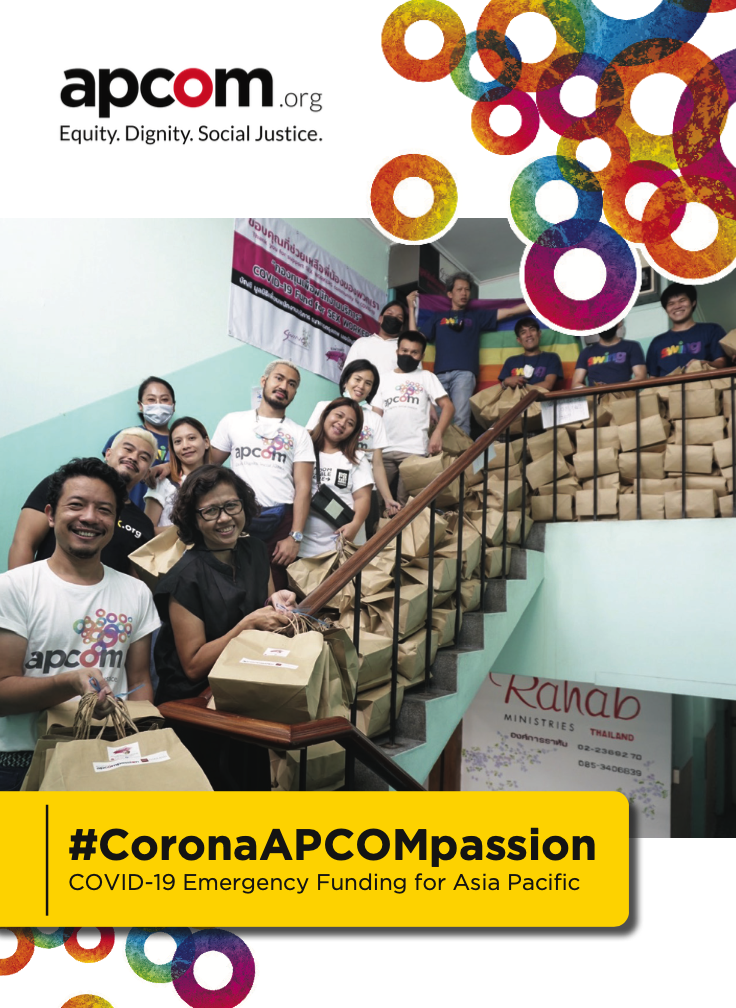 ---
---
Organisations supported by #CoronaAPCOMpassion
Bangkok Rainbow, Thailand
Be Visible Asia, Thailand
Dareecha Male Health Society, Pakistan
Gaya Dewata, Indonesia
Haus of Khameleon, Fiji
HON House, Thailand
Jaringa Indonesia Positif, Indonesia
M-Coalition, Lebanon
Payoon Sri Trang, Thailand
Pink Monkey, Thailand
Sai Roong Ratchaburi, Thailand
Sangsan Anakhot Yawachon, Thailand
Srishti Madurai, India
Suara Kita, Indonesia
SWING, Thailand
Young Pride Club, Thailand
Thank you very much for the following individuals for your kind contributions to

#CoronaAPCOMpassion

:
Anan Boonsri
Eamonn Murphy
Chatsuda Hanbang
Dennis Altman
Geoff Manthey
Inad Q. Rendon
Mei Vandenberghe
Mel Heifetz
Midnight Poonkasetwattana
Nicky Suwandi
Phongnarin Sukcham
Pokponk Jitjaiyai
Ramil Andag
Roy Wadia
Selvan Punidha
Thisanut Keawnukul
Tony Kahane
Vaness S. Kongsakul
Waree Rungruengrassamee
Wattana Keiangpa
Thank you to the following supporters of

#CoronaAPCOMpassion
---
To contribute to #CoronaAPCOMpassion
Via PAYPAL:
If you already have a PayPal account, please log in to your account and click send payment to [email protected]
In the "Note" section, please give us your Full Name(s) & Email Address and please indicate that it is for "CoronaAPCOMpassion".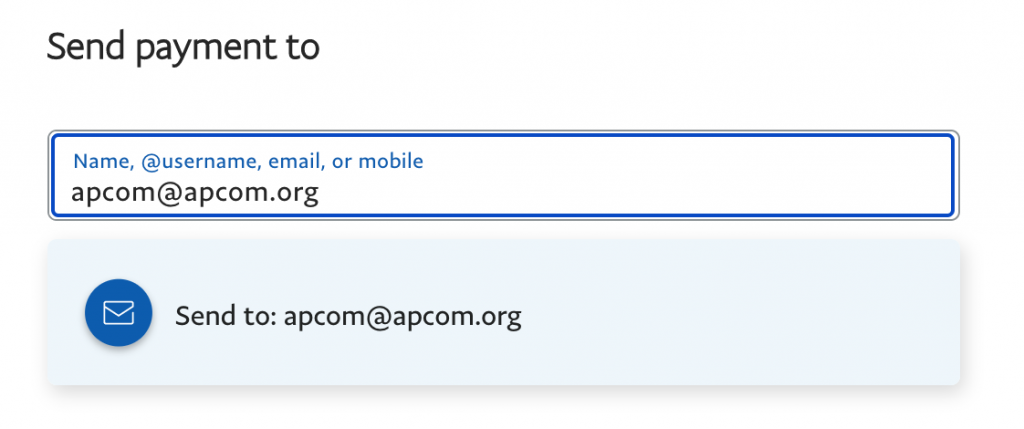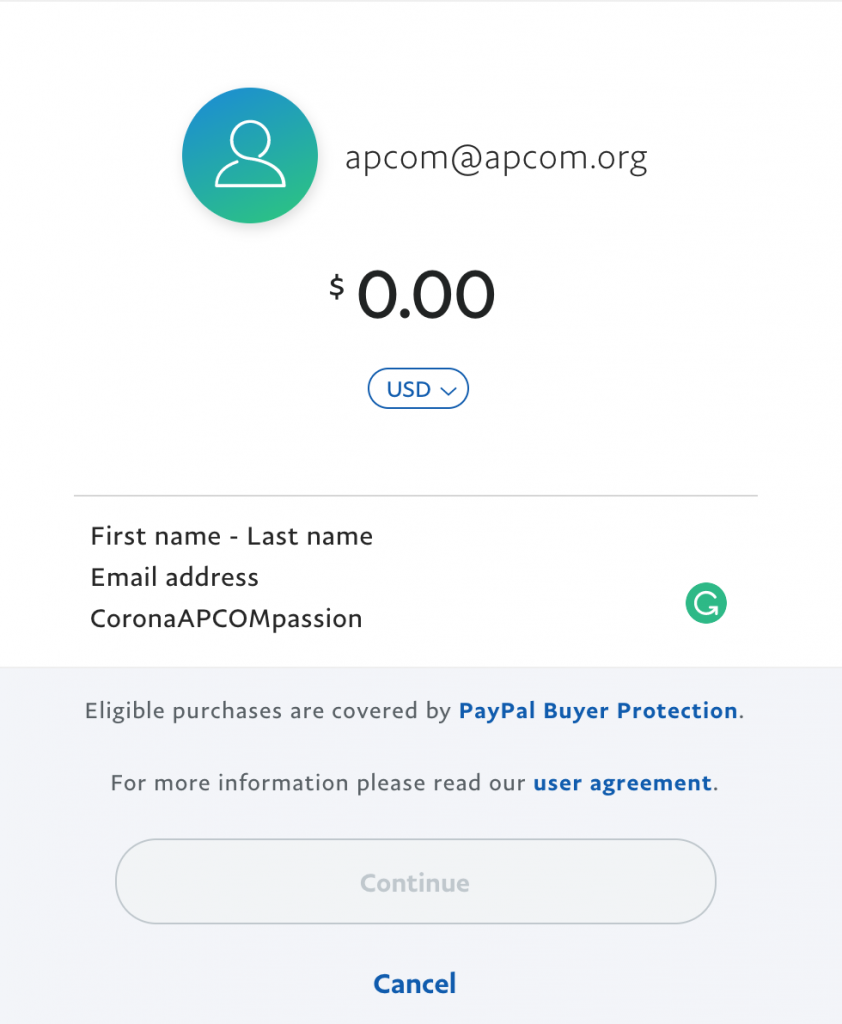 Or via bank transfer to:
Account name:
APCOM Foundation
Bank:
Bangkok Bank
Bank address:
87/2 No. 114, 1st Floor, All Seasons Place Retail Center, Wireless Road, Lumpini, Pathumwan Bangkok 10330, Thailand
Account number:
911-0115-33-5
SWIFT Code:
BKKBTHBK
---
Share this