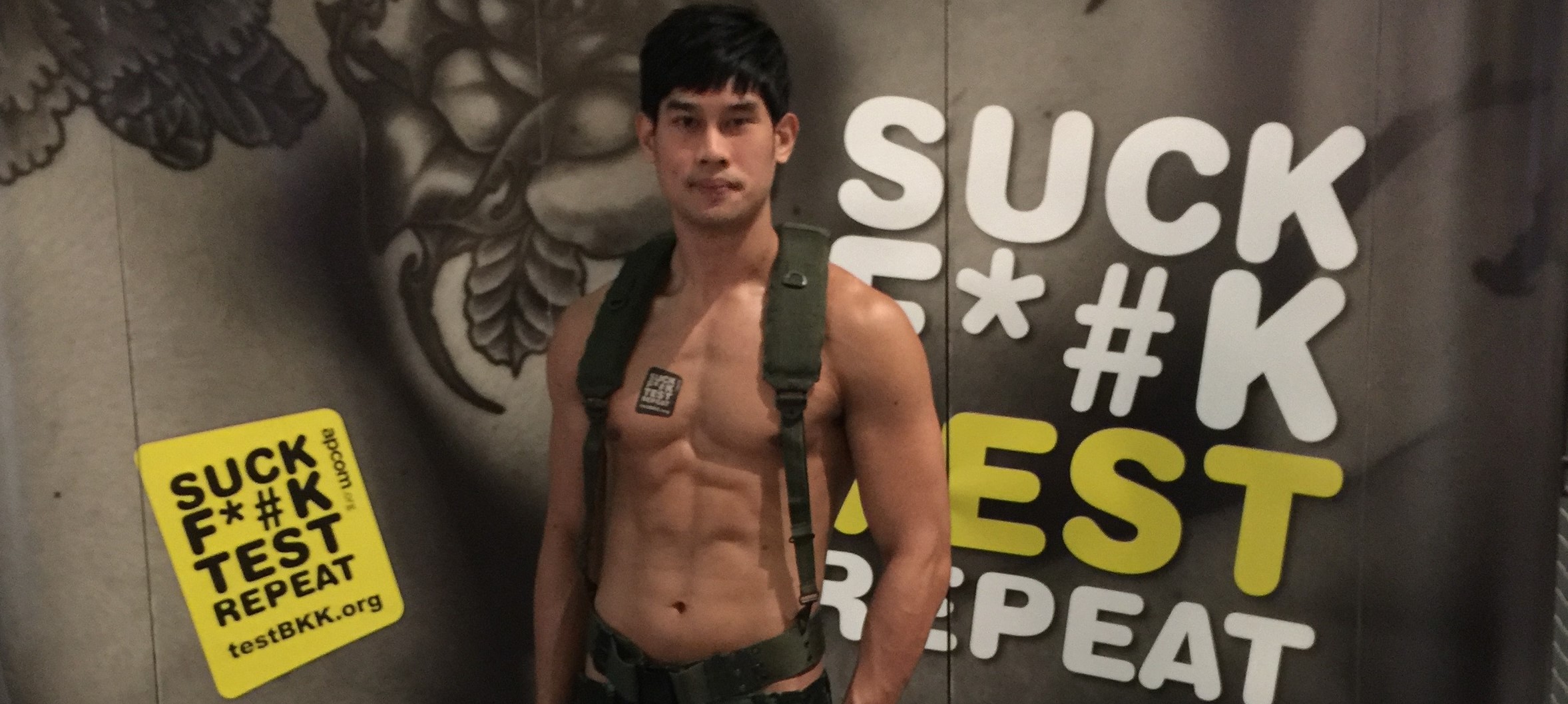 Over the 2016 New Year weekend, TestBKK collaborated with two Asia's largest gay New Year parties, Sundance Asia NYE Party (Dec 31) and White Party Bangkok (Dec 31, 2015 – Jan 2, 2016) that took place in Bangkok. TestBKK's presence ensured that the 7,000 (yes, seven thousand!) gay men from all over the globe who attended these parties were ushered by key HIV knowledge and preventive kits while they were dancing the night away under the strobe light.
The list below will tell you how TestBKK campaign creatively reminded the partygoers to Suck. F*#k. Test. Repeat
1| TestBKK knew how to steal the spotlight.
"But first, lemme take a selfie" was heard zillion times around TestBKK booth. Everyone wanted to take picture with our booth and sexy crews who helped informing the partygoers to party safely!
2| TestBKK's freebies were the sex ed you wish you had when you're still in school.
Dancing in a party means a nonstop cardio. TestBKK's towel and (top/vers/bottom) fans came in handy in trying to get rid of the sweat, the heat and the potential high-risk behaviour among the ravers.
3| TestBKK dispersed more than 10,000 condoms (and water-based lubricants).
To quote Oprah Thailand's Mr. Condom Mechai Viravaidya:  You got a condom! You got a condom! You got a condom! 10,250 condoms (and water-based lubricant) were distributed to the partygoers. If we laid down all those condoms, they were as large as half of a soccer field size!
4| TestBKK knew how to satisfy everyone.
Sure, TestBKK's primary target is young gay men in Bangkok age 18 to 35, but we certainly did spark a conversation around sexual health among gay men, regardless of their sexual position preferance, age, race and nationalities during the parties. You know what they say, making love is a universal language.
5| Did we mention TestBKK's very own "Party Pack"?
TestBKK understood that the boys who left the party might throw another party, and TestBKK was there to ensure that their after party had the least risk possible. By giving out TestBKK's Party Pack to a group of men who bid adieu to the premise, we showed that "there could never be too little condoms and lubes." As a host, you must understand that not everyone brings their own protection even when you insist on it. If you're planning your own group fun, make sure you have enough defense by ordering TestBKK's Party Pack here.
6| TestBKK will ring you a bell – figuratively and literally.
On the same nights TestBKK graced these parties, we also released our "Free Testing Reminder." We know how it can be difficult to remember when you had your last sexual health check-up and when it's time for your next one. With this new feature, you can receive free and confidential reminders to go for a sexual health check-up, throught an e-mail or SMS. How convenient! And don't forget to check where you can get tested for free (or with very little cost) at TestBKK's clinic partners.
7| TestBKK is run by glittering/fab/fierce (insert all RuPaul's adjective words) young gay men.
Who could understand gay men better than their own cohort. Funded by USAID LINKAGES led by FHI360, TestBKK's outreach campaign at these parties was run by five young gay men who offered nothing but blood, tears and sweat. Each of them has been working passionately with APCOM in eliminating HIV/AIDS among gay men. You would probably see Phil, Plug, Em, Safir and Matthew (from left to right according to the above picture) again at the 2017 Sundance Asia and White Party Bangkok.
Share this