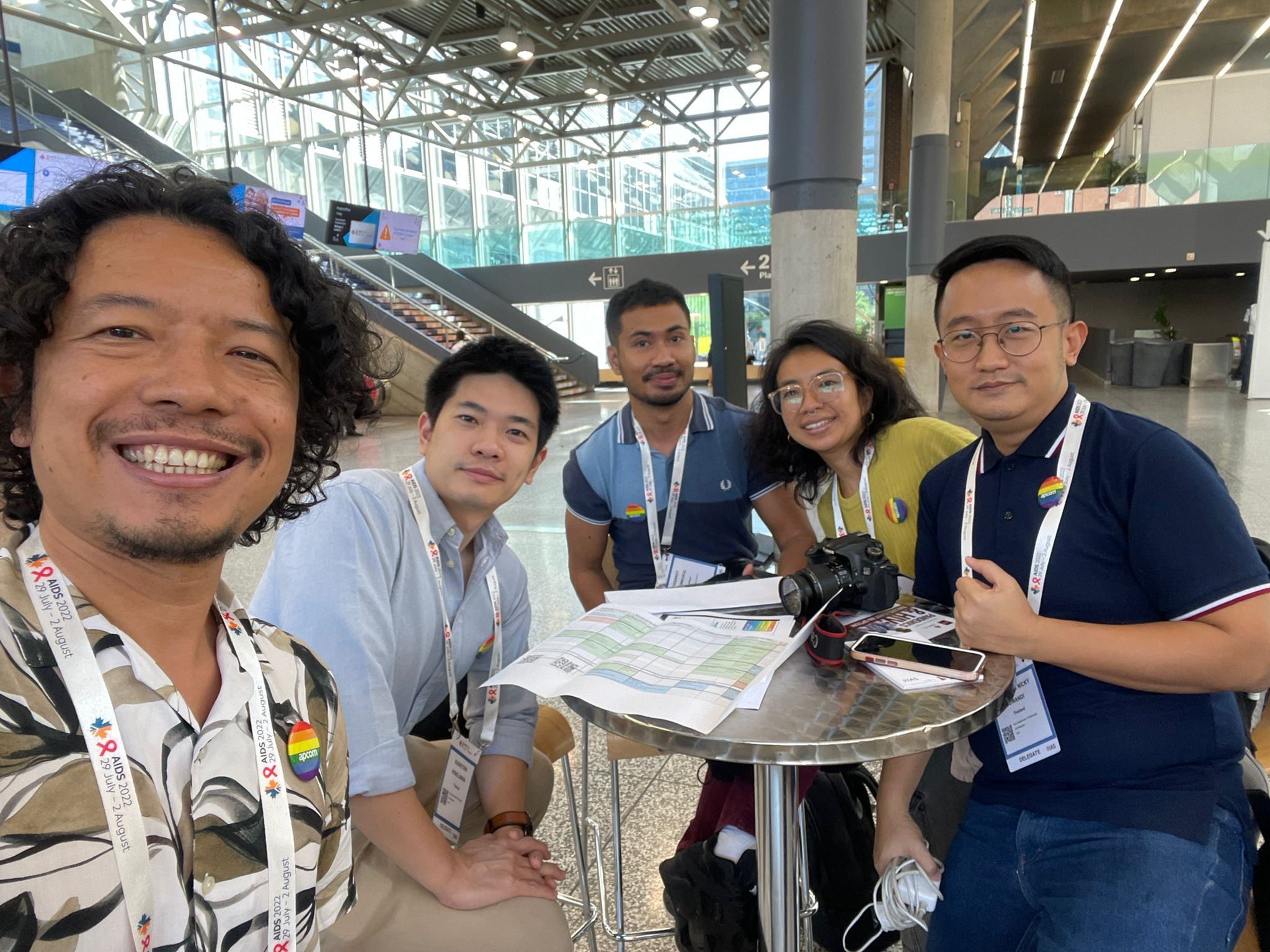 Pre-Conferences take place 27 and 28 July, before the official opening on Friday 29 July.
It is a chance to gather the key stakeholders in the conference together to review and discuss a particular theme/issue for a longer period, as opposed to the formal session which is normally 60 to 90 minutes long.
APCOM took part in four pre-conferences:
Getting to the Heart of Stigma
Organized by International AIDS Society, the symposium aims to present and discuss the state of the field evidence base about HIV-related stigma and to enable networking that will strengthen efforts to address stigma in the future, among others. APCOM participated in session #4 which focused on partnerships and explored the resourcing barriers and opportunities for joining up to reduce stigma at scale, including coordination between financing processes and organisations to be evidence informed and fund strategies that work.
Midnight, APCOM Executive Director, talked about catalyzing localized community innovation, in which he also emphasized the importance of community leadership and equal partnership. Reflected on best practices from Indonesia, Pakistan, Thailand and Vietnam – particularly during the COVID-19 period – community lay providers are able to do challenging work, even in several areas that are deemed hard-to-reach by government and stakeholders. Adding another note that human rights and policy- and structural barriers are quintessential issues needed to be addressed, Midnight concluded his statement with a humble appeal for more support towards community-led intervention.
U=U Global Summit
The official pre-conference brought together numerous activists and other stakeholders to empower and energize the Undetectable=Untransmittable or #UequalsU global movement across 7 sessions. It explores how U=U greatly improves the lives of people living with HIV and accelerates progress toward ending the HIV/AIDS epidemic, including meaningful conversation on global challenges in advocacy and the law, and how the U=U message is dismantling HIV stigma for people living with HIV around the world.
APCOM participated in Session #5 where Midnight, APCOM Executive Director, brought forth several recommendations to advocate U=U. The idea is to strategize in 3 phases; Understand, Communicate, Integrate. He emphasizes the importance of personal stories from the community as an effective tool to inspire. In Session #6, Inad from the APCOM team discusses how implementing U=U campaigns feels like defying gravity and gives examples of APCOM's challenges and successes in 4 countries in the region, Indonesia, Nepal, the Philippines and Thailand.
International Chemsex Symposium
This important event was held at the University of Quebec in Montreal (UQAM) and was not part of the official #AIDS2022 pre-conference.
Different models of community-led intervention used within the context of chemsex from various countries – including Canada, Germany and Switzerland – were extensively discussed during the full day symposium. It started with a discussion on the current state of research on chemsex and 'Party-n-Play' to understand multiple perspectives on sexualized drug use. Followed by an informative presentation that outlines 10 examples of chemsex support initiatives and other eye opening scientific knowledge presentations. APCOM were invited to join as an observer in this symposium and many topics discussed would be really useful for future discussion at the Asia Chemsex Platform, where APCOM plays a key role as an active member.
For Fuck's Sake Summit
Convened gay, bisexual, and queer men from around the globe to discuss and engage around the complex issues realted to sex and sexuality. It is a safe space to say the "untold in public" message of queer people's sex lives in the very casual but intimate way. For people who are living with HIV, can we still talk about sex without condoms? And how do you feel about it? There were no powrerpoint presentations, and the panels challenges you to rethink about sex positivity, stigmatisation, mental health and more.
There were four queer Content Creators from the Asia region as part of the panel Acep Saepudin (Indonesia) who is APCOM HERO Awards recipient in 2019 for HIV Hero, Doan Thanh Tung (Vietnam) is also APCOM HERO Awards recipient in 2019 for Young Achiever, and Shogo Kemmoku (Japan) HIV community activist and Mr. Gay Japan 2018 representative, and Dr. Stephane Ku (Taiwan) an Infectious Diseases specialist.
---
Here's a recap of PEPFAR annual meeting:
---
Follow us on social media for updates of our engagements
---
Check out APCOM programme at AIDS 2022
---
Want to see the programme of AIDS 2022?
---
Share this