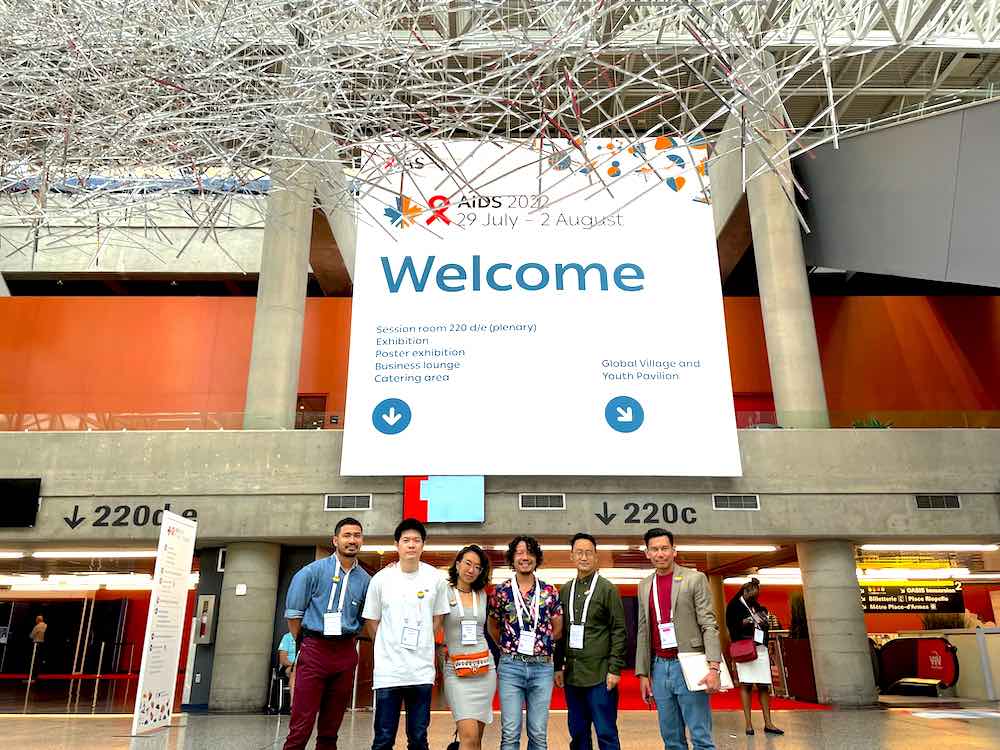 The 24th International AIDS Conference or #AIDS2022, held in Montreal, Canada from 29 July to 2 August 2022 may seem like a distance away. The conference, which was also accessible virtually to accommodate those who cannot attend in person, under the theme "Re-engage and Follow the Science". This year's edition proved to be a monumental one, as it marks the return of physical gathering for the first time since last year's edition was entirely shifted into virtual mode due to the onset of COVID-19 pandemic.
APCOM, as a regional organization that fights for the voices of marginalized communities in Asia and the Pacific region, have actively participated during previous conferences and, of course, this year return to meaningfully engaged in more than ten sessions during the course of the event. From self-testing to PrEP scale-up to HIV and viral hepatitis, APCOM brings out ground realities facts, as well as evidence-based from the community in respective topics. While the spotlights were shone bright on APCOM's Executive Director, Midnight Poonkasetwattana, during these discussions, others from the APCOM team also took center stage and turned up the volume in various stages across the conference.
"My participation in the AIDS 2022 is a privilege. Many from my key population and PLHIV community were denied entry to Canada and were not able to participate. But I was there in person despite COVID-19 pandemic and ongoing humanitarian crises. Every time I was on stage and holding a microphone, I was always reminded that these times demand for greater inclusivity. We aim for holistic approach to health, and so we must answer the call to speak for the bigger community to include other key populations and to highlight issues from other Regions including Middle East and North Africa, and Latin America."

Inad Rendon
HIV Programming and Advocacy Officer
It's awe-inspiring to see so many passionate people gather together under one roof. Also, the in-person connection I made with friends – both old and new – during the conference is really amazing. Not only was it my first-ever AIDS Conference, it was also my debut to speak in such a high profile event at global level. Priceless moments.

Nicky Suwandi
Knowledge Management and Learning Officer
"The vibe here is just amazing, not only in the part of information exchange but also how people connect with each other. I joined APCOM and got through the 2nd lockdown in Bangkok so its good to see people I connected with face to face and see things move and move along with that."

Chartlada Sangakij (JJ)
Creative Communications and Media Assistant
In a session focused on sexualized drug use, Nicky Suwandi showcased meaningful work taking place in Thailand, as well as regionally in several countries in Asia and the Pacific region. Guidelines and other documents (made or co-authored by APCOM) that are related to the chemsex global phenomenon were also presented at the Global Village Room 1 where the session took place. An abstract poster exhibited by Kasintorn Honglawan, titled "A Pandemic Over an Epidemic: Surveying LGBTQI+ Situation During COVID-19 Pandemic in #Thailand" or stylized as the Khormoon Study.
Most notable is the engagement in partnership with WHO during the launch of the new WHO guidelines for key populations in the first day of the conference. Inad Rendon from the APCOM team expressed an intervention speech – as representative of the key populations – contemplating "Are We Asking the Right Questions?" Repetitive demand has been brought upon by key population communities in several conferences over the past few years, however resulted in little or no improvement. He insists communities should have an equal voice as every member of key populations are the true experts. This session indirectly intersected with other sessions on the third day, which discussed a new global roadmap for combination HIV prevention, reducing inequalities and quest to reach HIV epidemic control – all of which APCOM participated in as speakers or panellists.
The International AIDS Conference, of course, would not be complete without its pre-conferences that took place on 27 and 28 July 2022, two days before the official opening. In the U=U Global Summit, APCOM brought forth several recommendations to advocate the Undetectable=Untransmittable or #UequalsU global movement, along with several examples of challenges and successes from Asia and the Pacific region. In Getting to the Heart of Stigma, a symposium organized by International AIDS Society, APCOM emphasized the importance of community leadership and equal partnership, while concluding his statement with a humble appeal for more support towards community-led intervention. APCOM also attended For F*ck's Sake Summit and also the International Chemsex Symposium.
Among vibrant discussions happening at the conference, there's one particular topic that really interest participants: long-acting injectables. This relatively new intervention for HIV is the hot topic, hence the full house when APCOM ED Midnight spoke at the scientific workshop on the delivery of injectable cabotegravir for PrEP. He argues that there should be experts coming from the community – not just from the donors or government – to ensure a specifically tailored service delivery of the new drug. On the same day, APCOM also participated in the consultation on the CAB-LA (long-acting cabotegravir) licence, organized by Medicines Patent Pool (MPP).
APCOM, IAS and Gilead also organised a community, health care providers and advocates networking event to discuss we discuss strategies of how stigma-free clinical settings can be achieved.
It was not all work for APCOM, we were also able to let our hair down and celebrate our 15th Anniversary at a Reception in partnership with Dignity Network Canada and Montreal Pride, close to one hundred people attended to celebrate this milestone with us in person including participants from Asia and the Pacific region.
We launched our online resource hub, www.innovationsmap.asia aimed at providing information to communities to facilitate south-south learning and sharing with community-generated data and research. Bearing the name 'innovations', the online resource includes information on Pre-Exposure Prophylaxis (PrEP), HIV self-testing (HIVST), and differentiated HIV service delivery or community-models of HIV services in response to COVID-19, as well as undetectable equals untransmissible (U=U).
We look forward to the next Conference where the key population, people living with HIV and stakeholders from the global south can easily access – as the community need to be central to discussions with scientists, policy makers, and donors to shift the latest scientific evidence into actions and resources going to the community to accelerate the fight to end HIV.
---
Take a look at our past AIDS Conference Engagements
2020 AIDS Conference Virtual
---
Check out APCOM programme at AIDS 2022
---
Share this