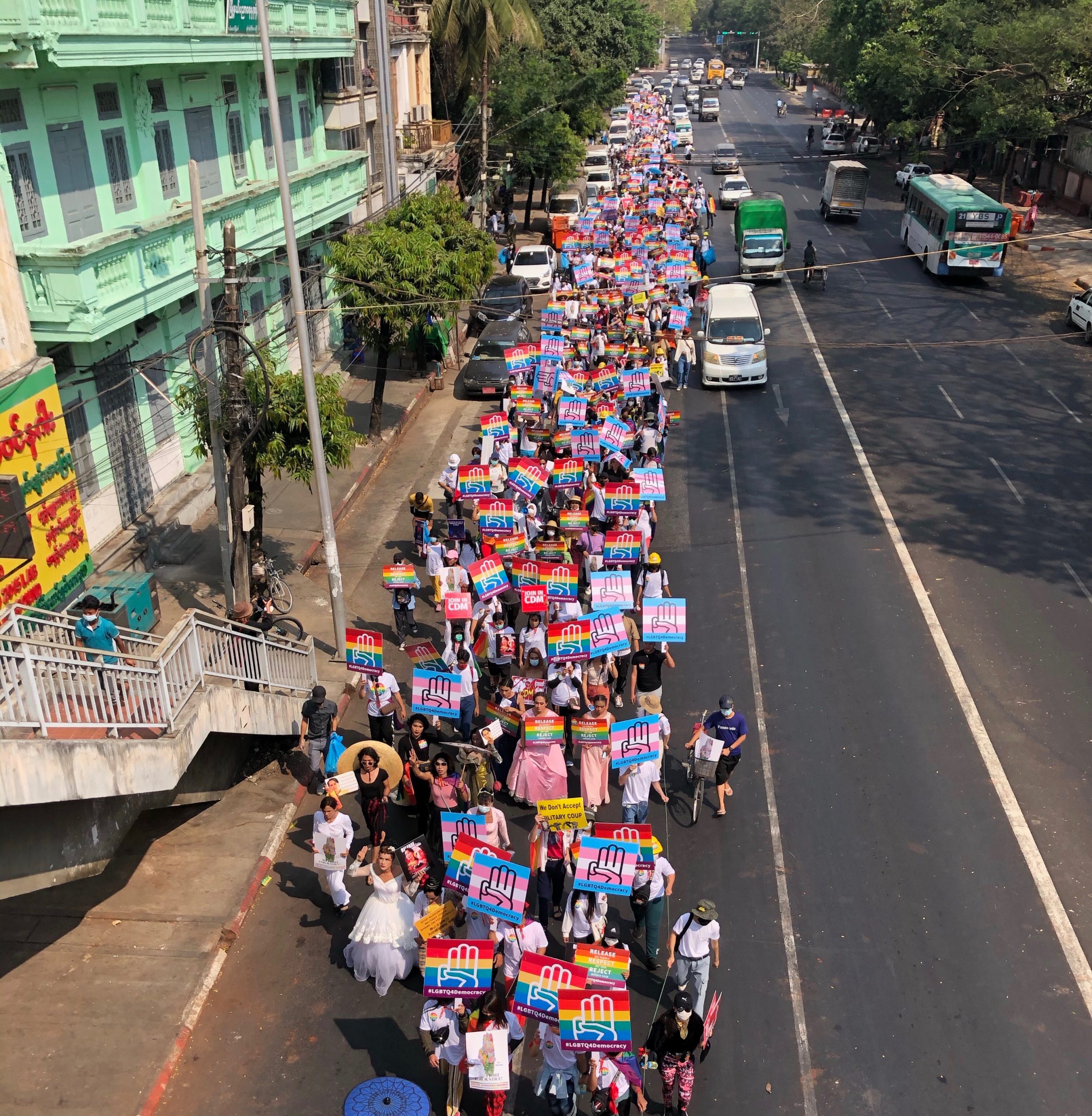 Contributor:
Colors Rainbow
---
Colors Rainbow promotes public understanding of SOGIE and the LGBTQ community, and advocates for the equality of LGBTQ individuals in Myanmar. Colors Rainbow addresses LGBTQ rights from a multifaceted program perspective which consists of trainings, discussions, networking meetings, community events, lobbying, advocacy and research projects, and the production of multimedia resources in Myanmar-language through website, and magazine covering LGBTQ rights issues in Myanmar.
"The LGBTQ community in Myanmar has everything to lose from the current crisis…"
When the military took over in the morning of 1 February 2021, ChitKo, a young gay man in his twenties, couldn't believe the news. Neither did the vast majority of the population in Myanmar, while shifting their mind back to the pre-democracy era. A military regime would simply erase ten years of progress and, for LGBTQ persons like ChitKo, it also meant reduce to nothing all efforts made towards the decriminalization of same sex relations and the greater acceptance of LGBTQ individuals in Myanmar[1].
Myanmar still criminalizes consensual same-sex relations (Penal Code Section 377), police acts named "shadow laws" are used by law enforcement officers and the broader society to justify discrimination and various forms of abuse; and the 2008 Constitution doesn't recognize sexual orientation as a ground for non-discrimination. Despite this outdated legal framework, progress was made in many areas, including the rights of LGBTQ persons, thanks to the relentless work of organizations and activists on the ground.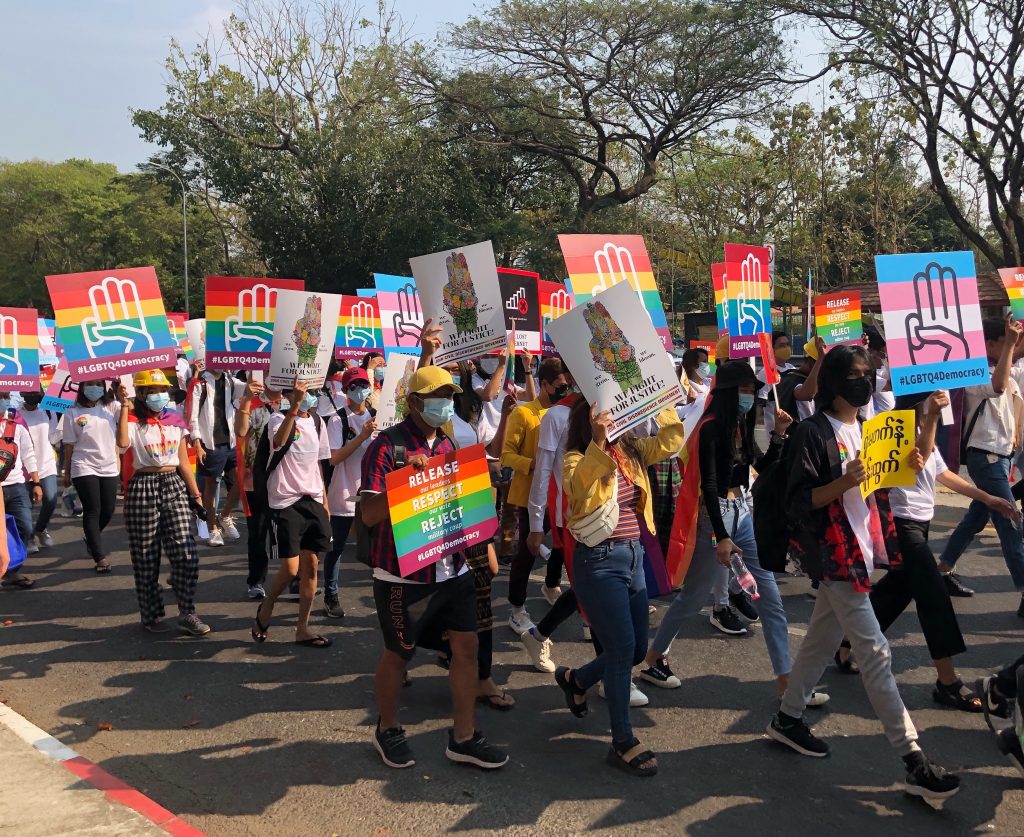 The LGBTQ community has raised awareness on legal challenges faced by the LGBTQ population, obtained the promise of supportive members of the Parliament of the Pyithu Hluttaw and Amyottha Hluttaw that decriminalizing same-sex activity was on the legal reform agenda, promoted greater acceptance, showcased the numerous talents of the community, promoted diversity, inclusion and gender equality at the workplace and in the educational system, and so much more. The LGBTQ community takes pride in all these initiatives, is proud to fight for LGBTQ rights and hopes for a more inclusive future.
The LGBTQ community in Myanmar has everything to lose from the current crisis and LGBTQ persons like ChitKo did not hesitate one second: activists by nature who are used to fight for their rights, they very early on joined the protests against the coup d'état and the military regime, risking their freedom and their life for democracy. As a consequence, at least 80 LGBTQ persons were arrested, of whom barely 15 were released, more than 40 are in hiding to avoid arrest and torture and more than 17 have been fatally injured, 12 LGBTQ have been shot dead, while participating peacefully in an anti-junta demonstration throughout Myanmar. Others were tortured and many joined the People's Defense Forces (PDF) coordinated by the National Unity Government (NUG), the government in exile, whose Minister of Human Rights is a former LGBTQ and Human Rights activist.
As for ChitKo, he left the company where he was working as a marketing specialist to join the resistance. He stores and carries medicine, clothes and shoes received from donations in Yangon to the jungle in the Chin State, for local communities and PDFs in need. He risks his life on a daily basis for helping others.
As of now, systematic arrests of LGBTQ members is not yet a pattern but it might become one as Myanmar's LGBTQ community has been at the forefront of the revolution, vowing to never give up. The sacrifices and determination of the LGBTQ community fighting for justice and democracy must not be forgotten.
---
[1] Just five months before the coup d'état, in September 2020, a national research conducted among a representative sample of 1,553 individuals, concluded that an overwhelming majority of people (81%) agree that LGBT people deserve equality and equal treatment and 74% of people do not think it should be illegal to be LGBT. "Perspectives and Attitudes towards LGBT people in Myanmar, 2020". Colors Rainbow and &PROUD, September 2020.
Share this