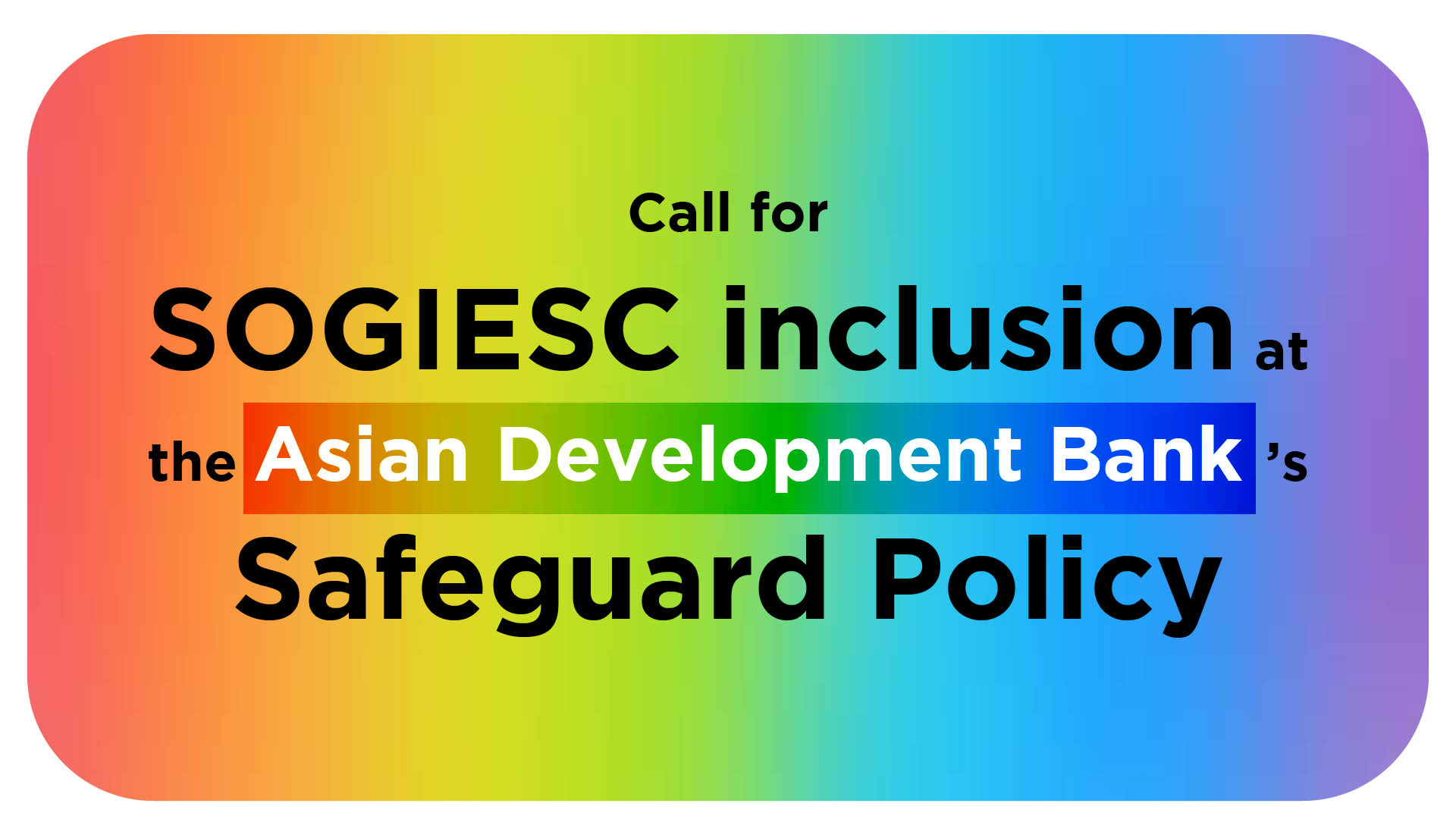 Contributor:
Ramil Andag,
Human Rights Officer, APCOM
---
ADB's Safeguard Policy Review
After 10 years of implementing its 2009 Safeguards Policy Statement (SPS), ADB is conducting a comprehensive review of said policy statements. According to ADB, 'with the changing contexts in countries and regions, the SPS needs to be updated to remain relevant and robust in responding to evolving development needs.'
As part of this review, ADB has and is currently conducting thematic regional consultations. These themes include: indigenous people, environmental and social impacts, gender and safeguards, among others. For complete list of themes of consultations, please visit ADB's Safeguards Policy Review website here. Objectives of the 'phase 2 consultations is to obtain a better understanding of the views of stakeholders on safeguards implementation challenges and good practices, as well as recommended policy directions.'
One of the positive developments at the ADB is the inclusion of SOGIESC as one of the themes in their virtual phase 2 consultations. SOGIESC consultations were conducted on 6 and 7 June 2022.
Bringing community voices together
Presently, there are not many LGBTQI organizations in the Asia and the Pacific engaging the Asian Development Bank. For APCOM, bringing community voices to the forefront of discussions, specifically about issues affecting communities of diverse SOGIESC, is of prime importance.
To contribute to awareness among LGBTQI organizations about the ongoing regional consultations of ADB specifically on SOGIESC, APCOM convened a virtual community consultation with LGBTQI organizations on 12 May 2022. Aside from raising awareness about the ADB safeguards review, the consultation also aimed to Contribute to discuss how LGBTQI organizations in the region can raise our collective voice for SOGIESC inclusion, and identify initial positions and recommendations which can be forwarded by the community during the ADB consultations with civil society and non-government stakeholders on SOGIESC.
The virtual consultation was participated in by 46 participants representing 31 LGBTQI organizations from at least 9 countries in the region. Regional networks of LGBTQI organizations also attended the virtual community consultation.
Points forward for SOGIESC inclusion in ADB Safeguards
APCOM and those who were present during the community consultations were able to identify how ADB can reflect SOGIESC inclusion in its Safeguards policy.
These include:
Taking an intersectional approach in the safeguards policy cognizant of multiple forms of marginalization being experienced by people and communities of diverse SOGIESC, and intersections of SOGIESC with other identities and characteristics including socio economic status, disability, ethnicity, among others.
Inclusion of equality, non-discrimination, and inclusion, regardless of sexual orientation, gender identities, gender expressions, and sex characteristics in the Safeguard Policy Statement Overarching Statement on ADB's Commitment and Policy Principles.
Development of a standalone SOGIESC safeguard policy.
Ensure safe reporting and grievance mechanisms for violations of SOGIESC related safeguards provisions
Ensure meaningful participation of LGBTQI community and organizations not only during the Safeguards policy review process but in the entire implementation of the policy.
APCOM is encouraging more LGBTQI organizations to be involved in the ongoing ADB Safeguards Review. Safeguards review does not happen often and this is an opportunity for us to raise our collective voice for inclusion.
What can be done?
---
APCOM and our country partner organizations Micro Rainbow Foundation International Cambodia (Cambodia), Suara Kita (Indonesia), Community Health and Inclusion Association – CHIAs (Laos), and Babaylanes, Inc (Philippines), started engaging the Asian Development Bank with the support of Voice through our project Finance, Inc. in 2018. This is ongoing with our current project (IM)PART: Advocating for LGBTQI Social and Economic Inclusion.
The programme is anchored in our advocacy for LGBTQI social and economic inclusion, in their spaces, programmes, and policies of financial institutions and the private sector, both 'non-traditional' stakeholders for SOGIESC inclusion.
We are convinced that engaging the ADB for SOGIESC inclusion is strategic as it has portfolios on health, education, work, among others, domains where LGBTQI experience marginalization and discrimination. Our strategies include partnership building, awareness-raising, advocacy, pilot projects, capacity strengthening, and evidence building.
On 31 July 2022 Canada announces funding for 3 LGBTQ2I-related projects in developing countries, with APCOM being one of the recipients. The grant will help enhance our programme on LGBTQI social and economic inclusion bysupporting the funding gap in LGBTQI institutional capacity strengthening.
Share this