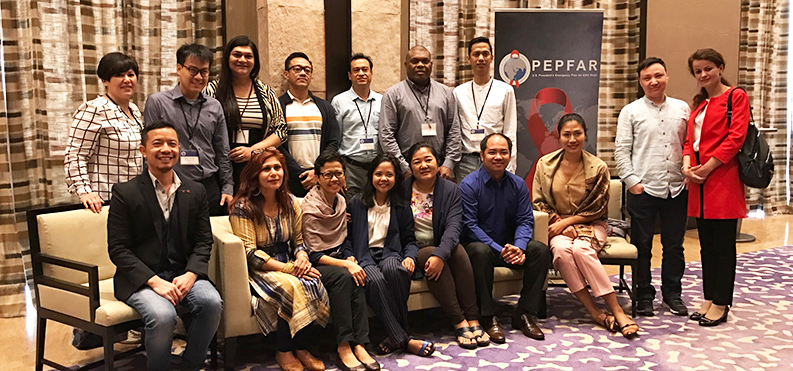 Community and Key Population Representatives At The 2019 PEPFAR Regional Operational Plan Meetings in Bangkok, Thailand.
PRESS RELEASE
Bangkok, Thailand, 19 March 2021
APCOM launches the COP Opportunity Kit: Evaluating Key Population Involvement in COP 2019 and Mapping Opportunities for Community Intervention in COP 2021 ahead of the PEPFAR Country Operational Plans / Regional Operational Plans (COP/ROP) process which covers 13 countries in the region – Burma/Myanmar, Cambodia, India, Indonesia, Kazakhstan, Kyrgyzstan, Laos, Nepal, Philippines, Papua New Guinea, Tajikistan, Thailand, and Vietnam. PEPFAR goes through a planning cycle every year to determine program priorities, funding levels, geographic focus areas, program targets, and expected impact for the following year. This annual process is contingent on the development of COP for every country that receives PEPFAR Funding. In February 2021, the COP process was issued a temporary pause, and is expected to resume on 1 April 2021.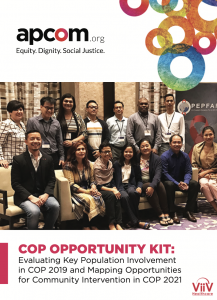 The document evaluates the level and quality of Civil Society (CS) and Key Population (KP) involvement in COP from 2019. They have expressed concern that the 2019 process was felt to be more focused on improving care cascades and increased case finding and that there was no long-term commitment to, or funding for, organisational/institutional development of KP/CSO led initiatives, ownership and sustainability.
"Cambodia has been successful in HIV/AIDs response, so the fund has been declined by many donors including USAID and the GFATM"

"Most of the strategies are top-down approaches. Sometimes allow for bottom-up approaches where PEPFAR can hear from the communities what they need"

"Getting all donors to talk collectively when working with KP. There are a lack of communication and overlapping of programs which we need to address collectively"
"APCOM's role, as a regional network, plays more than representing key population in national and international discussions. We work not only to advocate but also to ensure that our community partners are involved in the COP Processes. We serve as their voice in calling for open and improved processes which allow meaningful and effective involvement in designing programs that support them."

says Midnight Poonkasetwattana, APCOM Executive Director.
"The COP OPPORTUNITY KIT is a product of active coordination between APCOM and country partners in documenting their experiences during the2019 COP Process and identifying opportunities for intervention for the COP 2021. Through the community partnership we have been able to advocate for a PEPFAR KPIF Briefing for CSOs in the Asia Region. Finally, APCOM in coordination with USAID-RDMA and OGAC, hosted the Asia Regional CSO TownHall as a Pre-ROP consultation with communities."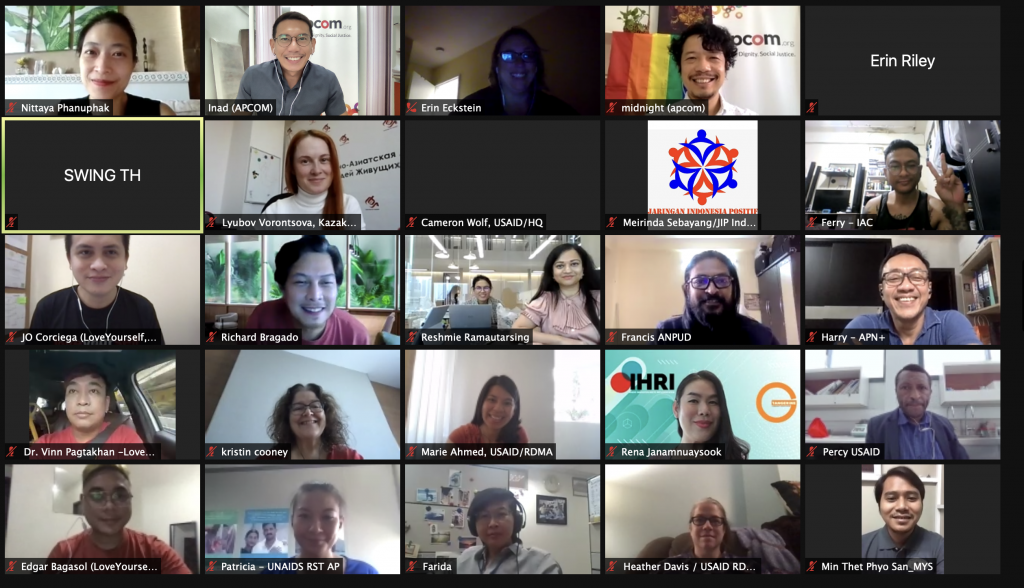 Organised on 2 and 3 February 2021, the PEPFAR Asia Region Pre-ROP Town Hall Meeting is one of the first steps in the preparation for the PEPFAR COP 2021. Attended by 23 civil society and key population representative from across 12 countries in the region, the meeting presented a very important opportunity in building the essential role of community based organisations in the PEPFAR Asia Region in the planning, implementation, scaling, and monitoring of implementation approaches.
Summary of the PEPFAR Asia Region Pre-ROP Town Hall Meeting
The discussion in the Regional CSO TownHall focused on three themes: (1) Level of Investments; (2) KP-/CBO- led service delivery; and (3) Organisational Capacity Strengthening
1 – Level of Investments
The CS participants in the first theme collectively agreed that to increase the level of engagement of CSO, and to reflect their needs, PEPFAR must create a safe space to protect confidentiality for CSOs and KPs in raising their concerns. The visibility of key populations particularly transgender women and sex workers require support to influence national government and policy makers to prioritize their sexual health needs. Strengthening the organisational capacity of CSOs is required to improve quality of service delivery. Under the current and previous COPs, CSOs receive only a small portion of this part through existing mechanism in country level. Highlighting these needs of the community requires the important role of regional organisations such as APCOM, APN+, APTN, and institutions like IHRI.
2 – Key Population/Community-based organization service delivery
The discussions from the second theme posit that the CBOs at country level has been capable in providing services to the key populations. However, the funding allocations are not enough to support medical professionals contributing their services. These gaps in funding for CSOs and KP led service delivery must be carefully examined and addressed.
3 – Organisational Capacity Strengthening
Participants in the third theme recommends to utilise the role of regional networks in providing organisational capacity building. Regional networks have the role to play in strengthening the program and operational capacity of CBOs to make them eligible to receive funding from the Global Fund or PEPFAR. There should also be serious discussion about inclusivity of the grant. Under the previous and current grant, APNSW is not receiving any support from USAID.
"We work together with all layers of HIV community, bridging them with the decision makers and service providers to expose more access for PLHIV and KAP, especially access to healthcare and treatment."

Aditya Wardhana, Executive Director, Indonesia AIDS Coalition
In preparation for the resumption of COP 21 processes in April, it is crucial that community based organisations and key population representatives are equipped with information fundamental to their respective engagements using the lessons learned from previous experiences.
In its evaluation of CS and KP engagement with COP 2019, the COP Opportunity Kit pointed a concern that there was no enough time and space for them to share ideas, and exchange experiences with other participants. Language stood as a barrier during the engagements due to the absence of reliable interpreters to help the CS and KP participants understand the sessions.
In assessing the minimum standards for community engagements in the COP 2021 processes, the COP Opportunity Kit presents the following as windows of engagements:
Key populations experience more stigma and discrimination compared to the general population. A safe space must be provided in COP2021 to ensure open participation free from judgment and discrimination;
Facilitate a transparent and equitable selection of KP representation from all regions within a country, who will be selected by CSOs who have closely engaged and worked with the KP communities
Allow opportunities to not restrict programs and budget, and allow expansion, to other areas outside capital cities.
Moving forward in the process, APCOM and our community group shall present opportunities for community engagement through an advocacy letter addressed to the new Global AIDS Ambassador and leadership of PEPFAR. This advocacy activity will not only raise concerns, but also justify the recommendation of additional investments to ensure continuity and sustainability of Key Population Investment Fund (KPIF) and that as much funding goes directly to local indigenous community-led organisations. The KPIF aims to support the scale-up of community-based approaches to enhance HIV service provision for key populations and marginalized groups, such as sex workers, drug users, and LGBTQI communities – including support for evidence gathering and advocacy activities.
---
Share this