The identity of the 400 most deserving honourees of the Gen.T List 2020 produced by Asia Tatler has been revealed online and offline on events across Asiaand published in the Gen.T Magazine.
Over the last two weeks, physical unveiling events were held in Kuala Lumpur, Shanghai, Taipei and Thailand. On 15 October, Gen.T. hosted five simultaneous virtual events where 241 honourees were unveiled from several territories—such as Hong Kong, Indonesia, the Philippines, Singapore, and Thailand —, unable to host a physical launch due to COVID-19 social distancing measures.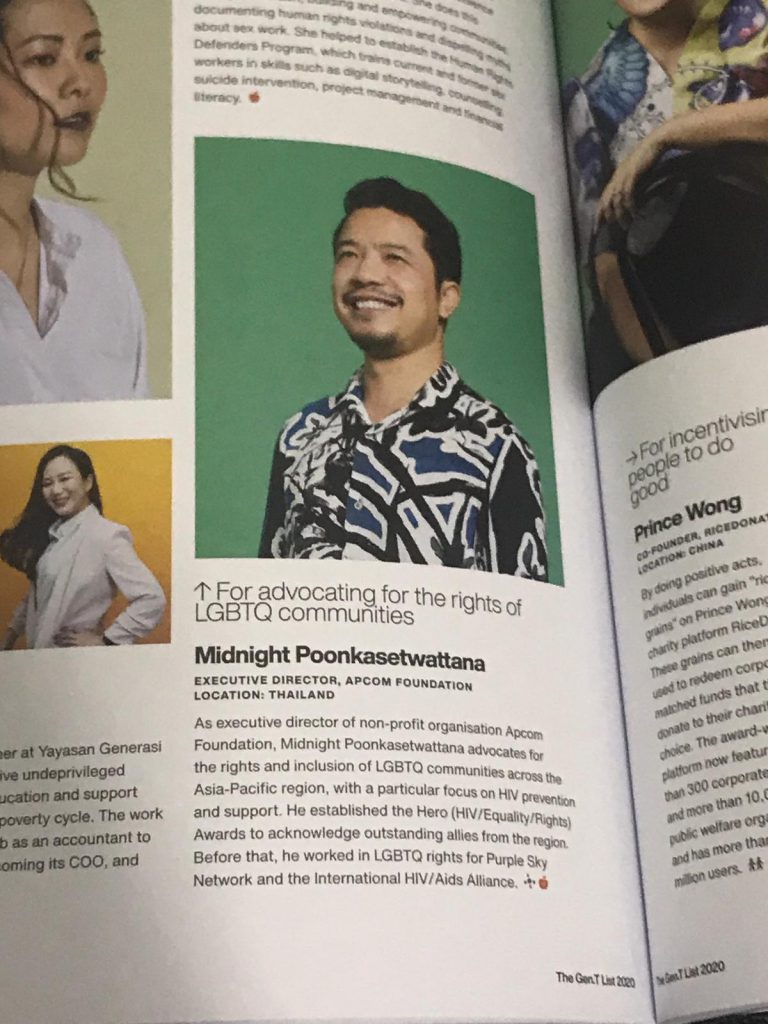 The nominated young leaders on the Gen.T List 2020 represent the future and are believed to be the leaders of tomorrow being successful as entrepreneurs, professionals and creatives.
APCOM's Executive Director, Midnight Poonkasetwattana is listed on this year's honourary Gen.T List 2020 for his advocacy work regarding LGBTQ/HIV throughout Asia Pacific in the category of Philanthropy and Charity for Thailand.
"I'm delighted to be recognised as a Gen.T Leader of Tomorrow for shaping Asia's future for Philanthropy and Charity. To be part of the 400 trailblazing entrepreneurs and creatives who are driving positive impact and catalysing change in Asia is such an honour."

APCOM's Executive Director Midnight Poonkasetwattana says.
This year's event marks the fifth annual Gen.T List—a platform from Asia Tatler— put together by a panel of next generation leaders to help identify the 400 strongest candidates for their 2020 "it list".
Selecting the honourees for the list is an intensive year-round process, whereby Tatler consults a panel of experts called the Tribe. Each year the Tribe identifies and nominates names from within their own country and several industry fields, aiming at featuring new faces, experts and talents; and taking a decisive part in the final line-up of a long list of 400 candidates.
Honourees from China, Hong Kong, Indonesia, Malaysia, the Philippines, Singapore, Taiwan and Thailand are selected from a wide range of 19 industries, varying from advocacy to entertainment, environment, technology, Food & Beverage, Healthcare and Sciences, Sports etc.
As Tatler calls it, "the Gen.T List is the ultimate reference of young leaders who are shaping Asia's future, building a community of extraordinary individuals bound by a common desire to change themselves, their businesses, society and the world."
Please, click here for more info:
---
Share this