On Wednesday 11 November, APCOM held a press conference to officially announce its APCOM Community Summit 2020 at the Australian Embassy.
APCOM, one of Asia Pacific's leading HIV and LGBTI community networks, based in Bangkok, is organizing its five-day 'hybrid' Summit to honour LGBTQI and HIV advocates and allies and their community who are striving for the rights of LGBTQ communities in Asia Pacific. Commencing from 23rd to 27th November, this impactful summit will include numerous innovative seminars presenting an impressive combination of leading experts, community advocates and influencers who will raise awareness and bring focus to key issues relevant to the LGBTQI +/HIV community.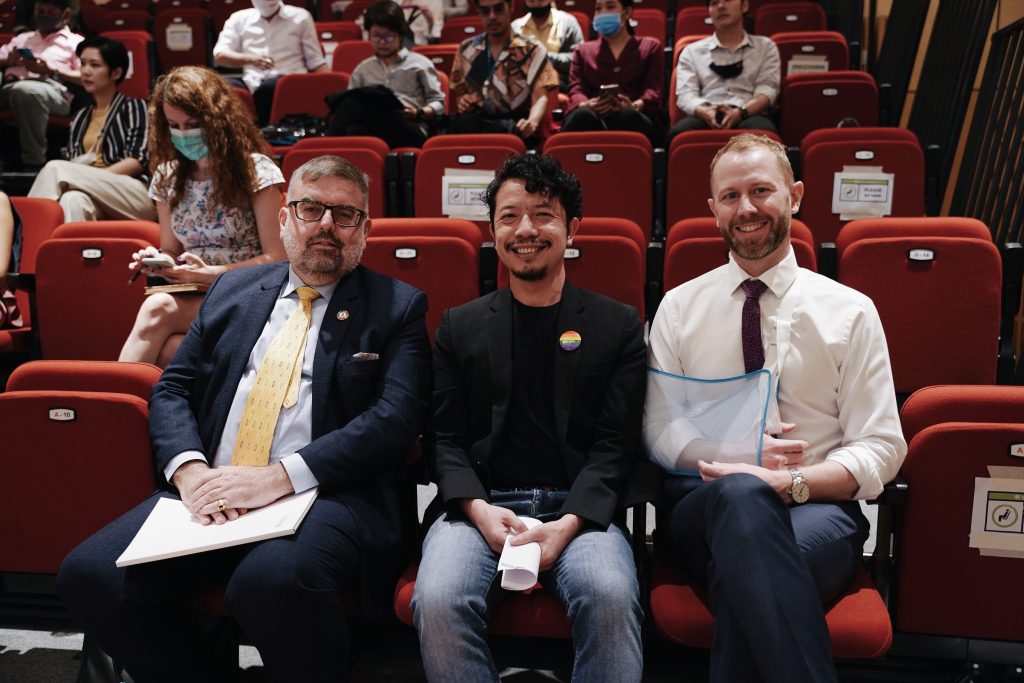 Mr. Hugh Robilliard, acting Deputy Head of Mission from the Australian Embassy gave an opening remark about the long partnership with APCOM and that the former high court judge of Australia is APCOM's LGBTQI human rights Ambassador. APCOM's Executive Director Midnight Poonkasetwattana then highlighted the upcoming APCOM Community Summit 2020 and its program, which will start with the RRRAP Con 2020.
"We're expecting with this Summit that we are able to encourage those to talk openly about their lived experiences, to also become leaders and inspire people to come out and talk about their stories,"

Midnight Poonkasetwattana.
"What remains in our region is stigmatization, so the movement needs a lot of support and it needs to be able to reach out to other sectors and diverse people to have these special needs met. I'm so thankful that APCOM is able to do that with the APCOM Community Summit 2020."
As part of the press conference, Eamonn Murphy, Regional Director of UNAIDS Asia Pacific highlighted the issues of HIV among gay men and other men who have sex with men, particularly those younger than 24, and stressed the importance of the work of APCOM in the region – reaching communities in over 30 countries in the region and dealing with complex issues particularly during the Covid-19 pandemic.
---
APCOM Community Summit 2020, Bangkok (Thailand)-a brief overview
The summit will start from 23rd November with the RRRAP Con 2020 at the Pullman King Power Hotel, Bangkok. The three-day conference will host a series of offline and online seminars discussing issues related to the 'LGBTQI + and HIV' community. Attendees will hear from leading experts and advocates who will share insights and thought-provoking sessions on, for example HIV and community organization approaches for continuity of service delivery during the time of COVID-19. A variety of interactive workshops, virtual meeting platforms with presentations, panels, fireside chats, interactive workshops and Q&A; and bespoke networking opportunities are part of the 2020 Summit program.
Register now for RRRAP Con 2020
---
After the RRRAP Con 2020, the Thailand LGBTQI+ Biz 2020 will then take place on 26th and 27th November. This is the first time that APCOM will introduce a trade fair forum and panel discussions on Diversity and Inclusion in the private sector, all held at the Infinity Ballroom of the Pullman Bangkok King Power Hotel. Panels will focus on why inclusion in the private sector is important and experiences of LGBTQI inclusion in some businesses in Thailand. There will also be booths from various Thai based SMEs and LGBTQI organizations which will showcase their knowledge and experience in their specific field of business or work. This aims to contribute in raising awareness and increasing discussions about diversity and inclusion in the private sector.
Register now for free access to Thailand LGBTQI+ Biz 2020
(Sessions will be held in Thai with English interpretation)
---
The APCOM Community Summit 2020 ends with the HERO Awards 2020 on the evening of 27th November. The HERO Awards is an annual fundraising gala event which acknowledges outstanding HIV and LGBT advocates and allies from across Asia and the Pacific for making significant contributions to the HIV response to the region's lesbian, gay, bisexual, transgender, queer and intersex (LGBTQI) communities.
Buy on-line tickets now for the HERO Awards 2020 and contribute to our Covid-19 Emergency Funding
---
A second press conference will be held at the Pullman Bangkok King Power hotel on Friday, 27 November 2020 to inaugurate APCOM's annual fundraising gala event the HERO Awards; and the launch of apcommu – APCOM's new digital platform.
The press briefing will start at 4.30 PM Bangkok time. Please contact [email protected] if you would like to attend in person or for more details.
---
Share this