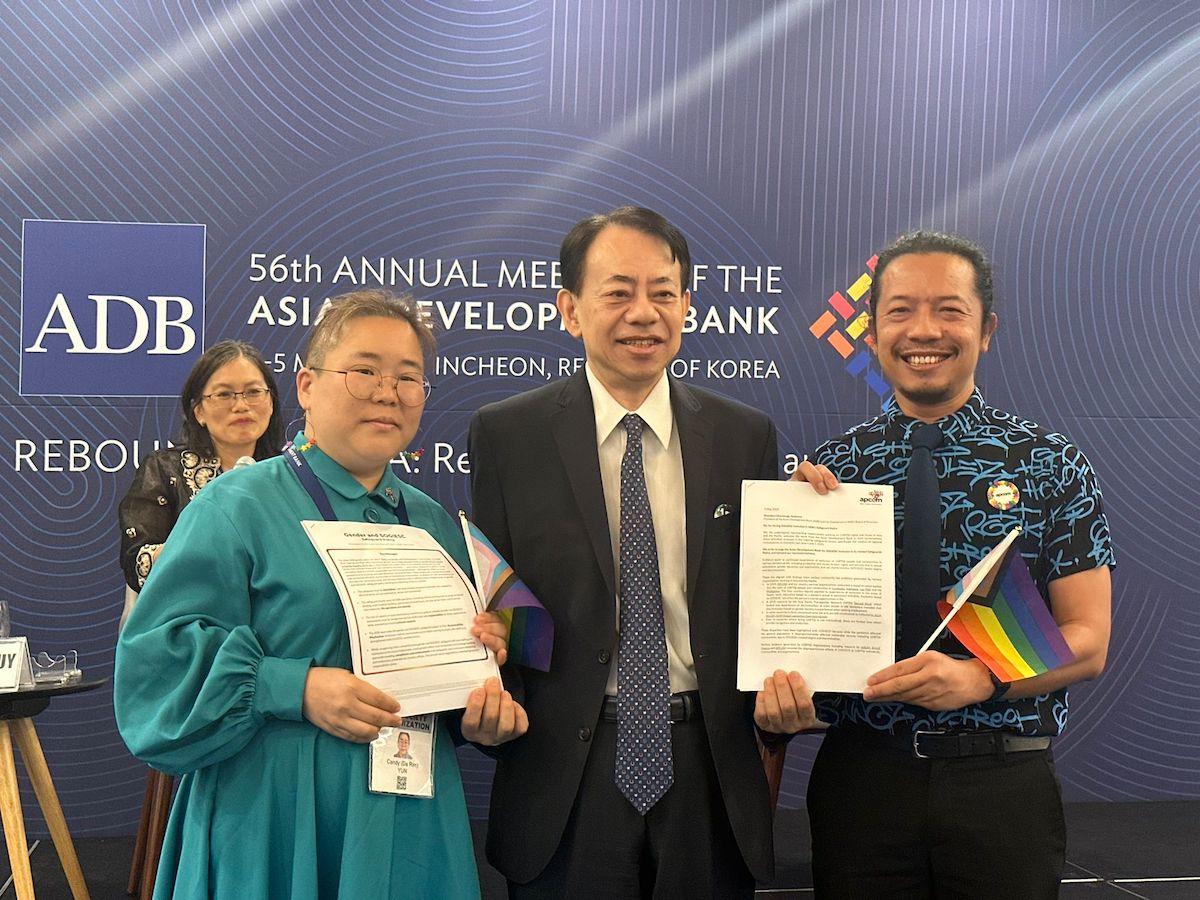 APCOM and ILGA Asia took part in the 56th Asian Development Bank (ADB) meeting, 2-5 May taking place in Incheon, South Korea, the first physical gathering since the pandemic. Established in 1966, the ADB envisions a prosperous, inclusive, resilient, and sustainable Asia and the Pacific, while sustaining its efforts to eradicate extreme poverty in the region, and this year's theme is Rebounding Asia: Recover, Reconnect, and Reform.
"Within Asian countries, 'development' is one of the most important keywords. It hasn't been talked about much, but of course, it is also inseparable from LGBTQI issues. Starting with this ADB AGM, we hope that the SOGIESC perspective will be included in all processes of development, from planning to evaluation."

said Candy Yun, Executive Director of Korean Sexual-Minority Culture and Rights Center (KSCRC), and ILGA Asia board member.
"This year marks the 75th Anniversary of the Universal Declaration of Human Rights, and coincides with the ADB's update of its Safeguards Policy, and we would like to ensure that SOGIESC is reflected as a crosscutting issue in the updated Safeguards policy,"

commented Midnight, Executive Director of APCOM,
"it should also include safe reporting and grievance mechanisms for violations of SOGIESC, ensure meaningful participation of LGBTQI community and organizations in the entire implementation of the policy, and institutionalized and sustained partnerships between ADB and organizations working on SOGIESC to ensure continuous conversations and awareness raising."
The Opening Statement by President Asakawa mentioned,
"In recent years, war, disease, and economic hardship have taken a terrible toll on human welfare. The most alarming challenge facing our region is the worsening impact of climate change. This threatens the existence of countless species, including our own."
The ADB's Safeguard Policy is currently under review – it aims to help developing member countries address environmental and social risks in development projects and minimize, mitigate and avoid adverse project impacts on people and the environment.
Candy and Midnight made a joint statement to the ADB President Asakawa, calling for the inclusion of SOGIESC within the revised Safeguard Policy. Stating that in our region there are still countries that still criminalize consensual same-sex relations between adults, our relationship is not recognised, law enforcement agencies aggressively pursue and prosecute people suspected of being lesbian, gay, bisexual or transgender, and have national laws criminalizing forms of gender expression that target transgender and gender nonconforming people, and calling for projects and programs supported by the Asian Development Bank must recognise and promote the rights of all peoples including the LGBTQI community.
In 2022, APCOM supported by Voice, conducted a regional virtual consultation and training which was participated in by 46 participants representing 31 LGBTQI organizations in the Asia Pacific region, to participate in and calling for SOGIESC inclusion at the Asian Development Bank's Safeguard Policy. The letter, signed by 19 Asia and the Pacific national and regional organisations, was delivered to ADB President Asakawa.
Another letter signed by 40 national and international organisations was also handed to President Asakawa.
President Asakawa welcomed the voices from the LGBTQI community and to get an understanding of the challenges that they face and can consider how the Safeguards Policy can play a key role. As the review process is ongoing, President Asakawa mentioned that:

The ADB projects should have a robust environmental and social assessment and management processes which give specific attention to all disadvantaged and vulnerable people
The ADB to ensure meaningful and safe consultation spaces for the affected people disadvantaged and vulnerable people
The ADB need to ensure that labour practices are non discriminatory
Find out more information about the ADB's Safeguard Policy review – here
---
See also:
---
Share this