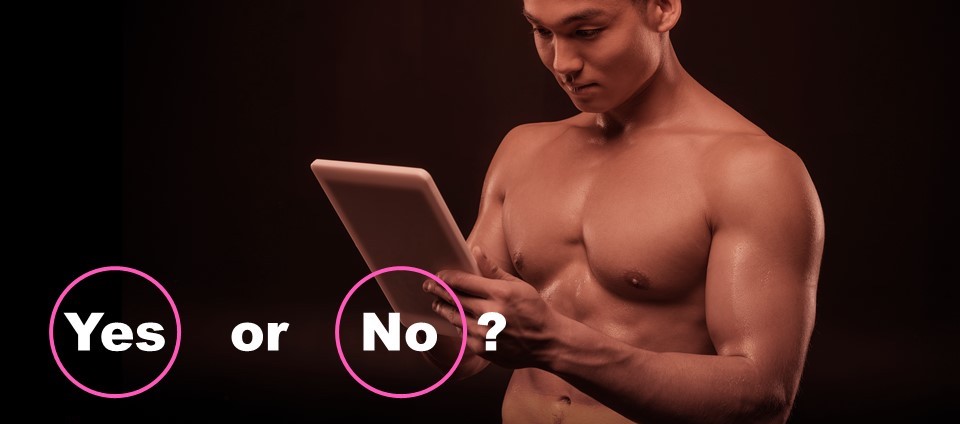 Bangkok, 11 August 2021
On the occasion of the 2021 International Youth Day, APCOM is delighted to launch its report Pulse Up! Young MSM Internet Sex Survey, covering three countries in Southeast Asia: Cambodia, Laos, and Thailand. Supported by ViiV Healthcare, the report aims to bring attention to the absence of data on young men who have sex with men (MSM) between 15-24 in the region as a major setback in the HIV response.
The Global AIDS Strategy aims to close the gaps that prevent progress towards ending AIDS:
Young people (aged 15–24 years) represent about 15% of the global population, but accounted for and estimated 28% of new HIV infections in 2019.
In 2019, 98% of new HIV infections in Asia and the Pacific region were among key populations and their partners or clients, and one third of new infections were among young people.
Adolescents and young people living with HIV are in particular need of tailored services that address their physical and mental health and wellbeing, and that support them as they transition to adult health services.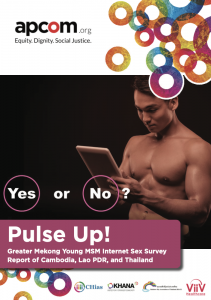 "Young MSM engage in sexual activities during adolescence before reaching the age of 18. Most of these young MSM seek romantic and sexual partners as well as to develop their sexual identities through the internet. APCOM is keen on working with its community partners to reach out to their young constituencies in Cambodia, Laos and Thailand to gauge how they are using online spaces in order to better tailor relevant information on HIV and health services, particularly when it comes to HIV prevention and treatment,"

commented Midnight, APCOM Executive Director.
With a perceived anonymity and less stigmatizing of homosexuality in online spaces, the internet has emerged as a platform facilitating sexual networking among MSM in Asia. However, there is not enough data collected on the sexual behaviour of young MSM aged 15-24 whose sexual explorations are more diverse. The lack of information in this regard bars advocates as well as programmers to design activities that are tailored to the specific behavioral characteristics of young MSM. The survey reached 2,865 respondents. Below are some significant key findings from each country.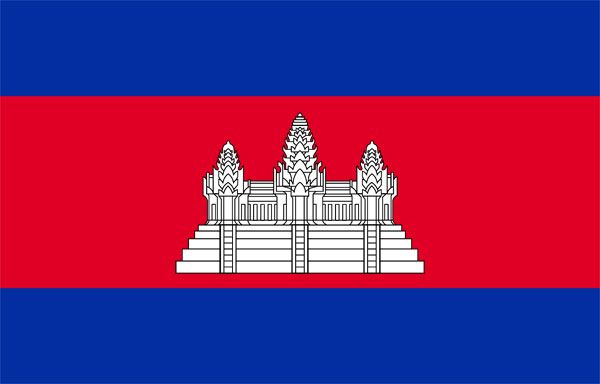 Cambodia
A higher proportion of around 83% of the participants have never heard of PrEP and PEP, indicating the need to develop additional prevention tools for creating awareness among the young MSM in Cambodia.
While a little less than 50% of the Cambodian respondents were aware of HIV positive individuals, around three-fourths were not willing to have sex with someone who is HIV positive. It is important to create positive attitudes towards the PLHIV community.
"Pulse Up! is a first ever operational research project that promotes experience sharing through online platforms among young MSM and transgender persons in target countries and the region. The data generated clearly show the real issues and needs of young MSM and the transgender community in relation to health services access and this can be used for advocacy purposes and programme improvement"

said Phorng Chanthorn, Coordinator – policy, partnership, and advocacy from KHANA, Cambodia.
Laos
Nearly two-thirds (63%) had never heard about PrEP or PEP and PrEP awareness needs therefore to be provided.
More than half of the participants never tested for HIV with 3 percent reportedly testing positive for HIV. One of the primary reasons for not testing for HIV is due to the perception of a HIV risk. Of those who reported HIV positive, about three-fourths of them saw a health care provider (76%), almost all were under medication (68%) but only less than half of them (48%) reported self-adherence with 40% of them reporting undetectable for HIV viral load.
"Young MSM and transgender key population data in Laos on health, education, economy, and employment still remain limited. Strong data availability will help decision-makers to conduct evidence-based advocacy to create a friendly environment for young MSM and the transgender key population"

commented Olam Rasaphonh, Program Coordinator from CHIas, Laos.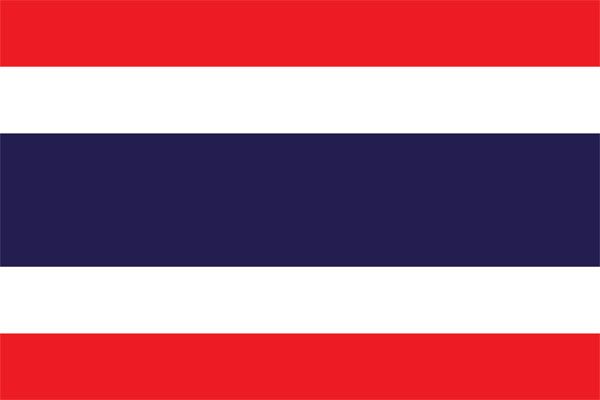 Thailand
Almost half (47%) of the respondents dealt with suicidal thoughts and about 11 percent talked about it with someone. Furthermore, 10 percent mentioned they might attempt suicide in the future. In fact, suicidal tendency in Thailand is very high as compared to other countries.
About 30 % reported being bullied for their sexual orientation during the last year and over half (56%) showed symptoms of depression. Considering the very high level of depression and suicidal tendencies in Thailand, there is a greater need to work on the mental health issues of young men who identify themselves as gay.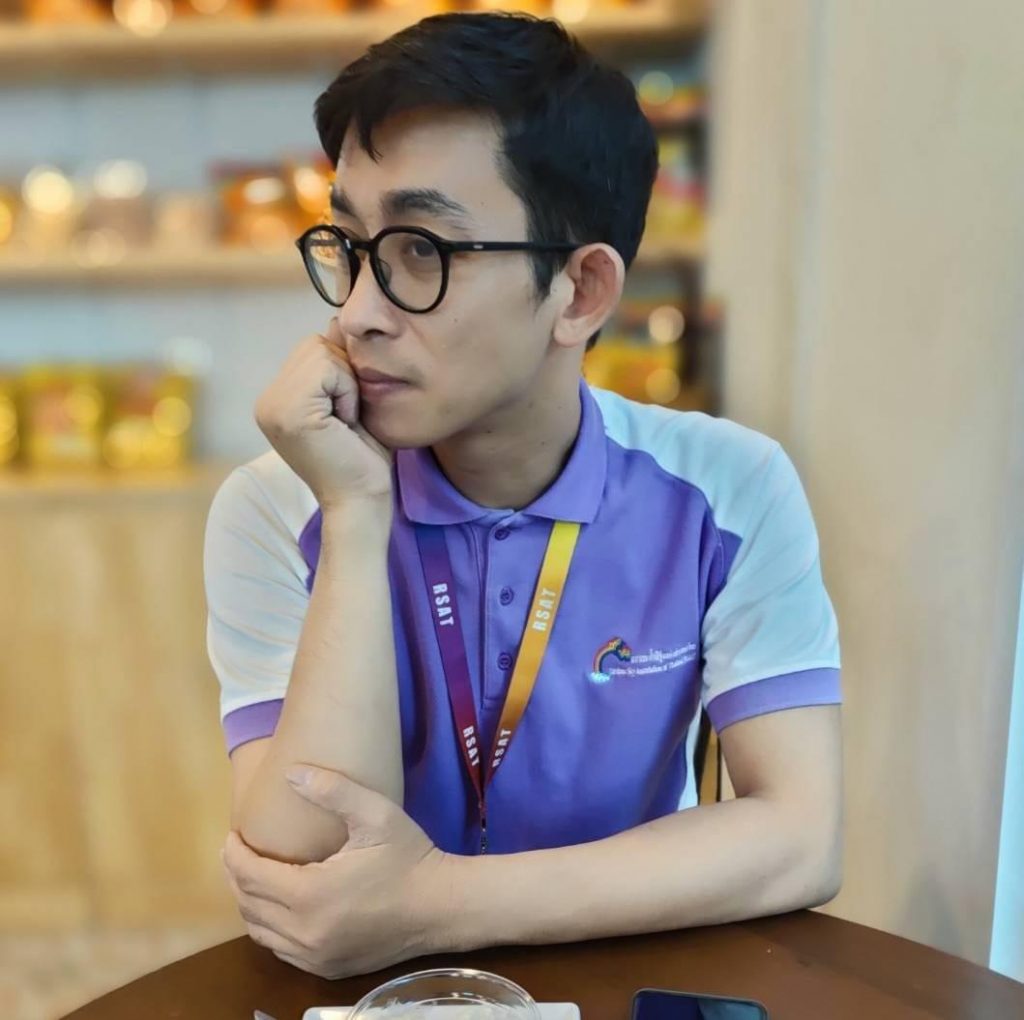 "The virtual world offers a 'safe zone' for key population communities in Thailand to express themselves. This particularly applies to the young MSM and the transgender community. Reaching out online in Thailand facilitates the inclusion of HIV services to previously inaccessible populations, improves efficiency and provides several options for the young key population to receive HIV services and information in ways that meet their preferences,"

added Danai Linjongrut (Meow), Director of RSAT, Thailand
Based on the three country reports we make the following recommendations:
HIV prevention messages should emphasize the use of condoms with regular partners during anal sex.
Make HIV testing options available, including the use of innovative HIV self-testing.
Create awareness regarding PrEP and PEP as important HIV prevention tools.
Develop strategies to ensure that people who know their status can be immediately linked with a health care provider for HIV treatment. Disseminate awareness messages about the importance of HIV treatment adherence. Facilitate access to HIV viral load testing for YMSM PLHIV.
Continue the positive messaging regarding PLHIV and, at the same time, reach out to those that have negative attitudes towards PLHIV.
Reach out with mental health promotion messages and create a referral linkage with mental health care providers to promote access to mental health care services for young MSM. Sensitize and inform the community about positive coping strategies.
Expand research to better understand the impact of developmental processes and changes on risk.
Ensure that programmes address the experiences of violence, substance use and mental health.
Interventions must focus on HIV testing and access to PrEP and PEP.
---
In partnership with:

Supported by: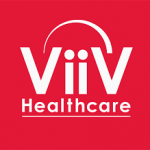 ---
Share this