27 October – 4 November
Get ready for APCOM Symposium 2021! Given our very successful hybrid APCOM Community Summit 2020, we are again bringing together delegates, speakers, community members and participants from across the Asia-Pacific region for a virtual conferencing – led by and for the key population communities in the region.
The impact of COVID-19 on people living with HIV and key populations since March 2020 has brought opportunities and challenges and amplification of inequalities for our communities on their health, rights and well-being.
2021 saw a number of important developments such as the launch of the Global AIDS Strategy 2021-2026 – End Inequalities. End AIDS. Development of The Global Fund 2023-2028Strategy Framework.
Development of the Next PEPFAR Strategy: Vision 2025 and also the adoption of the 2021 Political Declaration on HIV and AIDS.
The APCOM Symposium 2021 aims to ensure that the voices of the communities in our region is not lost in the on-going Covid-19 pandemic, strengthen our network and solidarity.
Join us as we showcase the impressive and important role of the community as innovators and at the heart the HIV response.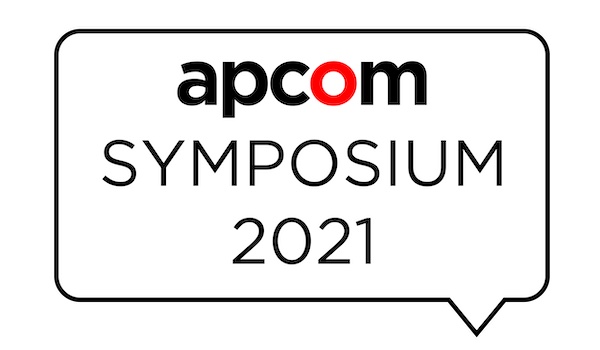 ---
Session Details
Session Title:
Youth Perspective
Wednesday, 27 October 2021 | 10:00 – 11:00 hrs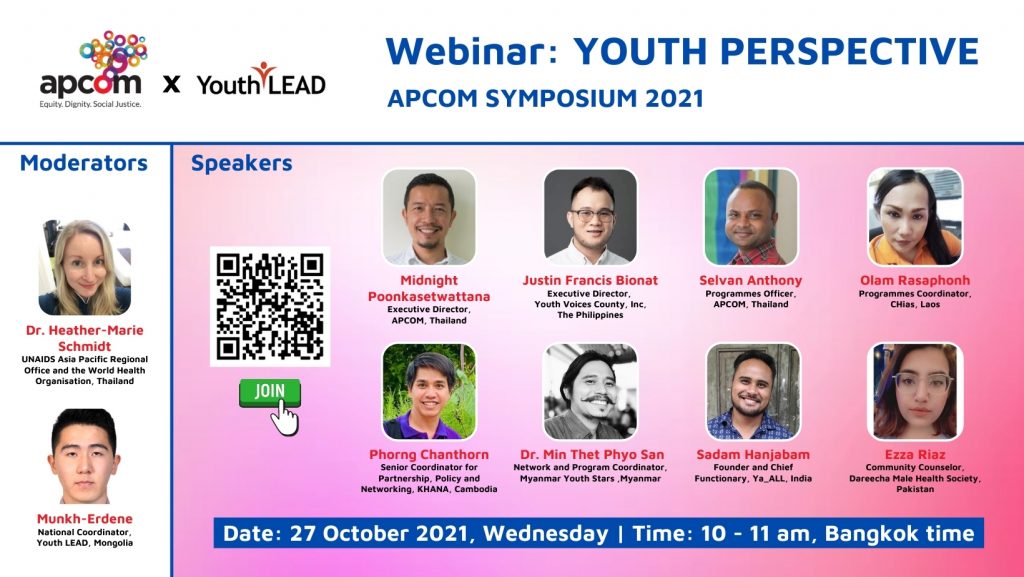 Join the APCOM x Youth LEAD webinar on youth-specific issues. The one-hour online experience will share findings from the PULSE UP! study report, which will also bring attention to the absence of data on young key populations in the Asia-Pacific region as a major setback in the HIV response. Young people from the region will discuss ground realities faced by their communities including stigma and discrimination, suicidality, violence and bullying. The stellar list of speakers will be sharing their awe-inspiring insights, guaranteeing an engaging youth-fuelled discussion that you would want to be part of!
Registration Link: https://us06web.zoom.us/webinar/register/WN_a3hCFgw7S6OF_vH3c5QFAg
---
Session Title:
The Future of HIV Self-Testing in Thailand / อนาคตของ HIV Self-Testing ในประเทศไทย
Wednesday, 27 October 2021 | 14:00 – 15:00 hrs
This session is in Thai.
With the newly approved HIV Self-Testing Kit in Thailand, CBOs and organizations are beginning to distribute the kit. However, demand for this innovative tool will need to generated for service uptake. Come and hear from HIV self-testing distributors (blood-based and oral fluids) to share their experience in distributing the device and give a small demonstration for the device. Furthermore, you'll hear from a community member about their first time using HIV self-testing kit. Lastly, the session will discuss about finding solutions in filling the gap of HIV service retention.
Registration Link: https://us06web.zoom.us/webinar/register/WN_MvZZQo0lS8eKF6tE0PNhDA
---
Session Title:
Safety of Chemsex and HIV Prevention / ความปลอดภัยใน Chemsex และการป้องกัน HIV
Thursday, 28 October 2021 | 14:00 – 15:00 hrs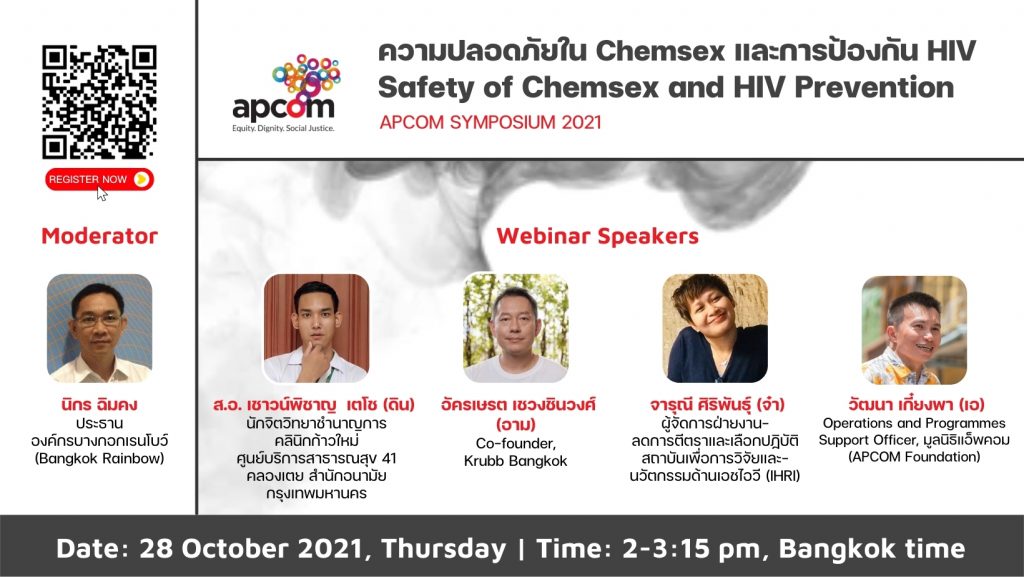 This session is in Thai.
Chemsex situation in Thailand has worsen through the COVID-19 pandemic and agencies in Thailand are not yet able to respond to this service gap with the rising use sexualised drugs in men who have sex with men. Come and learn from the Bangkok chemsex community, with a speaker from a Klong Toei, and a speaker from a gay sauna that holds regular community discussions. The session will highlight the current situation and the HIV prevention strategy from chemsex users.
Registration Link: https://us06web.zoom.us/webinar/register/WN_Jdl_x7h_TkSQcVAGumgRHw
---

Session Title:
Are We Leaving No One Behind? The LGBTQI Economic Inclusion Situation in Select
Countries in SEA
Friday, 29 October 2021 | 10:00 – 11:00 hrs
Panellists will discuss the LGBTQI economic and social situation in Cambodia, Laos, Indonesia and the Philippines. The session will also discuss the effects of COVID-19 on the LGBTQI communities and share their insights and reflections on how possibilities of LGBTQI inclusion in the context of COVID-19.
Registration Link: https://us06web.zoom.us/webinar/register/WN_nAAkzeasTXy5GLDIDMrEPg
---
Session Title:
THAILAND LGBTQI+ Biz 2021
Friday, 29 October 2021 | 14:00 – 16:00 hrs
This session is in Thai.
Learning from the first Thailand LGBTQI Biz 2020 and Bangkok Pride 2.0: COVID-19 recovery towards LGBTQI+ Inclusion, organized by APCOM, perspectives and ideas were shared from the Thai LGBTQI+ community, government, the private sector and contribute to the search for opportunities to work together across multiple sectors to celebrate and advance LGBTQI+ inclusion in Thailand.

PANEL 1: LGBTQI+ Situation in Thailand – What's happening?
COVID-19 seriously affects all people's lives in socioeconomic issues, especially to LGBTQI+ communities. Stigma and discrimination towards SOGIESC people is still common and there are barriers towards LGBTQI+ inclusion. Come and hear from three perspectives; LGBTQI+ community, the government, and the private sector.

PANEL 2: How COVID-19 affected Thai LGBTQI+ Business?
The COVID-19 outbreak worldwide has had a significant impact on business sectors and the overall economy of the country. In Thailand, tourism industry is one of the top revenues and generating the main income for many workers, especially for LGBTQI+ community. However, due to the prolonged pandemic, most of small-medium business (SMEs) in the tourism industry are severely affected, and you can hear from Thai LGBTQI business owners and how they are coping.

Registration Link: https://us06web.zoom.us/webinar/register/WN_QzaA5GWNStOXD9PyeQmVBw
---
STORIES OF BREAKING FREE:
Using the messages of U=U to transform HIV experiences into stories of inspiration and empowerment
Wednesday, 03 November 2021 | Time: 19.00 – 21.00 hrs (Bangkok Time)
"We need to communicate the messaging of U=U from a personal and empowering perspective."
This session is replicating the template that The Philippines used for the [COMMUNICATE] webinar titled 'THE GOAL: Every PLHIV is Undetectable' which was organised last 22 October 2021. The goal of the session is to promote the use of U=U in creating stories of living with HIV which are both inspiring and empowering. This will also help PLHIVs, regardless of sexual orientation and gender identity, who are experiencing mental health issues about accepting their HIV status to learn about individual processes. Inspiring leaders who are living with HIV, as well as couples who are in serodiscordant relationship will share personal stories of self-acceptance, love and responsibility, and powering through.
The facilitators for this session are also open PLHIVs who are creating their respective online spaces directed towards inspiring and empowering PLHIVs.:
Jabar Esmael – watch one of his YouTube videos giving tips on productive living with HIV here: As PLHIV how to better manage your state of Mind and Heart
Stephen Quillacio – Listen to one of his inspiring podcasts about living with HIV here: #BakStory Season3 Episode3: Inad Rendon
Join the session here: https://us06web.zoom.us/j/82495976341
---
[INTEGRATE] Multi-Country Discussion on Integrating U=U in National HIV Guideline
Thursday, 04 November 2021 | Time: 14.00 – 16.00 hrs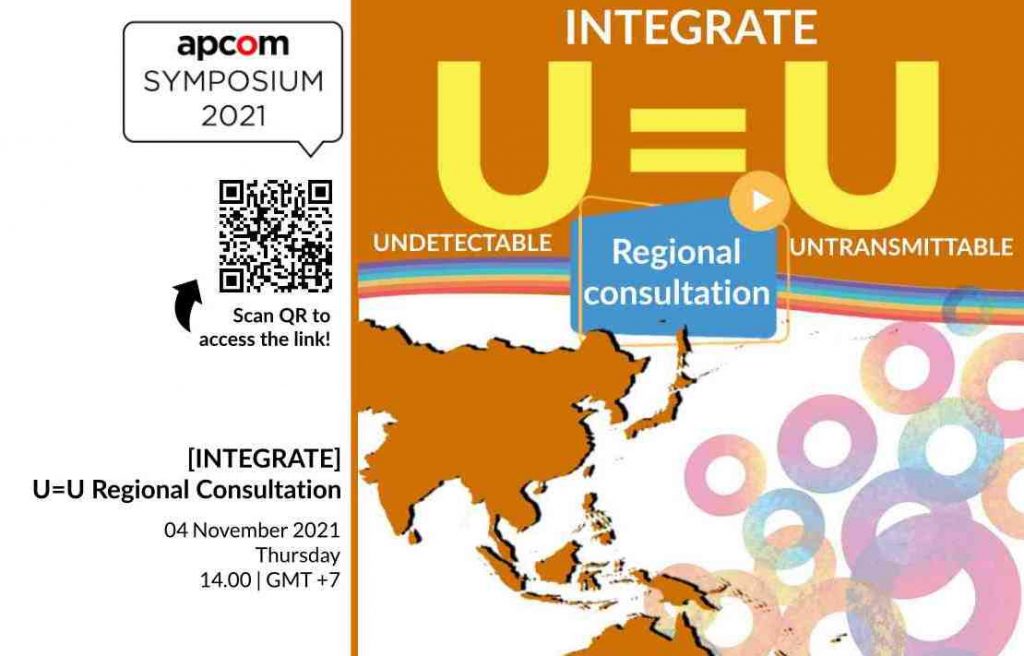 The principle of U=U is a research finding that has generated wide call for its immediate use especially in disseminating its key message that a PLHIV with an undetectable viral load has ZERO RISK of transmitting the virus. It is a landmark finding, when used strategically, will address the cross-cutting issues that affect the PLHIV community. It has the potential to dismantle self-stigma, stigma and discrimination in the healthcare setting, drive awareness and generate demand for ART, addressing barriers to access to life-saving ART, and decrease in LTFU by promoting adherence. However, the principle of U=U will be an effective tool as part of HIV response only if it is integrated in the national HIV programming.
Registration Link: https://us06web.zoom.us/webinar/register/WN_VJnObRjsRUKFSZ3fs9JZHA
---
Share this