Our Executive Director, Midnight, has been confirmed as one of the Incoming PCB NGO Delegates – 2022-2023 along with five other NGO representatives at the recent 49th PCB meeting in December 2021.
The NGO Delegation represents civil society on the UNAIDS Programme Coordinating Board (PCB), the governing body of UNAIDS.
Established in 1994, with its headquarter in Geneva, the Joint United Nations Programme on HIV/AIDS (UNAIDS) is a joint venture of the United Nations family which brings together the efforts and resources of 11 UN system organizations[1] to unite the world against AIDS. Winnie Byanyima leads UNAIDS as its Executive Director since 2019.
UNAIDS fulfills its mission by:
Uniting the efforts of the United Nations system, civil society, national governments, the private sector, global institutions and people living with and most affected by HIV;
Speaking out in solidarity with the people most affected by HIV in defense of human dignity, human rights and gender equality;
Mobilizing political, technical, scientific and financial resources and holding ourselves and others accountable for results;
Empowering agents of change with strategic information and evidence to influence and ensure that resources are targeted where they deliver the greatest impact and bring about a prevention revolution; and
Supporting inclusive country leadership for sustainable responses that are integral to and integrated with national health and development efforts.
UNAIDS' work plan is currently guided by two main documents: Global AIDS Strategy 2021-2026 – End Inequalities. End AIDS. And the 2021 Political Declaration on HIV and AIDS: Ending Inequalities and Getting on Track to End AIDS by 2030.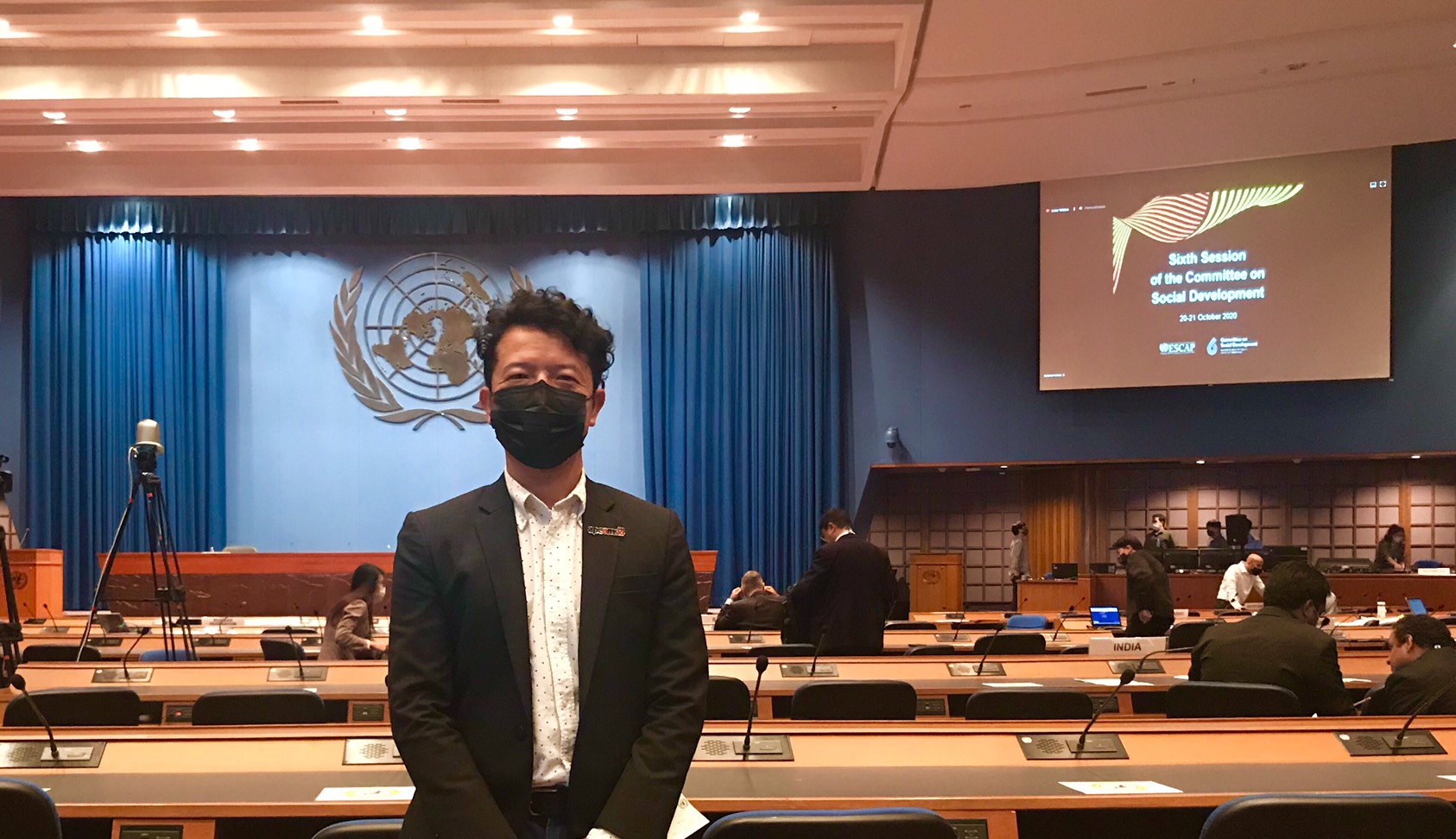 Why did you decide to apply for the position?
It is quite a natural progression for APCOM to support my application for the NGO delegation representing Asia and the Pacific, as APCOM has been around since 2007 and I have been with APCOM for a decade. However, we've not had a chance to represent the region in this unique set up [UNAIDS was the first UN programme to have civil society formally represented on its governing body]. Given our active involvement at the UN HLM on AIDS in 2021, we know that we can do this work well with the support from regional key population networks and country-based NGOs.
On a personal level, this will be a learning experience to see how leadership at the global level tackles AIDS and to ensure that voices from Asia and the Pacific region are heard.
For APCOM, we can bring in our extensive programming knowledge, especially on community-led innovative interventions, and various voices from long established partnerships with community groups and key population organisations.
You are joining the PCB during Covid-19 time, will that affect the way you will work on the PCB?
Yes, definitely! Previously, meetings were held face to face, but since 2020 the meetings are happening online. And with the ongoing rise of new Covid-19 variant cases globally, I can expect that the face to face meetings may not happen in 2022. However, I do hope there will be measures to allow face to face meetings. At the recent 49th PCB meeting I was able to join as an Observer which was rather late our time in Thailand because of the time difference and it was spread over two weeks, including the pre-meeting.
I'll be working closely with Charan Sharma from the Indian Drug Users Forum (IDUF), the other more experienced delegate representing Asia and the Pacific, to ensure that we can actively reach out to constituencies in our region. I'll also need the wisdom of past delegates from our region such as Jules Kim, Adit Lim, Sonel Mehta and Jeff Acaba amongst others, to build on the great work they have done.
"Through Midnight's leadership as Executive Director of APCOM, we have been working together on various projects, most recently on the Covid-19 project supported by UNAIDS to ensure voices of the people who use drugs in the region have a voice and are not being left behind in the pandemic. APCOM has also been very active in their outreach to profile different voices of the communities in the region through their regular Covid-19 newsletter series."

Bimal Acharya, PhD Scholar
Chairperson
NAPUD
You mentioned you joined the 49th PCB online, what was it like?
I was a big learning curve for me to witness the PCB in action, especially on how decisions are made (click here to see decisions made at the 49th PCB meeting).
I was in awe of the NGO delegates, and the CCF (Communication and Consultation Facility) as there was a lot of background work, documents to read, and meetings to arrange and coordinate. These are not easy online especially with the different time zones and adding in the pressure of other personal and work commitments. You can definitely feel the passion in the interventions of the NGO delegates. The personal stories from the delegates and their communities bring such powerful reminder to all of us that there are real people behind what we do and how crucial it is to ensure we utilize this platform well.
The highlight for me was the 2021 NGO Report "Left Out: The HIV Community & Societal Enablers in the HIV Response" about the centrality of societal interventions in the HIV response for Key Populations (KP) and other vulnerable groups such as women and girls, adolescents and young people (AYP), and migrants. This report demonstrated the case that societal enablers can significantly improve access to HIV prevention, treatment and care for key populations and other vulnerable groups.
What were some of the challenges of the NGO delegation on the UNAIDS PCB?
The main challenge for us currently is that a new CCF (Communication and Consultation Facility) is being identified. It will play a crucial role in terms of facilitating communications between delegates, amongst the regions, and between the NGO Delegation and civil society. CCF will strengthen participation and ensure the inclusion of the voices of the community in UNAIDS programming.
This role has been hosted by the Asia-Pacific Network of People Living with HIV (APN+) in Bangkok, Thailand since 2013 thus it will be a big change. I am also missing the oportunity to work closely with Malu Marin and BJ Eco who have been working with the CCF for many years. I hope that they won't mind sharing some tips with me on how to navigate the PCB (laughs).
What is next?
The incoming NGO delegations will need to go through some inductions, we have to start to prepare for the 50th PCB meeting to take place in June 2022 and the 51st PCB meeting in December 2022. We'll also need the support from our region when there may be surveys or consultations to prepare for the meeting – and we look forward to your active engagement.
More information on the UNAIDS PCB can be found here:
https://www.unaids.org/en/whoweare/pcb
More information on the Delegation to the UNAIDS PCB can be found here:
https://unaidspcbngo.org/
Decisions made at the 49th PCB meeting can be found here:
https://www.unaids.org/sites/default/files/media_asset/PCB49_Decisions_EN_.pdf
---
ILO (International Labour Organisation)
UN Women (United Nations Entity for Gender Equality and the Empowerment of Women),
UNDP (United Nations Development Programme),
UNESCO (United Nations Educational, Scientific and Cultural Organization),
UNFPA (United Nations Populations Fund),
UNHCR (United Nations High Commissioner for Refugees),
UNICEF (United Nations Children's Fund,
UNODC (United Nations Office on Drugs and Crime),
WHO (World Health Organisation),
World Bank,
World Food Programme (WFP)
Share this