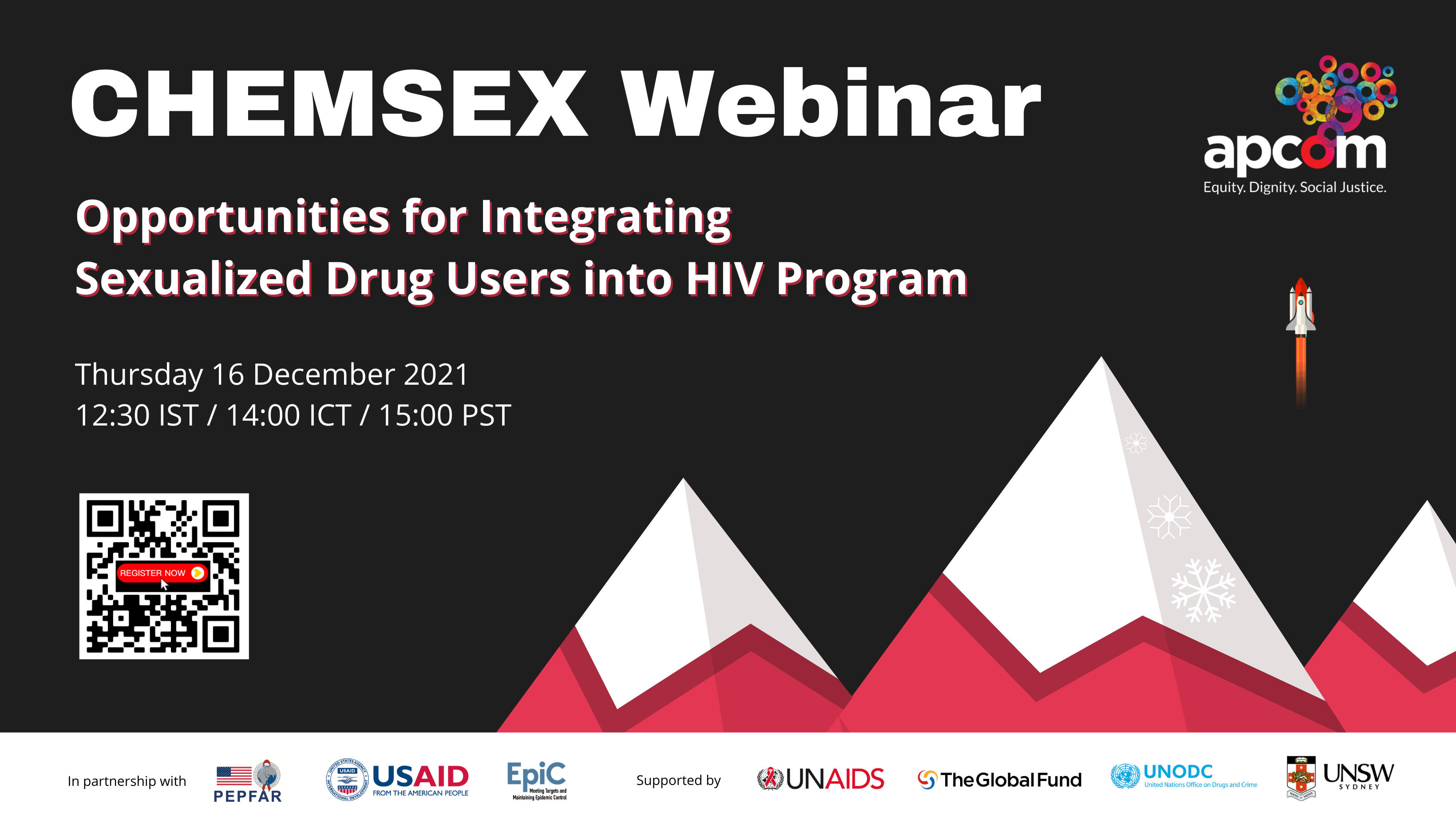 Asia Pacific Chemsex Webinar: Opportunities for Integrating Sexualized Drug Users into HIV Program
Sexualized Drug Use (SDU) is not a new phenomenon and in Asia is receiving attention as the practice is further documented and explored, with SDU prevalence among MSM and transgender women ranging between 3.6% to 91.2% in the region[1]. Diverse social and sexual motivations for SDU are reported a review 'A qualitative scoping review of sexualised drug use (including Chemsex) of men who have sex with men and transgender women in Asia', ranging from describing SDU as a social and sexual lubricant that increased pleasure, to beauty, status and freedom to participate in sexual fantasies. In different contexts, SDU is used to build individual and community identities and establish relationships or as a coping mechanism for those who had experienced stigma, rejection, and/or who described feelings of lost social and sexual worth. Common themes reported across SDU settings in this review include privacy, anonymity and secrecy, findings hardly surprising in an environment where penalties for supplying or using controlled substances may include enforced treatment, incarceration, or death, and where individuals who engage in sexualized drug use may further face exclusion from their peers and families due to the stigmatization and criminalization of same-sex relationships.
However, despite challenges, there are concerted efforts to reach members of key populations engaging in sexualized drug use and to provide HIV and harm reduction services as effectively engaging these high-risk individuals in the cascade of prevention, testing, and treatment services is critical to reaching HIV epidemic control.
Objectives:
To build a common understanding of chemsex among key population communities and other stakeholders in the Asia-Pacific and Central Asia regions;
To identify gaps and support needed related to chemsex issues at the country level, along with solutions to be implemented;
To launch the Chemsex and the HIV Cascade guidelines in response to those needs;
To advocate with government and other stakeholders on the chemsex issue, with the goal of influencing policy change and decision-making processes at the higher level.
Time
Item
Speaker
5 mins
Welcome & Introductions:
– Housekeeping
– Overview of the session
– Introduction of speakers
Midnight
Executive Director
APCOM
5 mins
Demonstrating how to use Jamboard and posing questions to the participants
Kasintorn Honglawan
Digital Monitoring Officer
APCOM
5 mins
Opening Remarks
Dr. Pimpanitta Saenyakul
HIV Deputy Team Leader USAID
10 mins
Setting the scene
Desire Rwodzi
UNAIDS

Angela Kelly-Hanku
Papua New Guinea Institute of Medical Research and the Kirby Institute, UNSW
5 mins
Key findings from chemsex research across Asia
Video clips from:
Indonesia
Philippines
Vietnam
15 mins
Discussion on the up-coming Chemsex and HIV Cascade: A Guide for Program Planners in Key Population-led HIV/Sexual Health Programs in Southeast Asia, in collaboration with PEPFAR/USAID/Epic and APCOM.

Framing of the Cascade

Guidelines presentation
Steve Mills
Regional Director, EpiC Thailand, Burma, Laos
FHI 360

Eddy Chamberlain
Lead consultant
5 mins
Q&A
Midnight
Executive Director
APCOM
5 mins
Jamboard recap
Nicky Suwandi
Communications and Demand Generation Officer
APCOM
20 mins
Midnight to moderate

NOTE: Talk show format

Representations from:
Indonesia (Wawa)
Kyrgyzstan (Adilet)
Malaysia (Martin)
Philippines (Rod)
Thailand (Arm, Krubb)
Vietnam (Tien, Pluto)
Midnight
Executive Director
APCOM

Representations from:
Indonesia
Kyrgyzstan
Malaysia
Philippines
Thailand
Vietnam
5 mins
Reflections on chemsex response in the region
Karen Peters
Regional Drugs and Health Programme Officer,
UNODC
5 mins
Thank you to the speakers and Close
Midnight
Executive Director
APCOM
Speakers Presentation
---
Link to Resources
A qualitative scoping review of sexualised drug use (including Chemsex) of men who have sex with men and transgender women in Asia
Chemsex in Asia: A Community Manual on Sexualised Substance Use among MSM
Situation analysis of substance use among LGBT communities in Thailand
Briefing note: Chemsex and Harm Reduction for Gay Men and other Men who have Sex with Men
Technical Guide: HIV prevention, treatment, care and support for people who use stimulant drugs
UNODC Research Presentation, 'Chemsex' in the Philippines: A baseline assessment of sexualized drug use, HUV, and other STIs among Filipino Cisgender men who have sex with Men.
https://www.issup.net/national-chapters/issup-philippines/events/calendar/2020-11/webinar-fusion-substance-use-and-sex
Link to other resources APCOM has done on Chemsex
---
[1] For example, the prevalence of SDU by MSM in mainland China ranges between 3.6% to 22.8%, increasing to 91.2% when reporting on popper use. In Hong Kong, SDU prevalence among MSM ranges between 3.7% to 14%; in Malaysia 14% to 23.9%; in Taiwan 7.5% to 60.7% (58); in Thailand 4% to 37% and in Vietnam 14% to 20.1%. Studies also report on the prevalence of SDU in transgender women in Cambodia (6%), Thailand (52.7%), and transgender women using poppers in China (85.4%). As well as populations of sex workers, including MSM in mainland China (33.6%), Thailand (62.2%) and Vietnam (6%) and transgender women in China (20.9%) and Malaysia (33.2%)
https://www.apcom.org/wp-content/uploads/2021/02/Report_SDU-in-Asia_20210202_v6.pdf
Share this