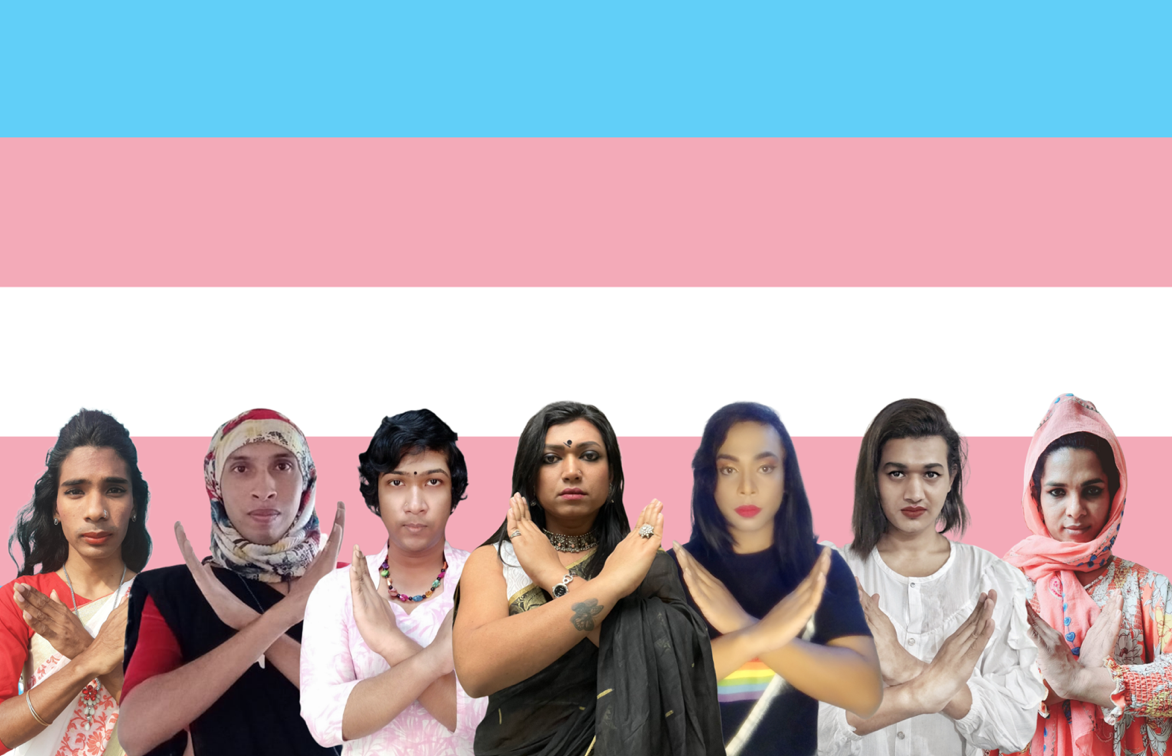 Transgender women posed in "break the bias" position to celebrate International Women's Day 2022.
Courtesy: Author
Contributor: Tushar Kanti Baidya,
Educator, peacemaker and human rights activist
Bangladesh
---
In Bangladesh, transgender people are mainly still considered to be a part of the hijra community by most people. With regard to career progression, the majority of people's hopes are based solely on the customary profits from their traditional dance and blessing activities. Last year, on International Women's Day, Tashnuva Anan made history by becoming Bangladesh's first transgender news anchor. She shattered the still-prevailing wider public traditional perception of transgender persons. Since that groundbreaking event, transgender people's visibility has grown and we can now see the footprints of many throughout the nation.
Every year on March 31st, the International Transgender Day of Visibility is observed. The transgender activist Rachel Crandall began a campaign on this day in 2009 in an effort to raise awareness of the discrimination that transgender individuals face in all aspects of their lives. Transgender people face prejudice in many areas of society, and bringing a day of "visibility" highlights this. Transgender Day of Remembrance, observed in honor of transgender people who have died, was the sole worldwide commemoration for the transgender community at the time. For individuals who are still living as transsexual, there is no celebration.
Over the last several years, there has been a noticeable and exuberant increase in the visibility of transgender persons in Bangladesh. The first transgender news reader in Bangladesh debuted on a commercial satellite television network, ushering in a new era in the country's transgender visibility. Tashnuva Anan Shishir, 29, a transgender activist, provided a three-minute news report on International Women's Day, demonstrating the transgender community's ability level.
Following a resounding victory by an independent candidate, voters in the city of Jhenaidahin in south-western Bangladesh elected the country's first transgender Union Council Chair last year. Nazrul Islam Ritu's success as a grassroot level politician working for the people in public office and her election victory showed that the "Hijra" community is becoming increasingly accepted. At the same time, Ho Chi Minh Islam, a nationally registered transgender nurse working in the health sector who attended to the capital's first coronavirus patient at Square Hospital, became a well-known figure as she was serving the public during the pandemic. Ho Chi Minh became a symbol of transgender people's ability to work in non-traditional fields. Despite the fact that she did the work as a volunteer, she successfully raised awareness about transgender persons.
Various institutions have stepped up in response to the increasing visibility of transgender people. Two Bangladeshi transgender women were nominated to Brac University's Master of Public Health programme in the same year, marking the first time this had happened in Bangladesh. Ho Chi Minh Islam and Tashnuva Anan were awarded scholarships in two different categories to pursue Master of Public Health (MPH) courses.
A similar policy was followed by the Bangladesh Open University, which offered 15 members of the transgender community admission to its Secondary School Certificate (SSC) Programme. The Cox's Bazar sub-center of the public university has approved the admission of transgender pupils from Cox's Bazar to the Cox's Bazar Government Girls' High School. Prime Asia University afterwards launched a free education offer for transgender individuals. The institution had agreed to provide transgender and other marginalized community members an 80 to 100 per cent discount on tuition fees. Later, a religious school for transgender people's opened in Dhaka, with the goal of providing 150 students with free access to Islamic and vocational education.
Transgender people's prominence rose significantly in May 2021 when the government proposed a 5 per cent corporation tax relief for enterprises that hire third-gender people. This led to a rise in corporate interest in recruiting and mainstreaming transgender persons in ordinary jobs. Tax-exempt businesses must employ at least 100 people from the targeted community in a given year to qualify.
Since then, Pathao and Apex companies have collaborated on hiring transgender and differently-abled people as part of their operation to build a more inclusive society. Eventually, Pathao Food hired 50 transgender people as delivery agents, allowing those from the underserved community to make a decent income. With the inclusion of transgender employees in its workforce, Brac Bank is now a more diverse workplace. Consequently, five members of the transgender community were placed in various roles inside the business based on their abilities.
As the transgender community's visibility develops and more transgender persons get involved in numerous sectors, the rise in violence and hatred was also discussed. In Bashundhara city, a man and a woman held a famous transgender make-up artist in captivity and abused her. There were no fewer than three people arrested in the Police Rapid Action Battalion's swift response, which further emphasized transgender people's entitlement to justice when their rights are infringed.
Bangladesh has limited visibility for transgender people, but it's clear that other persons on the gender spectrum should also be given a chance to shine. This disenfranchised minority has previously been viewed as a threat because of their lack of exposure, but the media of all kinds are now crucial players in an effort to secure human rights. As we commemorate this year's Transgender Visibility Day, let us make a commitment to helping this historically underserved population realize their full potential, which is right there in front of us.
---
About the contributor:
Tushar Kanti Baidya, is an educator, peacemaker and human rights activist from Dhaka Bangladesh.
He can be reached at [email protected]
---
Share this