Contributor:
Pokponk J. APCOM
---
On June 7, 2020, APCOM joined with NOBRA LGBTQ Project, and Joyman Gallery to celebrate Pride Month with the opening of Being Human = 3 artists x 3 perspectives.
NOBRA interestingly narrates the experience of "being framed" by gender in the society through various dimensions; families, social, politics, or even beliefs. It's not only speaking out from LGBTQ perspective but also as another human being that exists and is visible in society – living as misfits in the world. The art pieces are calling out for equality, and not just surrendering to fate.
The exhibition is about sharing experiences of the artists – which are often viewed as being so self-centric – but we want to speak out our story as another human being, and calling for equality is not an individual pursuit but one that will be transformational in our society. There are also some hidden messages in the art pieces waiting for you to search, learn, ask, and find the answer together.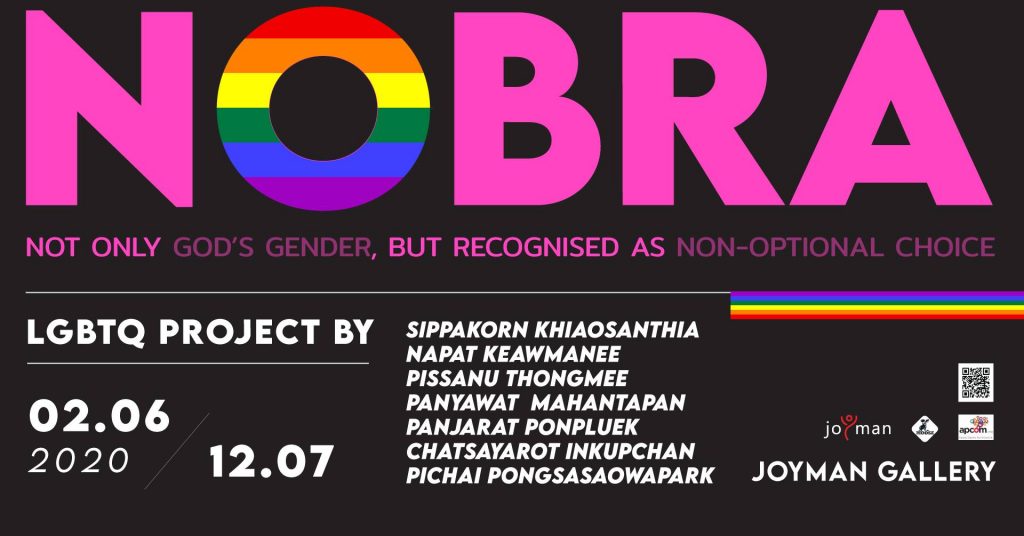 APCOM contributed to the art piece with an interactive performance by Sorakrit Benjamongkolchai, playing the guitar whilst the artists spay messages on his body and take out his blind fold, and giving him apples.
Thank you to the following artists:
Napat Keawmanee
Pissanu Thongmee
Sippakorn Khiaosanthia
Pichai Pongsasaowapak
Panjarat Ponpluek
Panyawat Mahantapan
Chatsayarot Inkupchan
APCOM would like to thank Joyman gallery for this symbolic Pride celebration, bringing some needed colours during the COVID-19 pandemic.
---
Share this