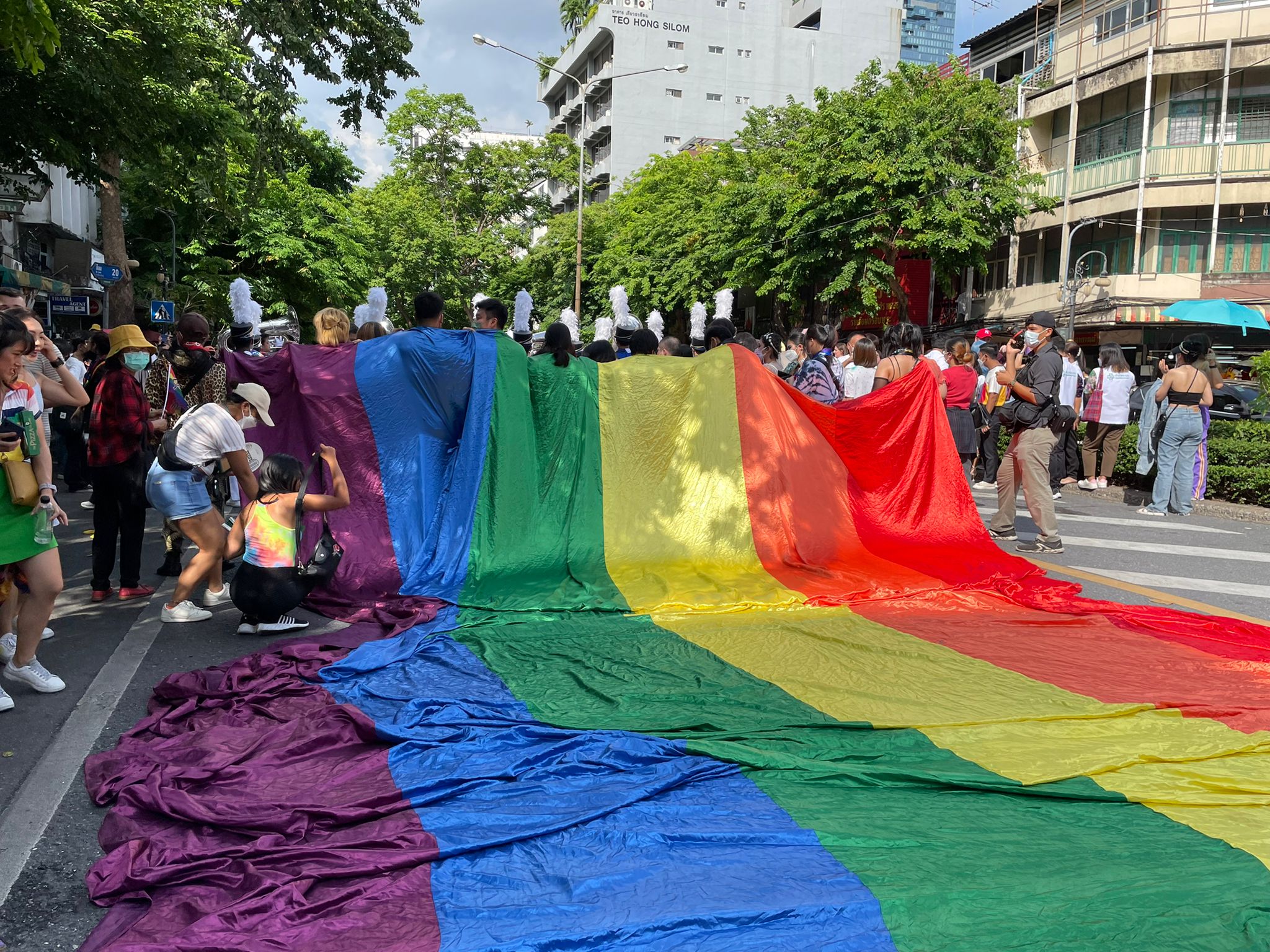 This year's Pride Month will see the biggest Pride Parade in Bangkok yet! The Bangkok Metropolitan Administration (BMA), and over 40 civil society organisations, and members of the private and public sectors are expecting 20,000 people marching in the colourful parade, and close to 100,000 spectators.
APCOM and Gay Games Hong Kong 2023 joined hands to profile the up-coming Gay Games, one of the largest global events of their kind that brings people together to experience unforgettable moments of joy through sport, community and culture. Hong Kong will host the 11th edition on November 3-11, which will be the first time it will be hosted in Asia. 
"After the general elections in Thailand, the LGBTQI community in Thailand is hopeful to see positive changes not just for LGBTQI equality, but for human rights, and democracy,"

mentioned Midnight, APCOM Executive Director,
"We are pleased to be able to support Gay Games Hong Kong 2023 at the Bangkok Pride parade and congratulate the team for their perseverance over the Covid-19 pandemic to organise a first of a kind event in Asia, as Thailand is looking to host the first WorldPride in Asia in 2028." 
APCOM is one of the official community supporters of Bangkok Pride along with close to 40 other community groups.
"This is a really exciting opportunity for "Gay Games 11 Hong Kong 2023" to take part in this year's Bangkok Pride, and we thank the partnership with APCOM for their solidarity. We would also like to take this fabulous opportunity to invite you to Hong Kong – a unique melting pot of traditions and futuristic innovations and take part in GGHK2023 sporting events. We welcome participants regardless of sexual orientation, gender identity, ethnicity, or even training level,"

said Lisa Lam, Co-Chair and Legal Counsel for Gay Games 11 Hong Kong 2023.
Thailand is known internationally for the safe space it provides to the LGBTQI community, and we are expecting close to 100 people to join the APCOM x Gay Games Hong Kong 2023 parade, including from Thailand's community organisations, and regional networks working on sexual reproductive health and rights, HIV,  human rights, and wellbeing. 
Traditional drummers from Northeast Thailand will ensure an upbeat vibe during the parade.
After the parade, come and purchase some goodies from our booth at CentralWorld, and take photos with our adorable Head-in-the-hole cutouts to promote HIV prevention.
"Thank you APCOM for inviting civil society organizations to be part of the Bangkok Pride 2023 this year. This event allows us to profile the diversity and uniqueness of the individuals as well as mobilize our collective work in relation to health for all to ensure that we are leaving nobody behind. Our society needs to understand and respect diversity without discrimination and stigmatization,"

commented Jarunee Siriphan of People's Movement to Eliminate Discrimination (MovED) and Executive Director of Foundation for AIDS Rights (FAR).
---
---
Share this