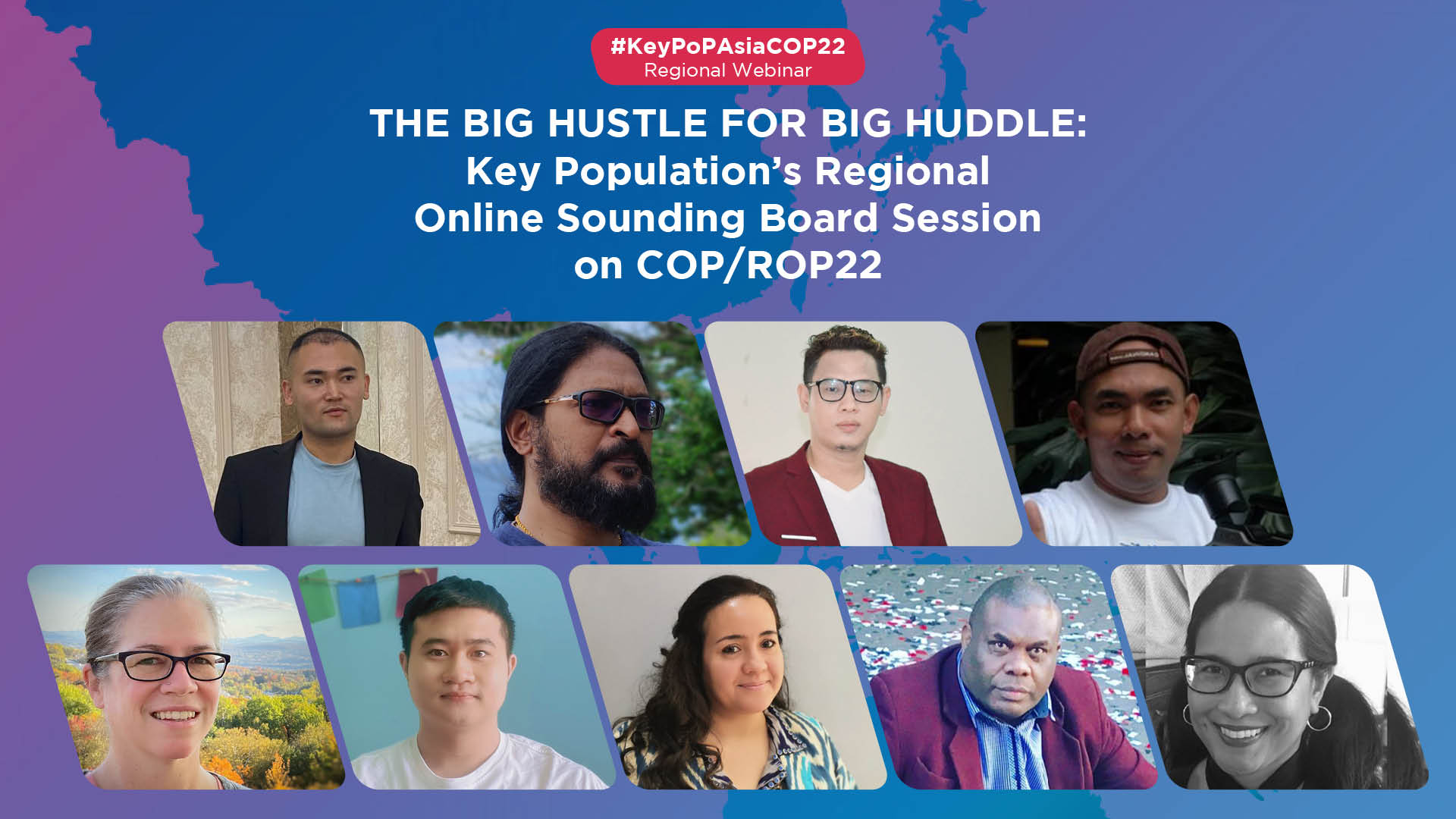 Through #KeyPopAsiaCOP22, a series of pro-active community-led data collection and consultation with key populations and their networks in Asia, with the collaboration of Regional Key Population Networks Asia Pacific Network of People Living with HIV (APN+), Asia Pacific Network of Sex Workers (APNSW), International Community of Women Living with HIV in Asia-Pacific (ICWAP), Network of Asian People who use Drugs (NAPUD), and Youth LEAD, has served as a visible regional platform which is open and safe for the communities to share worries and concerns about KP program's sustainability.
APCOM has also developed and disseminated resources and knowledge products about PEPFAR and COP/ROP22 so that communities know the process and how to better engage online, as travel restrictions are still in place.
The Asia Region is facing a continuing decline of investments into HIV programming despite the inclusion of strategies and commitments towards ensuring KP-led programs and their sustainability. As we are approaching towards approval of the PEPFAR ROP/COP 2022 meetings in May 2022, significant concerns from the key population are yet to be addressed.
Through this online sounding board session, with key participation from PEPFAR/USAID/EpiC, we heard from the communities their personal and professional experiences regarding their involvement in the COP/ROP22 process. Through their experiences or the lack thereof, they have come up with useful recommendations as we move forward to Country Operational Plans/Regional Operational Plans 2023 (COP/ROP23) processes.
Part of the recommendations, for example, in Nepal, the implementing CBOs are not part of the COP process in the country. Although some of the CBOs were given opportunity to provide inputs, they are not sure whether their inputs were included and that there must also be strict implementation of CLM (community-led monitoring) in the country for active watchdogging in the improvement of quality of HIV services.
Another recommendation is that the spaces and fora where discussions and consultation happen have to be community-friendly which allow open and honest conversation. These spaces and for a should promote an environment for the community members to feel that their voices and contributions are crucial, and that actions will be taken as the process moves forward.
"If possible, involve more quantity of community and activist members in this kind of round table discussions in the country, as it would more helpful with COP processes."


Adilet Alimkulov
Executive Director, Kyrgyz Indigo
Kyrgyz Republic
"As a regional key population network, we are concern that with the completion of KPIF last year, we need to continue advocating for a dedicated funding stream for key population both regionally and nationally."


Francis Joseph
Regional Coordinator, NAPUD
Asia Pacific Region
"The most important thing for us is the proper implementation of the [COP 2022] plan [in Nepal]. There should be community led monitoring to ensureproper implementation."


Raju Lama
HIV activist
Nepal
"The need of the community itself, and not the need of the project holder [should inform the COP]…Ideally, if possible, preparing the next COP should come from issues and discussions from key populations at the grassroots levels – that can be coordinated by and for the key population organization or network."


Slamet Rahardjo
Executive Director, GWL-INA
Indonesia
"The main problem is related to the language barrier of our activists. Many do not speak the language, and do not have the opportunity go to the online resources, so it is difficult to participate and express their thoughts."
"And to ensure the effective engagement of the community in COP 2023, I suggest that we have more meetings, more webinars that have the community [engagement] so they can contribute their ideas."
Trends in PEPFAR Resources and Investment
in Key Populations for Asia Region Program
What do we hope to see approved for ROP/COP 2022?
Community System Strengthening
Re-introducing and improving the Toolkits – SWIT, MSMIT, TRANSIT, IDUIT
Organisational Capacity
Promote accountability and sustainability
Upgrading infrastructure to support community-led and –based service delivery
Generate demand for the HIV prevention combination – PrEP, HIV Self-testing, ART
Community-led Data gathering (including CLM, S&D)
Community-led data gathering – designing, implementing, collecting, storing, analysing, advocating, owning
generate more data, beyond anecdote data, on reasons for PLHIV falling from treatment producing high mobility of HCW
Regular or periodic implementation of S&D reporting to ensure quality of services
Standardizing the language across the countries, and at different levels. Build a common understanding at all levels, especially with the key population, the use and coverage of a 'term'
Key population leadership. Add a seat for the Key populations in the COP in the current structure (oversight committee)
Supporting innovative services designed and implemented by communities during the COVID-19 pandemic and secure emergency funding
Disaggregate data to highlight age groups, subgroups (e.g. PLHIV's behaviors and practices, gay men who inject drugs)
For the next ROP/COP 2023 the process of community engagement needs to start early – before the ROP/COP season in early 2023, and we look forward to engaging with the PEPFAR Asia Coordination Unit (PARCU).
There will also be a regional joint statement from the region to be submitted to PEPFAR.
---
Tools we have developed are:
Factsheet: Country Operational Plans 2022
This is for Increasing Key Populations' Knowledge on, and Participation in the country PEPFAR discussions.
APCOM extends sincere gratitude to our community partners in the countries. Without your trust and confidence in the work that we do, we are not able to continue to provide useful resources and technical assistance. We acknowledge the contributions and inputs of our key populations and community partners into these processes.
Thank you to the following regional key population networks for their active collaboration:
---
What did we do in 2021
---
Share this