Over two years, all our lives have been turned upside down. Even though restrictions on international travel and Covid-19 precautions are being relaxed, the reality is that for our LGBTQI communities in the region, we're not yet out of the tunnel.
"We need a community-led and community-owned funding mechanism for communities working on LGBTQI and HIV issues in Asia Pacific, and Covid-19 really amplified the need for such mechanism for emergencies like Covid-19 but also to ensure the resilience and sustainability of activists and organizations to continue to do their important work in the region,"

Midnight, Executive Director APCOM
#CoronaAPCOMpassion emergency funding started by staff in 2020 and continues to provide emergency funding to grassroots organizations and their members working with most vulnerable and marginalized populations who can't access the services and resources that they need.
"The community has been the foundation for all effective responses to health pandemics, from HIV and until COVID-19. We send our warmest thanks to those who have contributed to the #coronaAPCOMpassion fund. These acts of solidarity throughout the region show that our communities are larger, stronger and more interdependent than ever."

Yayasan Gaya Dewata, Bali, Indonesia
"APCOM has always done a lot when it comes to capacity building and community empowerment. Now on behalf of the whole staff of Dareecha and the community, I really wanted to say that whatever the amount is, whether it is one Rupee or any, if the community organisation is feeling the pain for the community, then we really mean it when we say Thank you!"

Muhammad Usman, Dareecha Male Health Society, Pakistan
Cash support for those in need
Our communities still need emergency assistance,
read who has benefited from our emergency funding.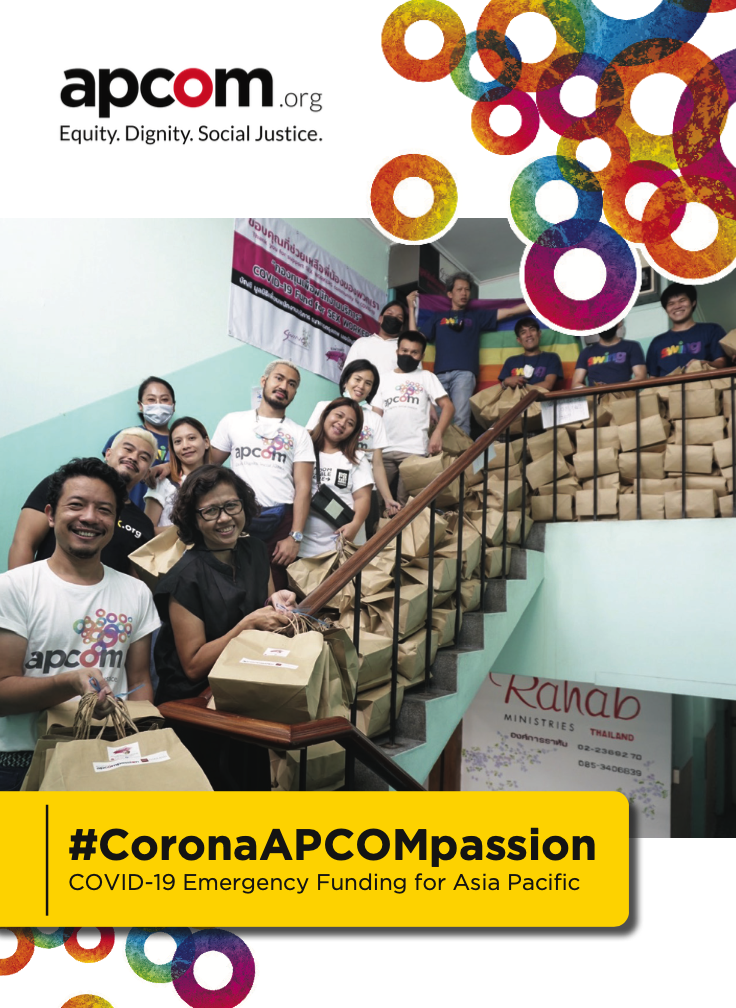 Generating Evidence
As APCOM champions the human rights of LGBTQI communities and those affected by HIV, we have pivoted to gather evidence of COVID's impact on these vulnerable groups during the pandemic. With the support of the Atlantic Fellows for providing #solidarityagainstcovid to help amplify our work:
Calling agencies not to forget issues of LGBTQI people
The open letter aimed to bring attention to the effects of COVID-19 on LGBTQI communities, as evidenced by various researches and surveys conducted by LGBTQI organizations; and statements by experts and various UN agencies.
The effects of COVID-19—based on an APCOM survey—showed that organizations and communities were concerned about the effects of COVID-19 regarding the delivery of health services, including HIV-related services. Access of LGBTQI people to mental health services, for those who need them, has been affected by the pandemic. These issues are in addition to the stigma and discrimination, experienced by service users during normal times.
'Rest assured that we have heard your important message and, as we update our guidance and approach to COVID-19, we will ensure that specific challenges of LGBTQI communities will be recognized and addressed,'

WHO Director General Dr. Tedros Adhanom Ghebreyesus said, in a letter addressed to APCOM dated October 8, 2020.
Open Letter to WHO to integrate effects of COVID-19 on the LGBTQI communities gets response from Director General Dr. Tedros Ghebreyesus
Amplifying the voices of the community
We ensure we're providing the platforms that communities working on health, human rights and wellbeing in the Asia Pacific region can still voice their concerns and issues, especially with the effect of the pandemic. The community has been able to tell their stories through APCOM:
---
Spotlighting Heroes
Standing for HIV. Equality and Rights, the HERO Awards is an annual fundraising event which acknowledges outstanding service to the region's lesbian, gay, bisexual, transgender, queer and intersex (LGBTQI) communities, and HIV response in Asia and the Pacific. These were the communities really affected by Covid-19, and a special Covid-19 category of the HERO Awards was created in 2020.
"The Covid-19 Hero Award recognizes a community or not for profit organisation which has worked during the pandemic to ensure access to health services and/or rights of LGBTQI people and/or people affected by HIV in specific countries in Asia and the Pacific or across the region more broadly."
Covid-19 HERO 2020
Jaringan Indonesia Positif, Indonesia
"We choose to bring back the enthusiasm and hope of those affected by COVID-19. Because we still have hopes of pursuing the big goal of JIP, which is 'Fulfilling the right to health for people living with HIV through a peer support system within the framework of Human Rights and gender equality'. We can't do it alone. So, come on! Let's move together to raise the hope and spirit of struggle for our friends out there, help them spread the wings of hope; and become empowered PLHIV individuals despite the uncertain pandemic storm till when it ends."
Covid-19 HERO 2021
Outrage Magazine, the Philippines
"Living with HIV in the Philippines is challenging; we suffer daily stigma and prejudice, as well as online abuse and bullying. Our awareness isn't quite in sync with the community's objectives. We have seen a lot of PLHIVS in the Philippines that don't have enough access to HIV awareness, have unknown statuses and identities, and don't use social media responsibly. Many have mental health issues that necessitate adequate psychological and emotional care."
Community Organisation recipient of the HERO Awards 2020
---

To contribute to #CoronaAPCOMpassion
Via PAYPAL:
If you already have a PayPal account, please log in to your account and click send payment to [email protected]
In the "Note" section, please give us your Full Name(s) & Email Address and please indicate that it is for "CoronaAPCOMpassion".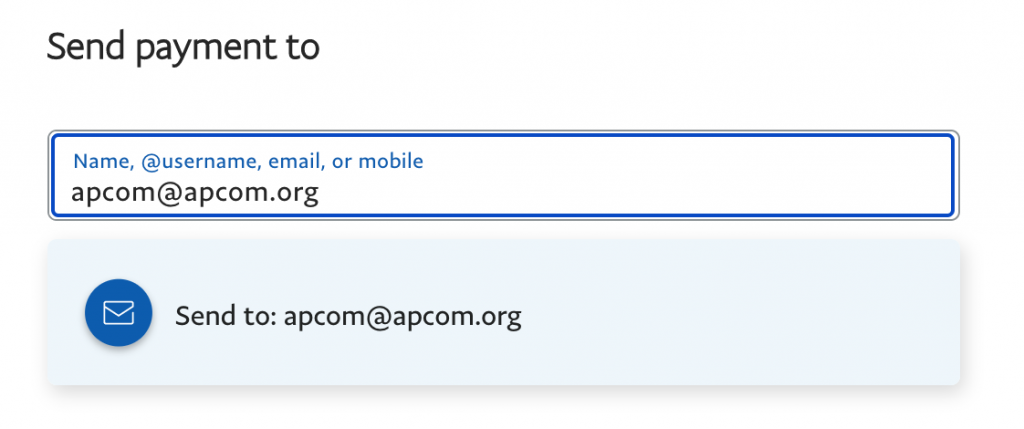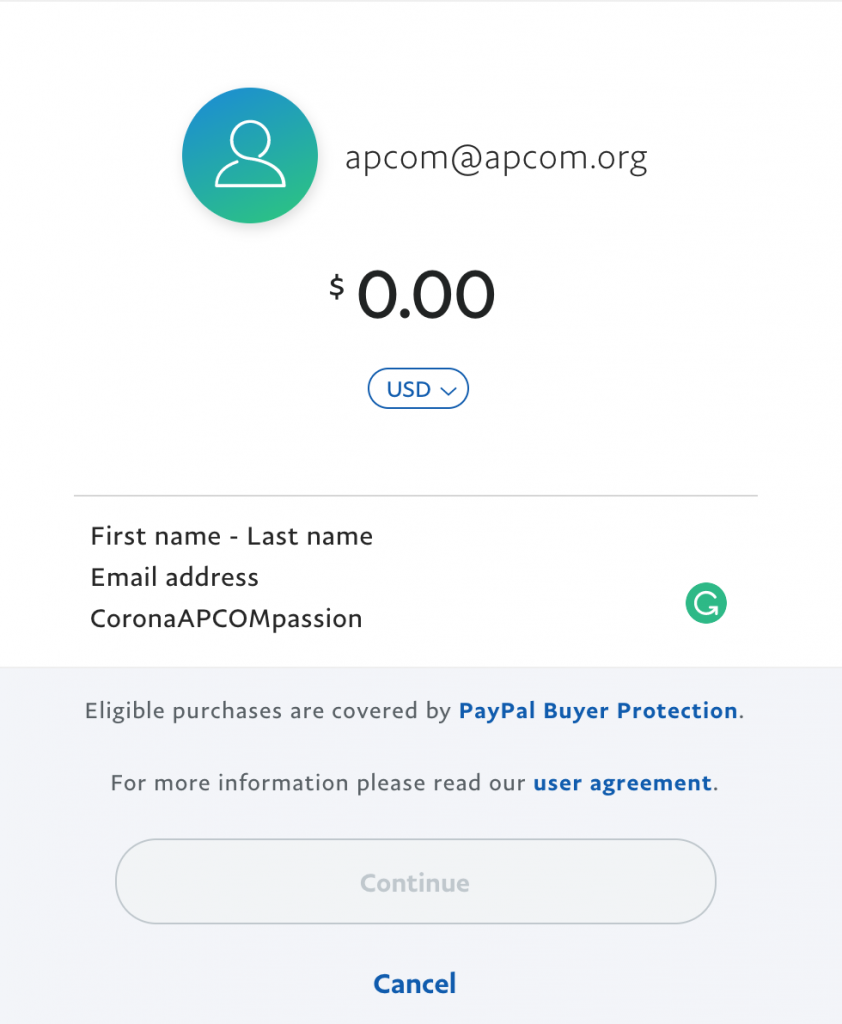 Or via bank transfer to:
Account name:
APCOM Foundation
Bank:
Bangkok Bank
Bank address:
87/2 No. 114, 1st Floor, All Seasons Place Retail Center, Wireless Road, Lumpini, Pathumwan Bangkok 10330, Thailand
Account number:
911-0115-33-5
SWIFT Code:
BKKBTHBK
---
Share this