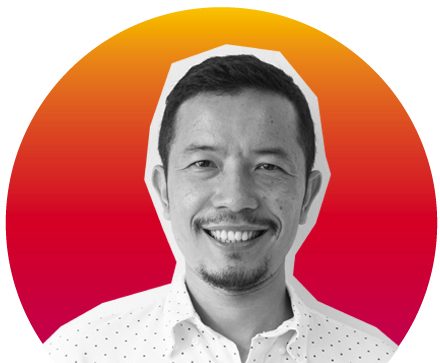 Contributor:
Midnight Poonkasetwattana, APCOM
---
---
I don't think anything would have prepared anyone on how to deal in leadership role when COVID-19 pandemic hits. I for one didn't think I would be able to go through such a sudden shift. APCOM is still in the process of mending the team from a painful restructure in 2019, due to the end of three big projects which we then had to reduce the number of staff to 10 from 21, as new funding could not be secured in time. We have not completely reached the end of that intimidating tunnel, and now, we have to go through another shock. I didn't think our team would be able to go through another upheaval.
As the head of the secretariat, the members of my team view me as the backbone of the organisation. The leadership role I occupy requires me to be constantly vigilant for any crisis that may come upon the organisation. But I know that the environment is changing so fast that I don't have the right tools to deal with new realities. In 2019, I enrolled myself to leadership programmes to further equip myself in my role. The first one was The Equity Initiative, a programme that aims to build a thriving and sustainable network of multi-sectoral actors to create a community for health equity in Southeast Asia and China. The second one was The Obama Foundation Leaders: Asia-Pacific program which aims to inspire, empower, and connect emerging leaders from across the Asia-Pacific region. From the two programmes, I learned the principle of Adaptive Leadership. This means that everyone working together to accomplish goals and initiate changes, undergoes processes of unlearning and experimenting, and discovering new knowledge together.
Despite the new experiences, networks and values I learned from the programmes, the sudden outbreak of the COVID-19 pandemic made me question my capacity to be a good leader.
But I was astonished that our team were more resilient than I had thought, and were able to pivot very quickly and come up with great ideas, make decisions, take action and follow through. Instead of leading alone, I allowed them to lead with me. I took a step back and supported their ideas. There were even times I was very uncomfortable thinking if it's going to work, or that we might not have good enough data to make the right decisions. But the situation brought us together to unlearn what we thought we knew, explore new ideas together, and for them to demonstrate their leadership. I realized that the outbreak and lockdowns called for right things to do, rather than doing things right. A lot of the initiatives you see that APCOM organised since the COVID-19 lockdown are ideas coming from staff, and on things that we have not done before:
To support the team in performing varying degrees of leadership roles, I consciously reached out to people I know with skills and expertise that our staff, and our organisation would benefit from. These are in the forms of virtual trainings and online learning sessions. So far, we have had 5 of such sessions; demonstration on MS TEAMS, Mental Health session, Design Thinking workshop, Fundraising 101, and Diversity & Inclusion.
The team is much more communicative about what they are up to, personally and about work. We got closer via Zoom. The highlight for me was how we all get to get a different side of each other, and comfortable enough to provide honest feedback. For example, a few mentioned to me that as I am in the office more and not traveling around so much as in 2019, I am more accessible to talk to and they are more comfortable to discuss work and personal issues with me without feeling a big hierarchy. One staff let me know that I am such a perfectionist, that I should slow down, and not to worry so much. I can't help but see that it'll be much harder for us as NGO to operate in the future given some big companies have laid off staff, big INGOs are letting staff and satellite offices close, and some NGOs are reducing their operations. I'll be very happy if we can maintain the same number of staff into the next few years, and at the same time put special efforts into diversifying our funding sources as we plan our new strategy to start in 2021.
During the lockdown, I am with my two sisters and a pet dog, a Pomeranian called Moopa (meaning 'wild boar' in Thai). My father lives in the remote Northeast Thailand so he's safe. My hair has grown and slowly turning into an Afro, gained two kilos, had too many on-line meetings, many sleepless nights and worry that I am not doing enough, or that I am not enough. On better days, I read books, have a long bath, watching YouTube, virtual catch up with friends over a drink, and cook for my sisters. I am thinking to start doing exercise from 1 June.
I cannot control everything. I have to be comfortable with the unknowns. But I do know that I am being supported by our amazing staff, the board and Ambassadors. Knowing that I have a team who are supportive and willing to tread the unfamiliar territory with me is an amazing feeling.
Our ability to reach the communities on the ground is already an indication of a critical role we should protect. We need to maintain the trust and the strong links that we have with our communities in the region, and these can only happen with a strong internal team.
Thank you, team, for YOUR adaptive leadership!
---
Share this