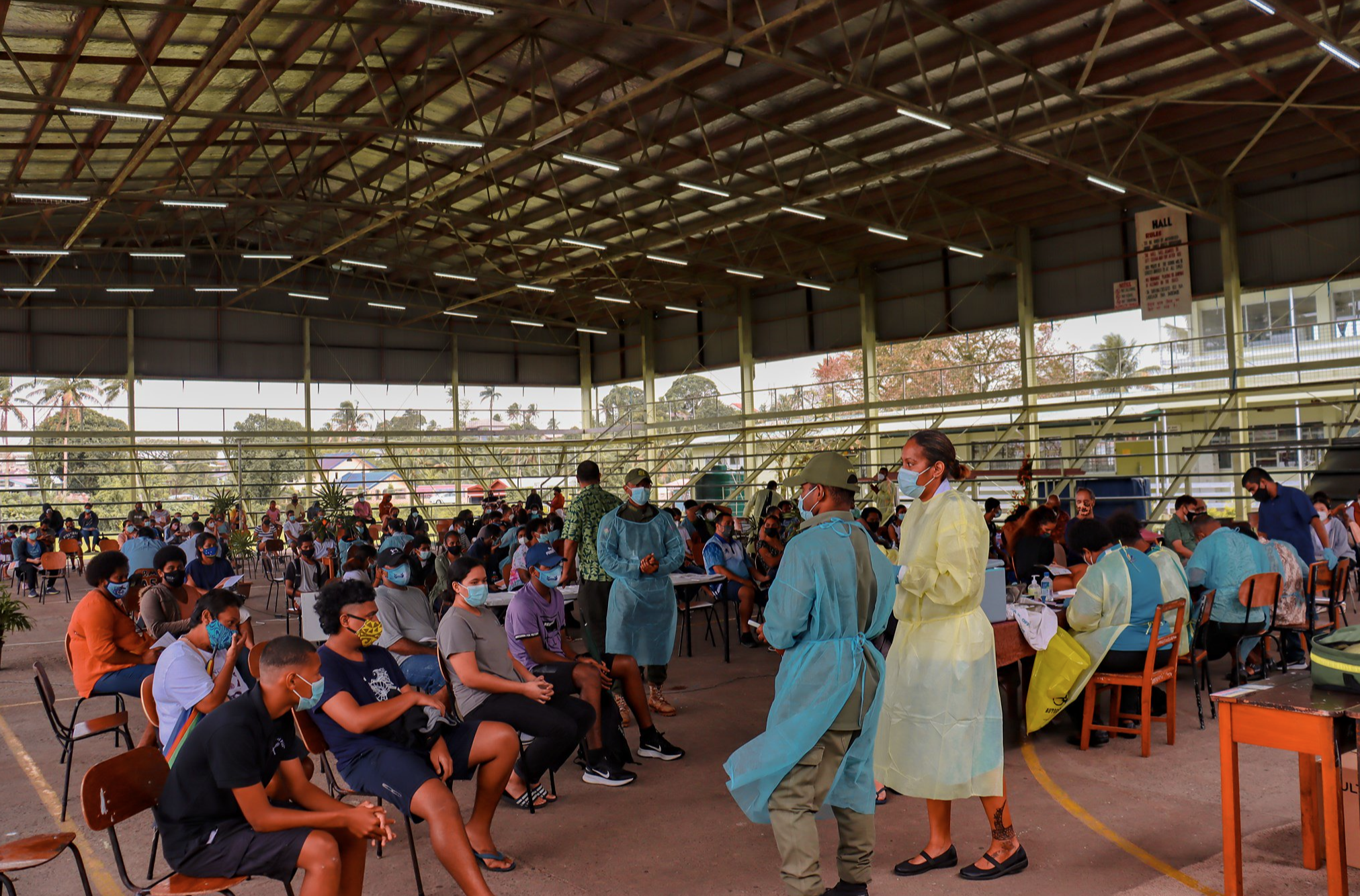 A parliamentary Information Brief summarizes the Fijian Government's early response to the pandemic which had, as of 28 October 2020, a total of 33 reported cases, including 2 deaths, 30 recovered and only one active case.
The Government's response to the pandemic started in January 2020 with the formation of a COVID-19 Screening Committee led by the Ministry of Health and Medical Services (MoHMS).
To prevent the spread of the virus, the Government quickly put measures in place to limit social contacts and curb movements such as, inter alia, social distancing, limiting gatherings to 20 persons, closure of schools, banning religious gatherings and sports events, closure of sports and entertainment facilities.
Other early response measures during the first three months included:
Screening of incoming passengers at the international airport
Local testing of the corona virus at newly opened Covid-19 testing facility
Introduction of a Digital Contact Tracing Tool
Setting up isolation wards at hospitals around the country and opening of testing facility
Introduction of the 14-day self-quarantine rule for persons entering Fiji and border closure for foreign nationals originating from certain countries with high infection rates
Ban on cruise liners
Limit customer capacity in restaurants
On 15 April 2020 the Government made a Declaration of Natural Disaster (Covid-19 Pandemic) to better coordinate its response.
In addition to public health actions and social/community initiatives, the Government introduced several legal and national budgetary measures as a response to the pandemic. The national budget for the 2020-2021 fiscal year saw an increase of 13.5% for the health sector and included USD 36.3 million towards the national Covid-19 response.
Legislation related to the Covid-19 response covered issues such as tax returns, value added tax, extension of bonded warehousing, duties on medical equipment and products, reduce mandated contributions to provident funds. and a revision of the Employment Relations Act to ensure sustainability of jobs and businesses. The government also sent a strong message of support and solidarity in March 200 by approving a 20% pay cut for all MPs and Ministers.
Last but not least, Parliament itself implemented measures such as social distancing for Members and staff, provision of hand sanitizers, restricting public access to Parliament, providing technology for online meetings and virtual hearings/inquiries; and migration to electronic forms for general administrative processes.
Rainbow Pride Foundation 4 LGBTQ Rights and Equality in Fiji
At the onset of the pandemic, RPF consolidated feedback from personal experiences about the impact of Covid-19 on the LGBTQ community. The main observations are listed below.
Restricted mobility has affected work, limited the access to basic goods, services and medical assistance; and touched on the social and family life of the community members. LGBTQI individuals often expressed concern about their safety as there was an increase in discrimination and stigma. Many reported an exponential increase in violence and aggressive behavior related to sexual orientation, in particular vis-à-vis Covid-19 patients in the community. Another concern was the increased risk for those who are part of key populations such as people living with HIV, sex workers, single parents and people with disabilities.
Economic and food security are a major worry in the community. With many working in the service industry (i.e. tourism, agriculture, small and medium enterprises), there is a growing anxiety about loss of employment. Financial constraints may force individuals to review priorities and forego coverage of other specific needs. Such will in the long run have an impact on the psychological and mental wellbeing. The bad financial situation of many in the LGBTQ community is exacerbated by the increase in food prices and the non-availability of essential household groceries.
As everywhere else in the world, this pandemic has affected every fabric of the society. There is a serious concern that the crisis disproportionally affects the LGBTQI community, but the solidarity and resilience in the community is encouraging.
Fiji CSO Alliance For COVID-19 Humanitarian Response
An alliance of 8 NGOs/CSOs in Fiji aims to build on existing partnerships and allies to coordinate Covid-19 response efforts, information sharing and analysis and provide mutual support during the pandemic. The Alliance sends out regular newsletters that focus on an array of issues, including Covid-19 and gender, stigma around menstrual health, humanitarian work, interaction with government authorities, social protection, information on international day and profile updates of its member agencies. The Fiji CSO Alliance For Covid-19 Humanitarian Response has regularly raised concern about the impact of the Covid-19 and the impeding humanitarian crisis in Fiji, with increased unemployment, lack of food security, restrictions in access to health services, education and other essential services.
The pandemic intensified existing inequalities and human rights issues. Food security and malnutrition remain a primary concern, with families struggling to feed their families and slowly running out of savings. Poverty is on the rise and, with an increase in health and essential needs, is taking a toll on individuals, families and communities. There are reports of increase in crime rate and violence against women. Another concern is access to education, as families may not be able to cope with the additional cost for education, transport and food. With many people stressed out, the effects on mental health is becoming more visible.
The Alliance has stressed the need for timely and correct information and the right to privacy. During the pandemic the Government should ensure that social protection schemes remain intact and should provide reliable information and be transparent in its decision-making process. While the Alliance reiterated the urgent need for a sustainable, comprehensive (gender-responsive) national response and recovery plan, many are worried that improper use of the rising number of surveillance tools and applications may infringe on people's freedom and privacy. The Alliance has called for a strong response based on national solidarity.
In August 2020, the Alliance set up a one stop humanitarian response centre for Fiji to better coordinate and streamline humanitarian support for families and communities impacted by the pandemic. The centre will respond to food and other basic needs, but will also promote information sharing and provide counselling services, including alternative means of income for those affected.
---
Rainbow Pride Foundation
https://m.facebook.com/notes/rainbow-pride-foundation-4-lgbtq-rights-and-equality-in-fiji/impact-of-covid-19-on-lgbtq-people-in-fiji-during-its-early-days/2814110398862429/
Fiji CSO Alliance For COVID-19 Humanitarian Response
http://www.fwrm.org.fj/about/partnerships/fiji-cso-alliance-for-covid-19-humanitarian-response
Joint statement: 
https://m.facebook.com/notes/fiji-womens-rights-movement/joint-statement-ngochr-and-rainbow-pride-foundation-stop-victim-blaming-covid-19/3005142846215704/
---
Feature image: Ministry of Health & Medical Services, Fiji
Share this