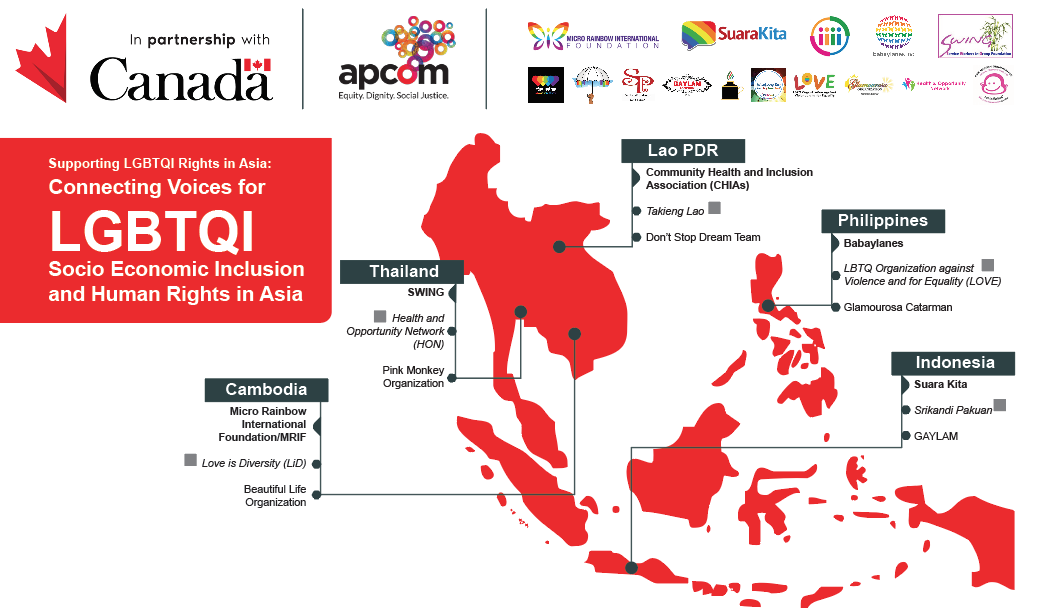 Passing through Pride Month, it was very heartening to see the LGBTQI movement in Asia and Pacific celebrate their courageous visibility. Though, the region overall still remains intolerant, and the rights of LGBTQI are limited.
Global Affairs Canada is supporting APCOM to lead the project "Supporting LGBTQI Rights in Asia: Connecting Voices for LGBTQI Socio Economic Inclusion and Human Rights in Asia" aiming to improve local LGBTQI organizations' ability to represent and advocate for LGBTQI persons' welfare towards shaping gender-sensitive policies and programs in five countries in Southeast Asia; Cambodia, Indonesia, Laos, Philippines, and Thailand.
The project's ultimate outcome is to advance gender equality and human rights by LGBTQI persons in the five countries. The project will build skills and knowledge to address identified gaps in areas such as project management, lobbying and advocacy, networking, resource mobilization, communications, finance, human rights, and gender equality.
As a regional organization, APCOM is in a unique position to amplify national advocacies for equality and non-discrimination to a regional level. Coming together, connecting, and sharing stories from provincial to national to regional levels is also a best practice in our experience as we learn together, craft responses together, and grow together as a movement across the countries.
To achieve this, we work with 15 organisations; 5 national and 10 sub-national LGBTQI organizations in Cambodia, Indonesia, Laos, Philippines and Thailand through national and regional events and platforms for LGBTQI movement building to amplify the advocacy for LGBTQI human rights and social and economic inclusion in the region.
15 LGBTQI organizations will be sub-granted for a two-year period, 3 each from the 5 countries, of which each country will include a women-led LGBTQI organization. These sub-grants are intended to respond to high priority organizational strengthening needs as surfaced in the planned organizational development diagnosis.
To celebrate the end of Pride Month 2023,
we proudly introduce the 15 partner organisations below:
Cambodia
Micro Rainbow International Foundation/MRIF
(National country partner organizations)
Located in Phnom Penh, Micro Rainbow International Foundation (MRIF) is a charity registered with the Charity Commission in October 2016. MRIF's vision is to contribute to a world where lesbian, gay, bisexual, trans and intersex (LGBTI) people can achieve their full potential in life and have equal access to employment, training, education, financial services, healthcare, housing, places of faith, and public places and services through three main programmes: economic empowerment and advocacy, emergency housing and support and social inclusion.
Beautiful Life Organisation
(Sub-national country partner organizations)
Beautiful Life Organisation (BLO) is a locally-registered non-governmental organization in Siem Reap. BLO runs a drop-in center called A Place To Be Yourself; a safe space for LGBTIQ+ individuals to meet, learn through peer support about their gender and sexuality, and access information about healthcare (both sexual and mental), counseling services that are available to them, and their rights in Cambodia. It also advocates alongside LGBTIQ+ individuals to promote exposure, challenge stereotypes and decrease stigma across social, familial and professional realms.
Love is Diversity (LiD)
(Sub-national country partner organizations)
Located in Phnom Penh, Love Is Diversity is an informal group, the movement and activist to advocate for equal rights protection for LGBTQI community in Cambodia. It has a vision to see Cambodian LGBTIQ citizens receiving full and equal respect, acceptance and protection from all sectors of society, most especially families, schools, communities and authorities as well as make decision within equal conditions.
Indonesia
Suara Kita
(National country partner organizations)
Located in Jarkata ,Suara Kita is an LGBTIQ organization in Indonesia which advocates LGBTQI rights. In order to mainstream LGBTIQ rights, it is developing sexual diversity discourse. Therefore, its main activities are organizing public lecture with University, improving knowledge and skills of LGBTIQ community, campaigning, publishing books, producing videos. Since 2014, Suara Kita also helps LGBTIQ individuals who are disowned by their family, runaway from their family, or faced violence and discrimination.
Gaylam
(Sub-national country partner organizations)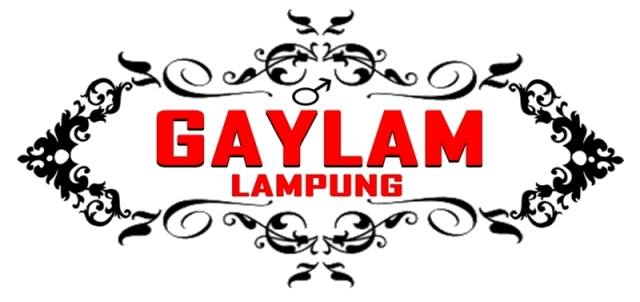 Located in Lampung, Gaylam's mission is elimination of stigma and discrimination against the SOGIE-Based community, empowerment of the SOGIE-Based community, involvement in the communities in HIV/AIDS prevention, and strengthening SOGIE and Human Rights for the community in Lampung. Targeting to LGBTQI+ community and PLHIV, its focus area is improving the ability of SOGIE-based communities in Lampung who are aware of sexual rights and reproductive health and are involved in HIV prevention.
Srikandi Pakuan
(Sub-national country partner organizations)
Located in Bogor, Srikandi Pakua aims to assist and facilitate transgender groups in West Java, especially in the Greater Bogor area, in reducing stigma and discrimination, as well as providing assistance to psychological support; provide assistance to access health, social and economic programs with related communities and government, as well as increasing the capacity of transgender individuals and groups.
Laos
Community Health and Inclusion Association/CHIAs
(National country partner organizations)
Located in Vientiane, CHIAs held a series of dialogues with the relevant government partners and other stakeholders as part of an advocacy approach aiming at Sexual Orientation, Gender Identity and Expression (SOGIE) in three locations. They included Vientiane Capital as well as Khammuane and Champasak provinces. Furthermore, CHIAs also held some activities at the community level with the families/parents of Lesbian, Transgender people to advocate and promote the "Acceptance Starts at Home" theme.
Don't Stop Dream Team
(Sub-national country partner organizations)
Located in Vientiane, Don't Stop Dream Team (DSDT) is an organization that supports the youth in accessing sources of knowledge, opportunities, and equal self-development to meaningfully contribute to society's development, sustainability, and prosperity. Its mission is to provide knowledge-capacity along with moral support, and develop materials to use for learning and management for the youth, young women, and Lesbians.
Takieng Lao
(Sub-national country partner organizations)
Located in Vientiane, Takieng Lao is a non-profit and woman-led organization. Its vision is strengthening the community system in advanced partnership for changing lives and helping people. While its goals are grounded in advocacy and community engagement towards effective community rights and gender responses, addressing the root causes of poverty and injustice in youths, ethnic minority groups, and LGBTQI people.
Philippines
Babaylanes
(National country partner organizations)
Located in Quezon City, Babaylanes, Inc. is a non-profit organization mandated to capacitate Filipino LGBT youth, provide human rights education, and organize campaigns and advocacy events. It is the alumni organization of the trailblazing, pioneering student LGBTQI organization from the University of the Philippines, UP Babaylan. Its mission is to work for the strengthening and consolidation of LGBT communities towards achieving the collectivization of efforts against discrimination and homophobia and advocate for LGBT rights and welfare.
Glamourosa Catarman
(Sub-national country partner organizations)
Located in Catarman, Glamourosa is a non-profit organization composed of the members of the LGBTQI community which is aimed at paving the way for a just, fair, inclusive, non-discriminatory, and equal society that will advocate for and empower vulnerable LGBTQI communities. Its vision is a "just, fair, inclusive, and equal society that cares for all persons regardless of sex, gender, class, age, and SOGIESC". It also runs an awareness campaign on HIV-AIDS through the conduct of regular HIV-AIDS testing, participated and partnered with the LGU in its Gender and Development Program implementation.
LBTQ Organization against Violence and for Equality (LOVE)
(Sub-national country partner organizations)
Located inQuezon City, LBTQ Organization against Violence and for Equality (LOVE) is an urban poor Lesbians, bisexual women, and trans men (LBT) People's Organization (LPO).
Its vision is to be an organization of LBTs that wants to create change starting from themselves towards the community by helping in small, but moral ways. Its mission is to build and strengthen the capacities and knowledge of the members, build and strengthen the relationship of the organization with institutions, local government units, and the national government, and lobby for policies, ordinances, and laws that will protect the rights of LBTs.
Thailand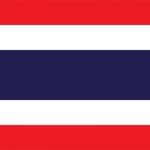 SWING
(National country partner organizations)
Located in Bangkok, the Service Workers In Group Foundation (SWING) was established in 2004 to promote and protect the health, human rights and dignity of sex workers. From its initial focus on the issues that affect male and transgender sex workers, SWING has expanded its coverage over the past 10 years to include programmes and projects for sex workers of all genders and sexual orientations. SWING currently operates drop-in centers in Bangkok, Pattaya and Koh Samui, all of which provide a range of educational and health-related services to sex workers.
Pink Monkey Organization
(Sub-national country partner organizations)
Located in Lopburi, Pink Monkey Organization works on HIV Prevention and Human rights, targeting Young people, Men who have sex with men and ladies, LGBTQI teenagers, Soldiers, and Prison inmates. Its mission is to prevent the target groups from HIV/AIDS and sexually transmitted infections, increase knowledge and understanding about HIV/AIDS infection and sexually transmitted infections, encourage safe sex behavior, and enhance society's acceptance and understanding of the rights of LGBTQI people.
Health and Opportunity Network (HON)
(Sub-national country partner organizations)
Located in Pattaya, HON is a dedicated care and support organization for transgender individuals living with HIV and AIDS. It aims to provide advice and counseling on health related issues including training personnel and production of health promotion materials by providing holistic HIV care and support services for transgender people living with HIV and AIDS including clinical, psychosocial, social, and preventive services. It also works on developing potential leaders and empowering health volunteers by improving their knowledge and skills on care and support.
This project is informed by partners on the ground, and from the ground up needs of the community in terms of capacity strengthening they would like, and for the movement to be more connected at country and regional levels.
The most important thing is to acknowledge the ever-changing reality of grassroots LGBTQI organizations and communities working in precarious legal, political and social environments, including raising sustainable funds from donors to local organizations in order to help improve the local LGBTQI movements in this region.

Stay tuned at www.apcom.org and our social media platforms for more information and upcoming activities from this grand LGBTQI rights support project in the Asia Pacific region.
Information on Canada's support on LGBTQI human rights
---
Get to know 5 key APCOM staff members driving the project
Coming soon!
Gender Equality Officer
---
Share this