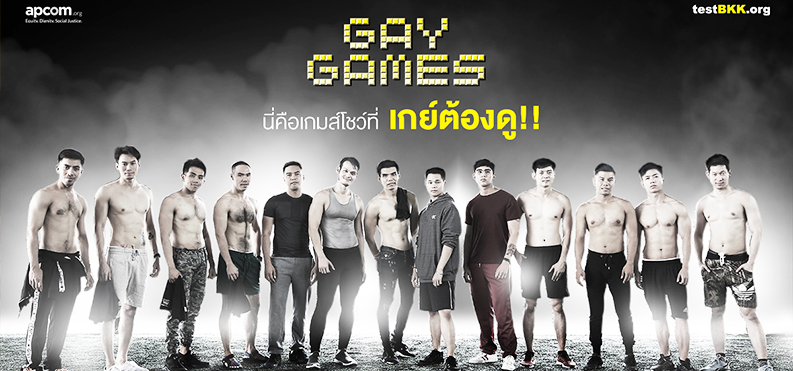 This May, testBKK, APCOM's HIV testing campaign targeting young gay men in Bangkok, has released GAY GAMES, a web-based game reality show to promote HIV testing uptakes and key sexual health knowledges among young Thai gay men.
GAY GAMES' 5 episodes feature myriads of gay men in Bangkok from different communities which portray a diversity of gay lifestyles and interests – gym lovers, sauna regulars, relationship seekers, party animals and more – to uncover exclusive gay experiences through fun games, to compete each other for rewards and to learn key sexual health knowledge.
From HIV testing to sexually transmitted infections to PrEP and PEP awareness to treatment, the issues are covered and explained in short and easy-to-understand language by experts from testBKK's
community-led clinic partners – SWING Thailand and Rainbow Sky Association of Thailand (RSAT). The URL link of testBKK's online booking platform is showcased and directed to the platform in every video to encourage and facilitate the audience in reaching HIV testing service at testBKK's MSM-friendly clinic partners.
By the end of May, just 1 month after releasing the first episode, 4 uploaded videos of the show have garnered a total of 440,000 views and gained more than 5,500 new subscribers and 300 new followers to testBKK's YouTube channel and Facebook page respectively.
Generously supported by the USAID LINKAGES Project managed by FHI360 and in collaboration with Marut Prasertsri who are currently Thailand Marketing Manager at Blued, a popular gay social media application, testBKK has launched the GAY GAMES as the continuation of APCOM's efforts in destigmatizing HIV testing and promoting key sexual health knowledges among young Thai gay men through online unconventional gay-oriented health interventions. Prior to the game show, the web- based reality show, Bait Bus, broadcasted in 2017, has brought about wide-ranging discussions on key health issues among young gay men in Thailand with over 140,000 views.
testBKK's GAY GAMES can now be watched on testBKK's YouTubechannel (for Thai viewers).
To stay in touch with testBKK's health intervention, subscribe and follow testBKK's Facebook page.
Share this