---
​​The first time I met Shiv, he was a participant in the first meeting I led for USAID and US CDC in Bangkok, "Strategizing Interventions among MSM in the GMS Workshop" (February 2005). He was, as always I quickly learned, the most lively, and vocal participant. Although I had to firmly say "no" when he asked if he could make another comment just before our lunch break (it would have been his 5th or 6th comment that morning), he took it graciously, and even asked me to join him for lunch.
Only 5 months later, a second and much larger meeting was conducted,"HIV Prevention and Care Interventions for MSM in the GMS Regional Consultative Forum" (August 2005). Dr. Frits Van Griensven announced that HIV amongst men who have sex with men and transgender women in Bangkok, Thailand had jumped up to 28.3% in only 2 short years (from 17.3% in 2003) there was little reaction from 150 delegates in the room. Distressed, I sought Shiv out to see if he was as shocked as I was at Frits' announcement. He was, of course, and we became fast friends and close colleagues.
---
About the contributor:
Paul Causey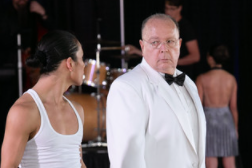 Paul Causey has spent over 35 years in community mobilization, meeting facilitation and nonprofit leadership development in HIV services and LGBTIQ+ human rights advocacy. He retired to Tampa, Florida, US in 2020, after achieving 18 years of HIV service and community work in Asia Pacific while based in Bangkok. He continues volunteer work as Chief Moderator of the Google News Group, "MSM (and Transgender People) and HIV (and Human Rights) in Asia and the Pacific", and dancing in ballet productions with the Tampa City Ballet, Tampa's leading professional Ballet company.
---
Here are some of the tributes in Shiv's memory.
---
Share this