APCOM together with community partners, APN+, APTN and ILGA Asia unveils the first list of honourees for HERO Awards 2021, for Community Hero, HIV Hero and Transgender Hero categories, after months of nominations and reviews.
Standing for HIV, Equality and Rights, the HERO Awards is an annual fundraising gala and ceremony event in Bangkok, which acknowledges outstanding HIV and LGBTQI advocates and allies from across Asia and the Pacific.
APN+ have chosen two honourees for the HIV Hero category, APTN have chosen three honourees for the Transgender Hero category, and ILGA Asia have chosen three honourees for the Community Hero category.
The award evening is produced by APCOM and is generously supported by a range of community, corporate and diplomatic partners.
"ILGA Asia between November last year and February this year organized a series of local consultations, many of which took place online, in 16 countries in the Asian region. These consultations provided us with insights on how priorities for LGBTIQ people had been shifting, new priorities revealed, during the pandemic, and guided our and our partners' actions in the upcoming time."

Candy Yun – Co-chair of ILGA Asia Executive Board
Community members and supporters throughout the APAC region were invited to nominate individuals and organisations across 11 categories: Business Ally, Community Ally, Community Hero, Community Organisation, COVID-19 Hero, Health & Wellbeing, HIV Hero, Social Justice, Transgender Hero and Young Achiever. Furthermore, the Shivananda Khan Award for Extraordinary Achievement―which is named in honour of our late founder Shivananda Khan OBE― will be announced. This prestigious Shivananda Khan Award for Extraordinary Achievement was given to Professor Emeritus Vitit Muntarbhorn, at the Faculty of Law, ChulalongkornUniversity, Bangkok, Thailand, and was also the first United Nations Independent Expert on protection against violence and discrimination based on sexual orientation and gender identity.
"I feel very humbled by your kind consideration, especially as I consider myself to be a simple 'volunteer' helping to promote and protect human rights, especially on LGBTI issues. Currently, in addition to the issue of the civil partnership bill in Thailand, we should also propel a law on gender identity recognition, a matter which I aim to raise constantly.

I am delighted to accept your kind nomination for the award, knowing that there are many people deserving to be recognised. It will inspire me to do even more human rights work and I wish to give credit to all human rights defenders!"

Professor Emeritus Vitit Muntarbhorn, acceptance speech at the 2020 HERO Awards
In the second year of the pandemic, the HERO Awards will also raise funds for the #CoronaAPCOMpassion emergency funding to support communities struggling due to the pandemic. Our Community partners have also pivoted to respond to the needs of their communities, such as APTN's Trans Resilience Report and APN+ webinar "The Covid-19 vaccines that we want" to connect communities of people living with HIV and Key Populations with science, research and development and access issues related to COVID-19.
"We have witnessed the exacerbation of our vulnerabilities, the continuous perpetration of inequality and injustice towards LGBTIQ people when the COVID-19 pandemic fell upon humankind. Yet we remain resilient in the face of crisis. It is time for us to unwrap our struggles and claim the future that we want."

Shadi Amin – Co-chair of ILGA Asia Executive Board
APCOM looks very much forward to celebrating the 5th HERO Awards with you in the midst of the pandemic. The HERO Awards will again highlight impactful contributions to the region from the nominees, and adding an unforgettable edition to its annual fundraising repertoire attracting key community representatives from across the region and high profile members of Bangkok's diplomatic, corporate and entertainment field.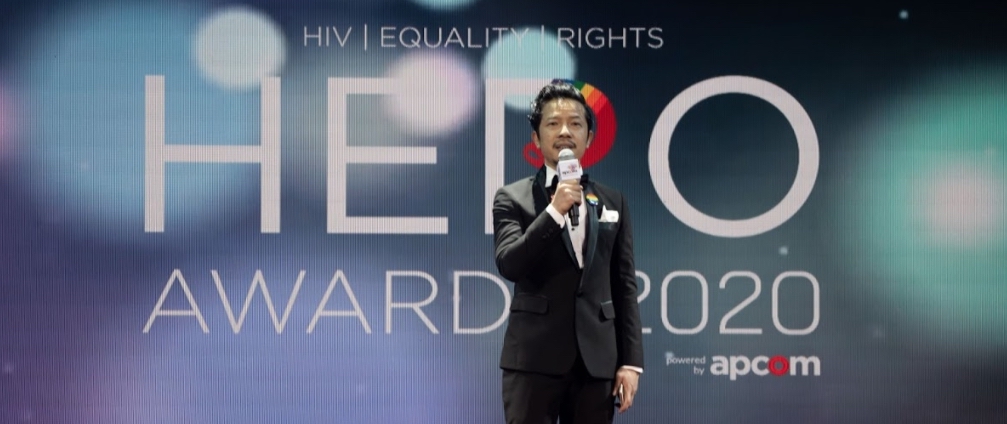 "Big thank you to our community partners, APN+, APTN and ILGA Asia for the trust, collaboration, and solidarity for this year's HERO Awards. They must have had a hard time choosing from the nominations received. All the honourees have such amazing stories to tell to the world on how they have overcome challenges, and APCOM is humbled to have been able to provide such a platform once again despite the Covid-19 pandemic,"

commented Midnight, APCOM Executive Director.
This year the HERO Awards ceremony will take place online on Friday 26 November 2021.
More information will be provided on how you can participate.

---
HERO Awards 2021: Award Honourees
Farhan Wilayat
(Pakistan)
Gopi Shankar
(India)
Nyampurev Galsanjamts
(Mongolia)
Aan Rianto
(Indonesia)
Ali Raza Khan
(Pakistan)
Bhoomi Harendran
(Sri Lanka)
Chase Tolentino
(the Philippines)
Nisha Ayub
(Malaysia)
---
Share this