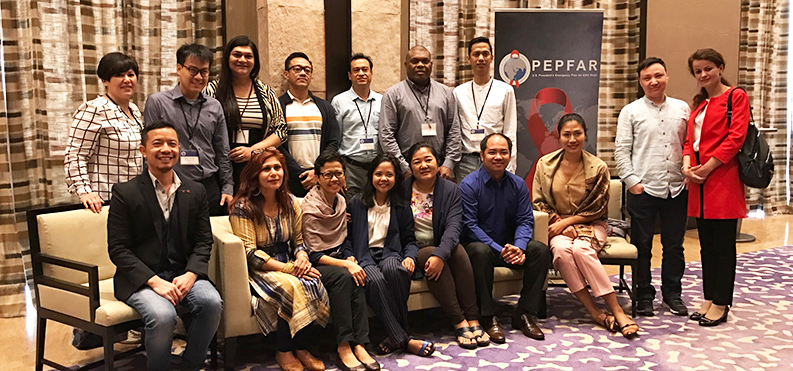 In early April, representatives from community groups in Cambodia, India, Indonesia, Kazakhstan, Kyrgyzstan, Myanmar, Nepal, Papua New Guinea, Tajikistan, Thailand, and regional key population networks, including APCOM met with US Global AIDS Coordinator and head of the US President's Emergency Plan for AIDS Relief (PEPFAR) Ambassador Deborah Birx in Bangkok as part of the agency's 2019 Regional Operational Plan (ROP) process for Asia.
We spoke to HIV advocates in Myanmar and Papua New Guinea to find out more.
Myanmar – Thawdar Htun, Chairperson, Myanmar Positive Group
Can you provide a summary on what PEPFAR is thinking of doing in Myanmar? Do you think this will change the HIV response in Myanmar? As a community member, what do you think is missing?
PEPFAR is one of the biggest funders of the HIV response in Myanmar. Most of the funding from PEPFAR for this year will be invested in intravenous drug user (IDU) related programs because unlike other countries in the region, HIV transmission in Myanmar, particularly in our northern area, is driven by drug users. However, our community organisations will receive funding for capacity building. In terms of what we'd like to see more of, it would be useful for PEPFAR to strengthen the meaningful participation of our community all levels of its intervention process. Also, PEPFAR should invest its' funding not only through international NGOs but also through local community organisations. Our community has the ability to handle resources for the HIV response, and it will help make our organisations more sustainable.
The ROP 2019 emphasized political will. What has Myanmar's Ministry of Health committed to that will change the HIV epidemic in Myanmar?
The MOH is the key stakeholder in relation to our community's response to HIV. However, they cannot provide the level of funding that is required to strengthen the involvement of our community in the HIV response. What the MOH can do is provide encouragement for donors like PEPFAR to provide support for us. The MOH also must work with key affected communities to start making PrEP accessible in Myanmar. Myanmar is also moving ahead in the area of E-health with initiatives such as DHIS II platform, Case Based Surveillance (CBS), Master Patient Index (MPI), Unit Identifier Coding and Open-MRS. However, our country program needs to seek continued technical assistance from donors and bilateral partners to maintain and scale up the use of these sophisticated technologies.
In terms of the ROP process for 2019, what went well and what could be improved for the next time?
Currently, the biggest gap is investment in development of local peer networks and community organisations which will need to take accountability as major international NGOs continue reducing their presence in the region in relation to HIV. Community organisations are ready to facilitate and lead the community engagement and participation in terms of both policy and operations. Therefore, donors like PEPFAR as well as government stakeholders such as the MOH must focus on investing in community networks during this transition to ensure the efficiency and sustainability of the HIV response in Myanmar. For example, HIV community organisations can provide capacity building for SHG development and sustain supportive peer to peer networks from the township to the national level. Community organisations can also efficiently conduct an independent community monitoring and evaluation feedback mechanism for all HIV services to help maximize accountability transparency.
Papua New Guinea – Lesley Bola, KP Advoacy Co-ordinator, KP Partnership Network Consortium

What was the main message you gave to PEPFAR and Ambassador Birx with regards to the HIV response in PNG?
Firstly, we'd like key affected populations and people living with HIV to participate meaningfully in support programs and to make decisions by ourselves with guidance from the program leaders. Secondly, we plea for all our partners – PEPFAR, Global Fund, Department of Health, UNAIDS, WHO, FHI, DFAT and GBV services – to work closely together with key population and people living with HIV to achieve results. We don't want to see over-lapping by donor and non-government agencies that results in confusion for communities and their representatives on the ground. Finally, we request for community participation in any regional workshops or monitoring sessions so we can be part of decision making on the progress of these programs. We greatly appreciated being part of PEPFAR's regional operational planning workshop Bangkok. It gave us a very valuable insight into the ROP's 2019 planning, budgetary requirements, past performances and directives.
What are the main challenges as a community in engaging and partnering with PEPFAR?
The community has engaged with PEPFAR in various programs in Papua New Guinea. However we'd like to strengthen our involvement by getting communities to give feedback on progress on programs. We feel the voice of community organisations will help strengthen PEPFAR's programs. HIV prevention treatment PrEP has not yet been introduced in Papua New Guinea. Therefore we'd like the PNG Department of Health and other key agencies like PEPFAR to push for the introduction of PrEP. It won't hurt if we start off a small group to begin with so we have some useful data and learn some valuable lessons. We're sure there are people out there who are willing and able to start using PrEP. Finally, PEPFAR and the Global Fund are two of our major funders for HIV programs in Papua New Guinea. We plea to both funders to work closely with key affected communities, including people living with HIV, so that there is sharing of resources, skills, knowledge, experiences and learnings. We believe if we work collectively as one team, we will avoid duplicating work and we will achieve great results in terms of reaching our targets. We feel there is a need at the community level for both donors to work together, communicate well and have one national plan.
In terms of the ROP process for 2019, what went well and what could be improved for the next time?
We're so excited that the PNG government and civil society both came together for the planning. It reinforced strengthening the relationship between community groups and the Department of Health in PNG. It was helpful for both parties to see the plans and strategize how to collectively work as a team. We really want key populations to be visible in any programs. In terms of improving the workshop, we would like all community organisations to present to the big group our experiences working with PEPFAR, our challenges, our achievements and finally our way forward. We feel that key populations, including people living with HIV, should have the opportunity to reinforce building linkages and strengthening key population participation. Finally, we request for community organisations to bring to the table barriers and challenges they are facing in PEPFAR programs. There are barriers that our communities face every day that hinder key population programs. We need help from the higher authorities to support us in Papua New Guinea. We have discriminatory laws affecting men who have sex with men, transgender people and sex workers in Papua New Guinea which hinder our programs. To conclude we want our government to be accountable to key affected populations by addressing our legal barriers, stigma and discrimination. By addressing all these we envisage will reduce the rates or STI and HIV in our country.
Share this