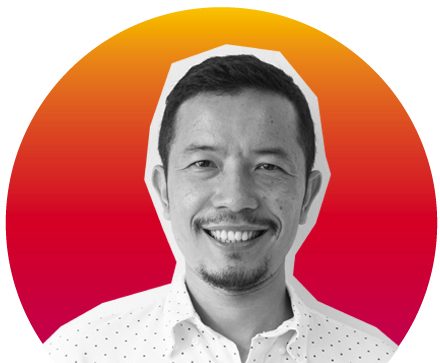 ---
I used to cook a lot and the Covid-19 pandemic was the perfect time to get back into it.
Cooking for me is therapeutic – just between myself, the ingredients and imagination. Cooking allows me to explore my creativity and I get to see and taste the end results! I love nothing more than to share food with friends and family.
At APCOM we have a tradition of bringing food to share for lunch every Friday. So, I would cook different dishes to bring to the office to share with everyone. I experiment with different dishes and my team can give their critiques for me to improve the next time. I made Filipino Chicken Adobo, Indonesian Beef Rendang and Indian Butter Chicken to help make our expat staff feel more at home and our Thai staff to taste something different.
I am sharing two easy Thai recipes here for you to try out!
Enjoy getting creative and get to eat something delicious too =)
ไก่กระเทียมพริกไทย 
Stir Fried Garlic Pepper Chicken
Garlicky and peppery – this is one of the favourites for kids as it is not spicy, yet packed full of flavour! You can reduce the amount of pepper if you don't like it too spicy.
It is so easy to make. Give it a try!
Ingredients:
300 grams of chicken pieces cut into bit-size pieces 
5 cloves of garlic
2 tablespoons of cooking oil 
1.5 tablespoons of oyster sauce
1 tablespoon of fish sauce 
1 tablespoon of light soy sauce 
1 teaspoon of dark soy sauce 
1 teaspoon of white pepper
1 teaspoon of sugar 
Coriander leaves (for garnish)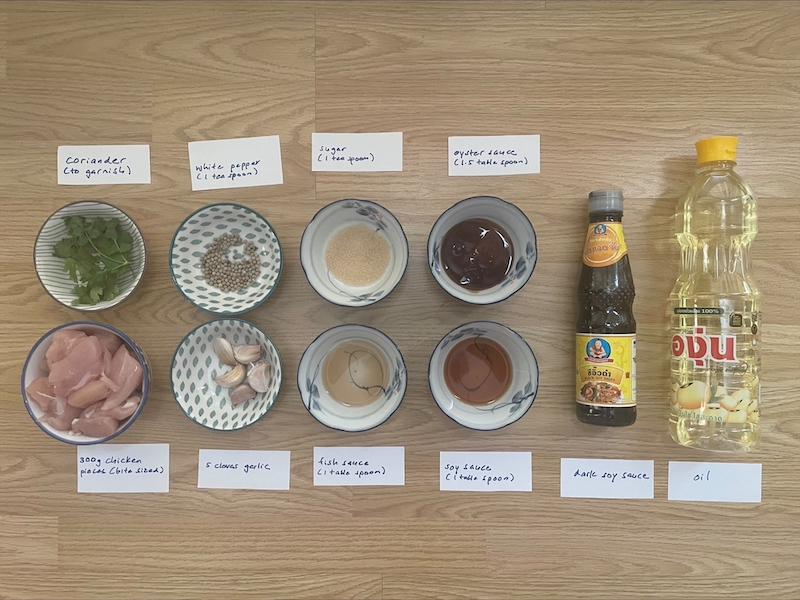 Method:
Garlic pepper paste 
In a pestle and mortar, crush the garlic and pepper together and set aside. 
Sauce for stir fry 
In a bowl mix together oyster sauce, fish sauce, light soy sauce, dark soy sauce and sugar and set aside. 
Stir frying
In a wok on medium heat, add the oil.  Once it is hot enough then add the garlic pepper paste. 
Once the garlic is cooked through, add the chicken pieces. 
When the chicken is about 80% done, add in the stir fry sauce. Continue to stir fry until the chicken is cooked through and the sauce is reduced by half. 
Plating
Garnish with coriander leaves 
Serve with steamed jasmine rice and some slices of cucumber.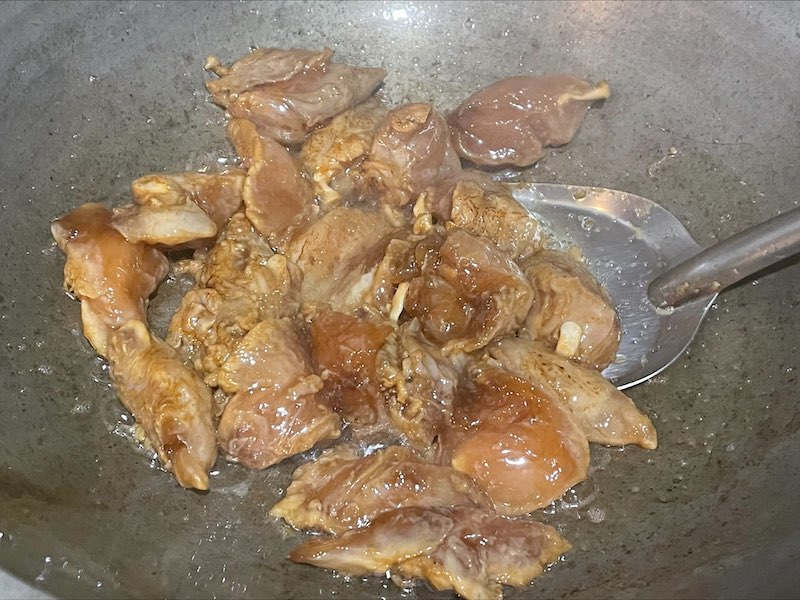 Note:
Feel free to reduce the amount of garlic and pepper. 
You can also add fried garlic as a garnish.
For a Thai lunch experience, you can add a fried egg as a side as well. 
Can't find fish sauce or you're a vegan? You can use light soy sauce instead.
---
ไข่ลูกเขย 
Son-in-Law Eggs
You don't normally find this dish in Thai restaurants, but it is a popular one that you can easily find in Thai wet markets. The dish exemplifies Thai food in its simplicity yet complex flavours. As to why it is called son-in-law eggs? I don't know! But it does bring a huge smile whenever this dish gets mentioned =)
It is very easy to make. Give it a try!
Ingredients:
5 boiled eggs
5 shallots sliced thinly (for garnish)
6 dried chilies (for garnish)
Coriander leaves (for garnish)
3 tablespoons of palm sugar (for sauce)
2 tablespoons of fish sauce (for sauce)
2 tablespoons of tamarind juice (for sauce)
Oil (for frying the boiled eggs, sliced shallots, and chilies)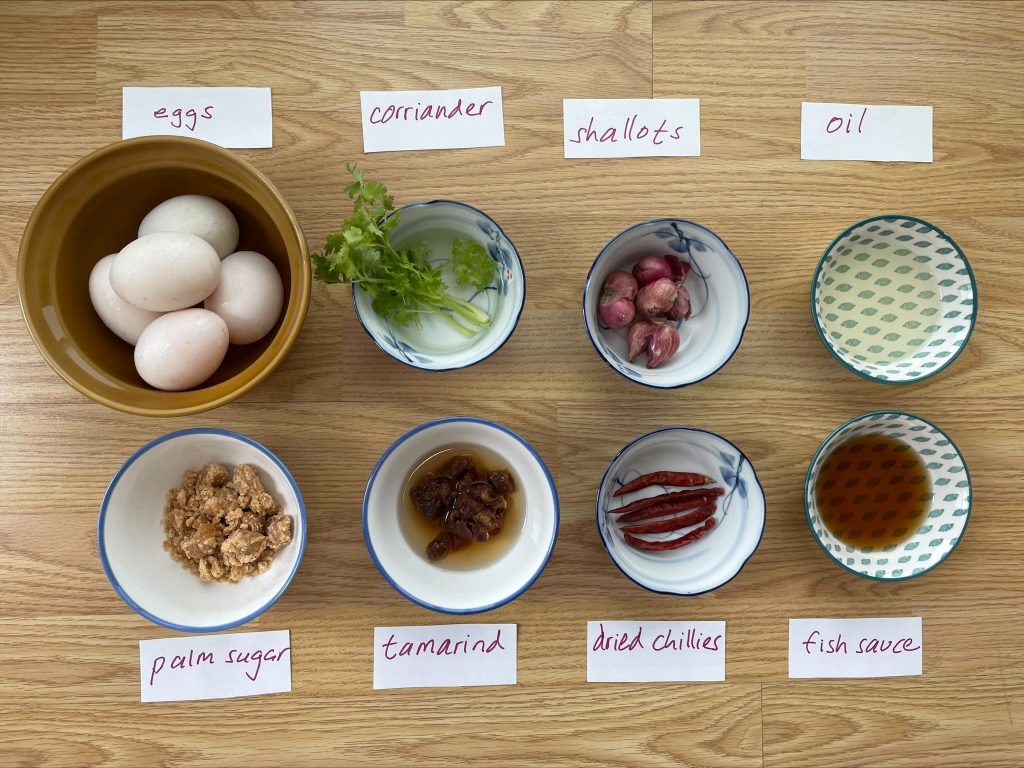 Method:
Fry Eggs
Put oil in a pan. Make sure your eggs are dry. 
Fry the eggs until crispy and golden on the outside. 
Fry shallots
Fry the sliced shallots in a pan with oil, medium heat until crispy and golden. 
Set aside to cool. 
Fry chilies
In the same frying pan with the shallots, put the chilies in and fry until the colour deepens. 
Set aside to crisp. 
Sauce 
Add palm sugar, fish sauce and tamarind juice into the pan. 
Put on medium heat and mix and reduce the sauce for 5 minutes.  
Plating
Cut the eggs in half. 
Pour the sauce over the eggs. 
Sprinkle shallots on the eggs. 
Garnish with fried chilies and coriander.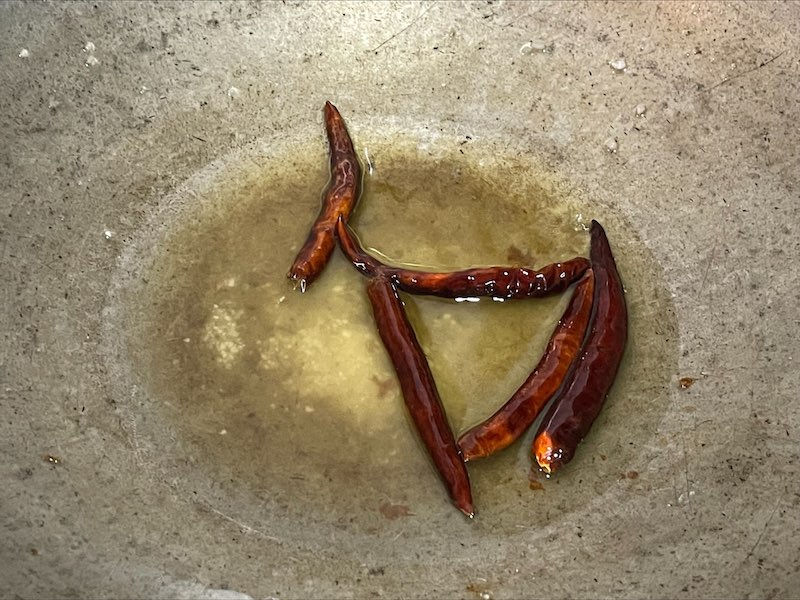 Note:
You can use any eggs – chicken or duck.
If you can't find palm sugar, you can use brown sugar.
You won't get the same sour taste without the tamarind juice, but you can always substitute with
lemon/lime juice.
Can't find fish sauce or you're a vegan? You can use soy sauce with a little salt to substitute.
---
---
2nd Anniversary of APCOM's Special Series on the COVID-19 Effect:
APCOM staff share their activities for maintaining good mental health
Click on the photo to read their articles.

Try them out, and if you have other tips that you'd like to share – please contact us at [email protected]
---
Share this