Contributor:
A (Wattana Keiangpa)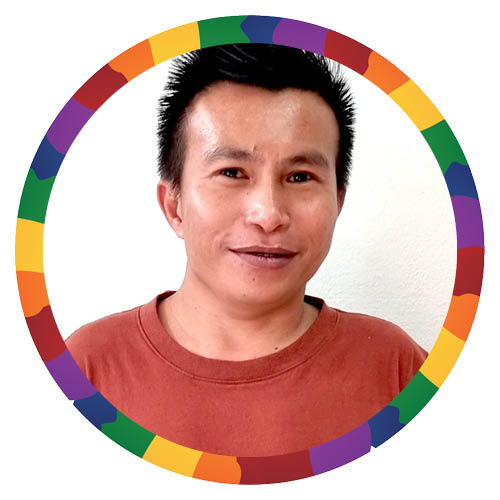 ---
Hello! My name is Wattana or you can call me by my nickname 'A', an Operations and Programmes Support Officer at APCOM Foundation. I have encountered the COVID-19 that is severely affecting the whole world, causing many people to die. Its effects include an economic impact, causing many businesses to close down and many people having to be laid off. As everyone has experienced its impacts in different ways, I also want to share my own story as a person living with HIV who got infected by COVID-19.
It was said that people living with HIV have higher risk of developing severe symptoms compared to other groups. Therefore, I tried my level best to prevent myself from the risks of infection with COVID-19 in the public and the workplace according to the measures announced by the government. However, I could not fight it and eventually tested positive for COVID-19. First, I was so afraid to die as I am already having HIV and if I got one more disease, it would be double trouble. So being conscious was the key to get through this miserable time. After getting myself together, I contacted my colleagues and peers who had stayed close to me during 3-5 days earlier as they potentially risked of having COVID-19 and to make that they could test themselves and prepare for it. After that, I called the hospital where I registered through the social security system to ask for information about admitting and treatment. I believed that contacting the hospital was a good option as I would have some personal advice according to my symptoms and related health status.
As soon as I arrived at the hospital, I walked through the hallway into the COVID-19 center, where a lot of people were queuing. Some people looked confused about what to do next from one section to another section since the systems were new and not stable. The center was separated outside of the main building, so the weather was so hot. While more and more patients arrived at the center, it was a pity that some of them had to wait under the sun because there was no space inside of the center's shelters.
When it was my turn, I rushed to ask a nurse questions regarding the admission's policy but she was not so friendly and her answers were not very clear. I understood that this was also new for her and she might have been through the same questions all day. As there was lack of space in the hospital, she suggested to choose the Hospital system instead (Hospital + Hotel service for COVID-19 patients during the peak time of the pandemic provided by the government together with the private sector). However, I didn't feel like staying away from home for a long time and I believed that my symptoms were quite okay. Therefore, I decided to go back home to do Home Isolation instead.
Fortunately, my network friends suggested that I should receive the free packages of medicine delivery from the non-profit organization, so I decided to register with it online and got a response very quickly. I finally received some medicine, such as cough and fever reducers, including cough lozenges, Favipiravir, fever kits and oxygen until Day 10. I believed that if the government provided this kind of service, it would be good to reduce the number of patients at the hospital. It was not easy when being infected with COVID-19 and still having to go out to the hospital, which inevitably brought one in contact with other people around. This could be the reason why the pandemic in Thailand was spreading quickly and was difficult to control.
One good thing happened when I isolated myself at home. My close friend called me on Day 2 that he also got infected by COVID-19 and had nowhere to go, so I invited him to do home isolation with me. Instead of being alone for 10 days, I had a friend to share home isolation experience. We looked for some kill-the- time activities every day, such as cooking (my favorite activity) and planting at my little garden. It must have been quite depressing for those who got COVID-19 and had to stay alone without doing anything, so I was lucky that I had many things to do during my home isolation.
Regarding food and personal stuff during the home isolation, it was not any issue because my neighboring friends also helped me out. On top of that, APCOM also provided a relief package together with a little cheering-up card to the staff who got COVID-19. I got one kind card from APCOM which I highly appreciated.
In summary, my 10 days of home isolation went well thanks to all the above-mentioned factors: medicine delivery, fiends, activities and the kind attention from colleagues and peers.
Regardless of HIV status, I want to encourage people who just tested positive from COVID-19 or who are afraid to get infected that you may not have to find the same factors as mine to overcome the situation. You had better find your own. However, being too alarmed will not help. If you already got vaccines, it would help reduce the severity of the disease a lot, so make sure you get them.
---
---
APCOM staff share their activities for maintaining good mental health
Click on the photo to read their articles.
---
Share this