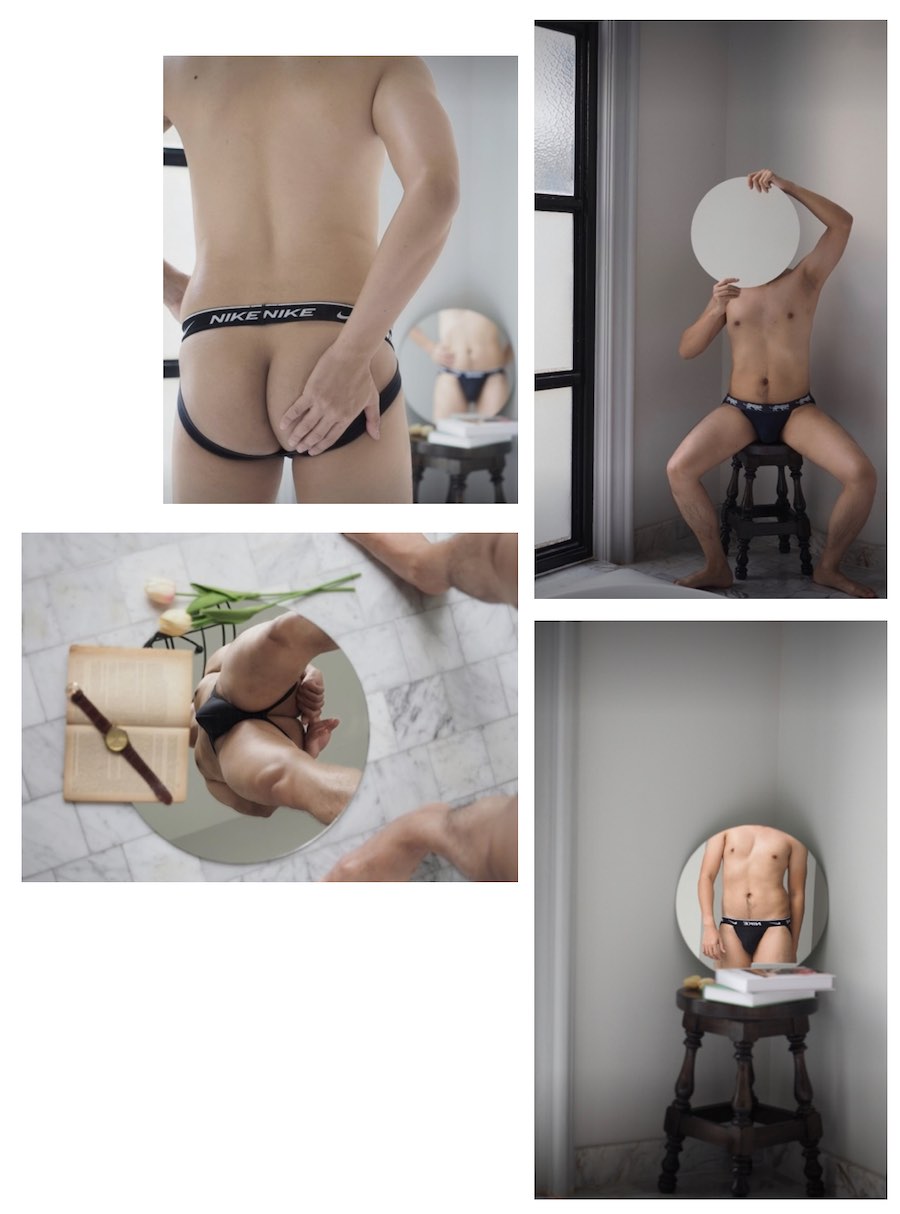 Contributor:
Siripong Srichau (Arm)
---
Photo from APCOM's Body Positivity Photo Exhibition, June 2022, Bangkok
Tell us about your photo/s?
Since I was a child, I was embarrassed to show any part of my body to anyone, as I was a chubby boy. I grew older and discovered more about what my body can do from different perspectives, I attempted to take some nude photos of myself, it looks great!
Even though my bottom gets stretch marks from weight gain and loss, I still adore it. Previously, I weighed between 64 kgs and 82 kgs. The stretch marks appeared on my bottom when I lost weight. It reminds me of the striped pattern of a tiger, and just looking at it gives me a sense of power and confidence.
Every time I go to the gym and take a photo in the gym mirror, my derriere gets quite in shape, and it gets perfect every time after leg day. I love it because I imagine this to be like a peach – a big and meaty peach, that everyone who has ever seen it cannot resist touching and squeezing it quite hard – lol.
However, my back is one of my major issues. This is not just because of the pain I occasionally get there, but also because of the extra bend it adds to my right side owing to L-scoliosis. I have a hard time finding a well-fitting shirt because my ribs and waist aren't symmetrical, so I often turn to wearing an oversized shirt or multiple layers to hide the problem.
It's great that APCOM's running this Body Positivity campaign, so people can talk about the parts of their bodies they love or hate and figure out how to accept them.
Last but not least, we can't tell somebody how to feel about their bodies, but we can tell them to accept themselves as they are, flaws and everything, and to accept that some of those flaws may be for their own good.
It's not about making it look nice so that other people will appreciate it. It's about making it look good so that you can look at it, live with it, love it, and accept it as part of your physical self.
---
See also:
---
How to take part in the campaign?
Through any of your online activities, please message about body positivity with the hashtag #apacAllBody. The best way is to speak up about body positivity on your private or public platforms. Give your opinions and motivate people.
You can share through our social media as well
Photograph – Post your photo(s) that show how proud you are with your body and hashtag #apacAllbody together with other hashtags you would like to support. For example, #mybodymypride, #realsizebeauty , etc.
Nude photo: Full naked, half naked or showing only some body part(s).
For the skin color & texture matter, we suggest you show your bare skin.
Wear body fit clothes: You can show your body shape through fabrics as well
Body paint: Paint or write word(s) or short messages on body part(s) for example back or belly
Signboard: Write word(s) or short messages on a paper or tablet, taking a photo with you (naked or with clothes on) holding it.
Video – Instagram Reel or TikTok no longer than 20 seconds.

If you are interested in sponsoring this campaign to show solidarity for a more equal and just society for LGBTQI human rights, and people living with HIV, please contact APCOM on [email protected], facebook.com/apcom.org, twitter.com/apcom
---
Share this