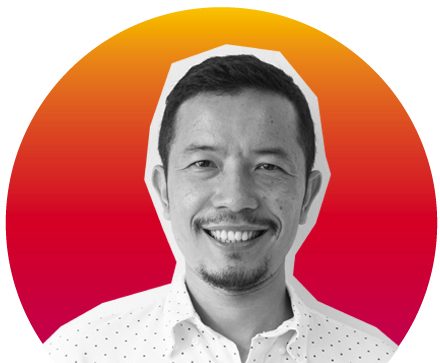 Contributor:
Midnight Poonkasetwattana
Executive Director of APCOM Foundation
In 2021 Midnight is celebrating 10 years at APCOM, a non-profit organisation working in the Asia-Pacific region on HIV and LGBTQI rights. He is passionate about community empowerment, and LGBTQI inclusion.
---
In 2019 he took part in the Obama Foundation Leaders: Asia-Pacific program. A leadership development and community engagement program that seeks to inspire, empower, and connect emerging leaders from across the Asia-Pacific region.
"The experience with the Asia Pacific Obama Leaders has really helped me with being connected to other intersectional issues and of course other brilliant leaders in the region. This came just in time for the COVID-19 pandemic, as it was the last international trip I did. The program gave me the confidence to reach out for support within the cohort."

Midnight Pookasetwattana
2021 feels like a repeat of 2020, it's certainly not been easy for the vast majority of people and for organizations in Thailand that are working on HIV and LGBTQI issues it has been an added burden. When there is disaster, you have to rely on the connections and the structures that were in place, and since April 2020 APCOM has been co-hosting online solidarity calls with organisations across Thailand.
Initially, we didn't think it was going to be for this long, and we started by looking at the immediate needs of the organisations, which were access to emergency funding for PPEs, sanitisers, and food/water packages. And doing a webinar on the needs from the different groups in Thailand (see Virtual Powwow with Thai LGBTQI and HIV community on the effects of COVID-19), we started #CoronaAPCOMpassion emergency funding, an online fundraising campaign, and supported proposal development for emergency funding from international agencies. All these are of course short-term measures, and the sharing not only brought the communities closer together, sharing their struggles and the needs of their communities in their provinces due to Covid-19, and also learning from each other on intersecting issues. The solidarity calls also build trust, and the value of strength in numbers – as we all realise that our non-profit organisations are not big, operating on minimal budgets, and that government support will be minimal if any. However, they are the first to be called upon by the most vulnerable.
See our Story Featured in UNAIDS Website for Zero Discrimination Day, 1 March 2021
One of the activities that we did was the community-led data collection across Thailand on the needs of their communities; key populations who are men who have sex with men (MSM), transgender women, sex workers, migrant workers and people living with HIV (PLHIV). The survey was conducted by eight community-based organisations over a six-week period, and a total of 1,430 respondents across the country participated with 838 of the respondents are PLHIV. Data were collected from Bangkok and Central Region, Southern Region (Trang), Eastern Region (Chonburi), Northeast Region (Udon Thani), Western and Central Region (Ratchaburi), Northern Region (Chiang Mai). The data presented glaring challenges faced by the key populations arising the intersectional issues of sexual and mental health, discrimination, domestic violence, and socioeconomic disparity. These layers of challenges to health and human rights are lived experiences of many key populations in Thailand, but made manifest by the COVID-19 pandemic.
With the third wave of Covid-19 hitting Thailand, causing doubts that Thailand can maintain its internationally success story on Covid-19 control – our community-based organisations and their beneficiaries are most vulnerable. Organisational sustainability is on the line, livelihoods and needs of secured regular financial support in place of lost employment is a recurring need from their members, and questions on the country's vaccine rollout plans for the most marginalized were being discussed. There is now a series of online discussion on equal access to COVID-19 from different perspectives.
Our coalition hope to be able to set up a sustainable funding mechanism that our coalition members can access to address other needs of their community members. Without these non-profit organisations, we will not be able to hear, raise and address issues that our most marginalized members are experiencing.
I would like to say a big thank you to The Poz Home Center for co-chairing the group, and the members of the group for your collaboration, inspiration, and leadership to move forward as one for LGBTQI and people living with HIV in Thailand; ACT, Be Visible Asia, CAREMAT, Bangkok Rainbow, HON House, MFriends, Payoon Sri Trang, Pink Monkey, The HIV Foundation, Sangsan Anakhot Yaowachon, Sairoong Ratchaburi, SWING, V-day Thailand and Young Pride Club.
---
Share this