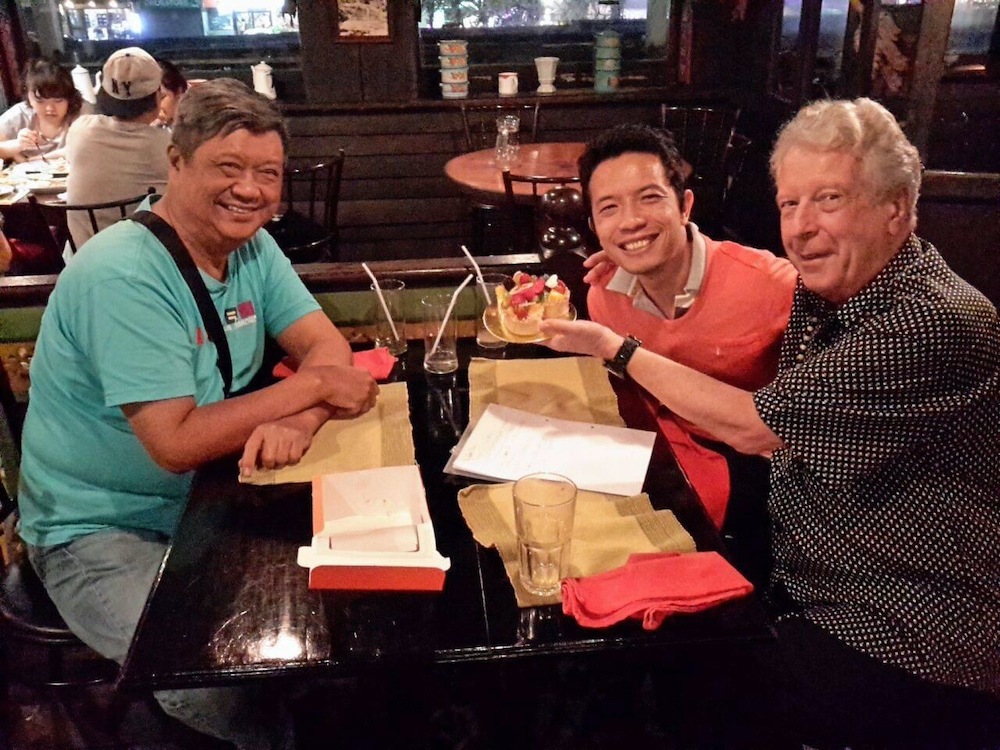 Obituary by Dédé Oetomo
Dédé Oetomo is a long-time activist in his native Indonesia and in the Asia-Pacific region, he was Chair of APCOM in 2013 to 2021. He is still active in his home organization, GAYa NUSANTARA.
It is with great shock and sadness that I heard of the passing of our dear friend and comrade, Douglas Sanders, due to heart failure, on Sunday, 13 November 2022. He was 84.

I first met Doug in 2000, when he came to Surabaya to interview me as part of his survey of the LGBTIQ+ movements in Southeast Asia. Perhaps the fact that he was a pre-Stonewall gay activist in his native Canada, and that I came out in Ithaca, New York, reading historical and reflective writings by his contemporaries, made us click immediately.

Since then, every time we were in the same place, whether it was Bangkok or Vancouver or Jember in East Java, we always made an effort to meet to update each other on developments in the Asian movement, usually over exquisite meals in very nice restaurants. He was often serious: our encounters were like seminars where I learned so much about human rights, UN mechanisms and the history of the movement. In exchange he often asked me to explain details of Indonesian culture, society and politics. The fact that I'm of Chinese descent (Peranakan) interested him quite a bit.
Doug was an expert on indigenous peoples and rights before he moved to SOGIESC rights academically. In his later career he made use of this expertise and the networks at the international level for SOGIESC rights work.
He was not only serious. He could be flamboyant, not only in his queer screechy exclamations and playful banging of tables, but also in the beautiful ethnic textile shirts he wore and the tote bags he carried, often adorned with necklaces and always with the phallic Thai Palad Khik amulet. He often boasted his collection of these surrogate penises.

Doug was an avid collector of Southeast Asian handicrafts and antiques. He was not only knowledgeable on law and human rights, but was also an amateur anthropologist, as it were. He proudly belonged to the Siam Society and often shared his latest discoveries around Bangkok when I was visiting.

Most importantly, Doug was a staunch supporter of regional networks like ILGA World and ILGA Asia, APCOM, ASEAN SOGIE Caucus. He advised Singaporean activists in their effort to have the sodomy article in the Penal Code (Section 377A) repealed. He was banned from entering Singapore to give a talk on the history of 377A. He proudly exclaimed that he had been banned by two governments: the US (for his North American activism) and Singapore.

Academically of course he enjoyed teaching international human rights at Chulalongkorn and Mahidol Universities, and in short courses organized by the South and Southeast Asian Resource Center on Sexuality in the 2000 decade.

His pre-Stonewall activism bloomed at the international and Asian levels as he neared retirement and afterwards. He wrote one of the early draft constitutions of ILGA. He had the distinction of being the first ever out gay man to speak at a UN Conference in 1992.

Doug was also very useful in chronicling the various developments and movements in the different Asian countries, both in the popular English press (queer and mainstream) and in academic journals and anthologies. Ethnographic accounts, legal and human rights situations, decriminalization and marriage equality, he covered them all.

We will all sorely miss you, Doug. But you live on in spirit in the movement, and in your writings. May you rest in love and in power!
---
Share this