Contributor :
Yashwinder Singh
---
Since 16 January 2021, India has administered more than 390 million doses of COVID-19 vaccine. Some 315 million people have so far received the first dose, and 79 million have received both doses. India has currently three vaccines available; Covishield (Oxford-AstraZeneca), Sputnik V (Russian vaccine) and Covaxin (Indian vaccine developed by Bharat Biotech). The most widely used vaccine is Covieshield. India has developed an interactive portal to book vaccines, but challenges remain, including vaccine hesitancy, and availability of and access to vaccines.
The LGBTQ community have been facing greater challenges, including the fact that the interactive portal requires access to internet and being able to navigate through the sites, and basic identity documents to book a slot, which poses a challenge for the transgender community. Several news outlets, including The Print and Outlook India, have covered this barrier, including
Another challenge is vaccine hesitancy and myths around vaccination. Many community members have questioned COVID-19 vaccines and their efficacy, and interaction of COVID-19 vaccines with other drugs and medicines, including hormones, and HIV medicines etc.
To address these challenges, various initiatives were organised: The Humsafar Trust (HST) pioneered specific informational material on COVID-19 vaccines and LGBTQ community 'Samajh' (which translates to "understanding") with a view to eliminate vaccine hesitancy, and HST has planned a 'Samajh – 2'. The poster was shared with the LGBTQI community through WhatsApp and social media in local languages – please see below:
The Humsafar Trust
HST organised vaccination camps at its premises in Mumbai, exclusively for the transgender community under the banner: 'Vaccinated with PRIDE'. More than 200 transgender persons got vaccinated against COVID-19 in the camp, and more camps are proposed to be set up in the near future.
In Delhi, a community-based organisation, the Pahal Foundation, organised a vaccination drive for the transgender and men who have sex with men (MSM) communities, in collaboration with the Delhi State Government and civil society organisation. The vaccination camp was set up in the drop-in-center of the Pahal Foundation.
66 people were vaccinated and more such camps are planned in hot spots. There was also free distribution of masks, sanitisers and dry ration kits to community members.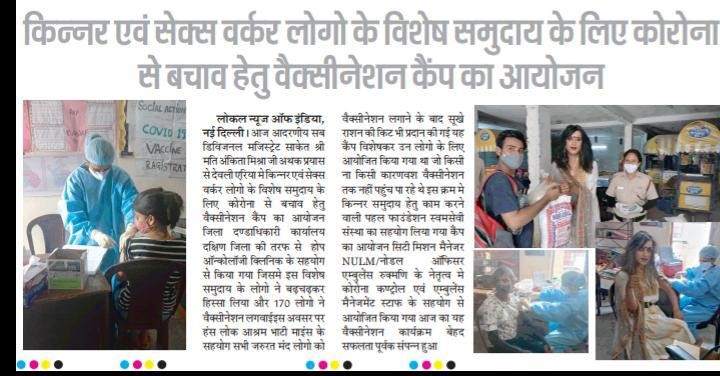 ---
About our contributor
Yashwinder Singh shared his experience of vaccine awareness as a PrEP user. He was approached on his phone and on social media by many people who were worried about and sought advice, including on "which vaccine to take", "which vaccine is more effective?", "what are possible side effects?", "what if I'm, on ART, or receiving hormones therapy?", "what if I have diabetes, hypertension?"
I often council members of the community and refer them to the Ministry of Health website, which has a FAQ section. Interestingly, the Ministry's website features a Dos & Don'ts for key populations on COVID-19, which I see as a positive step.
I have been using PrEP since 2017. Before I got vaccinated against COVID-19, I discussed, with my doctor, who advised that people 'being on PrEP or ART can have COVID-19 vaccinations'. I got my first Covishield vaccination on 1 May and my second dose in July. There are currently many WhatsApp messages spreading myths around COVID-19 vaccinations, especially on potential side effects. I had only minor side effects – a slight pain on my shoulder/arm where I was injected, which lasted for one day, and my partner had a fever for one day after his first dose. I can say, with confidence that COVID-19 vaccines are safe, and that our community members must take the jabs on a priority basis. There is not much evidence to back up the arguments against efficacies of vaccines: please understand and be aware that all available vaccines protect against severe diseases, hospitalisation and death.
---
Share this