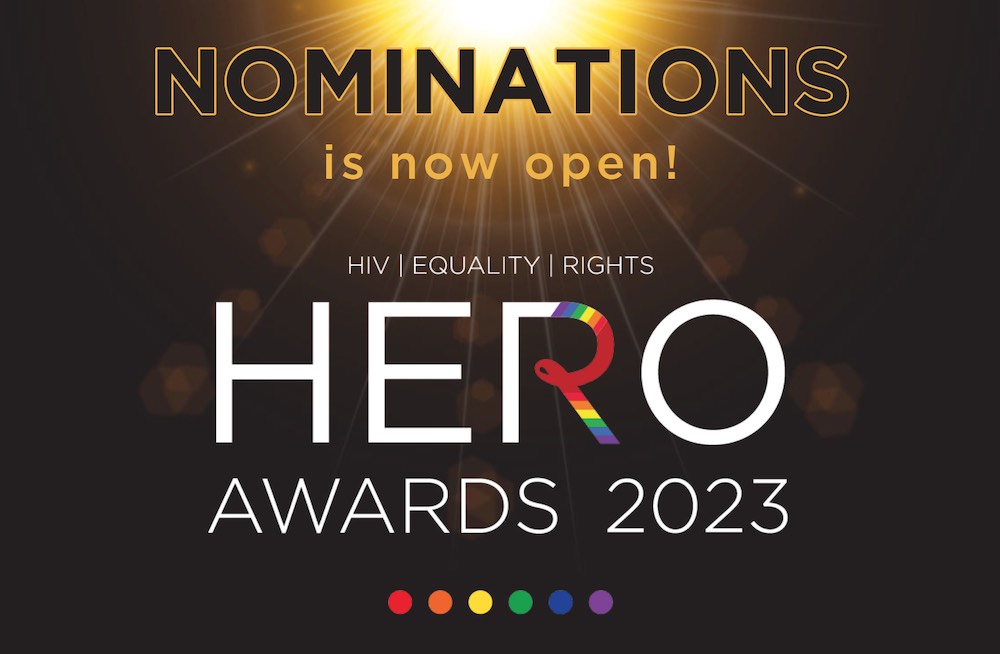 2023 HERO Awards Nominations is open!
APCOM together with three regional community partners, APN+, APTN, and ILGA Asia are extremely proud and excited to announce that the nominations for the 2023 HERO Awards are now open! Please nominate and honour those active in the LGBTQI and HIV field in your country and throughout the Asia Pacific region!
Standing for HIV, Equality, and Rights, the HERO Awards is an annual gala event set in Bangkok. The award evening shines a light to the region's Lesbian, Gay, Bisexual, Transgender, Queer and Intersex (LGBTQI) communities, as well as those who made significant contributions to the HIV response in Asia and the Pacific region.
Community members, supporters and allies throughout the Asia Pacific region are invited to nominate individuals and organisations across 10 categories who directly help others, whose work is improving the wellbeing of others, or whose achievements are inspiring others: Business Ally, Community Ally, Community Hero, Community Organisation, COVID-19 Hero, Health & Wellbeing, HIV Hero, Social Justice, Transgender Hero, and Young Achiever.
Nominations closes on Friday 5 May 23:59 Thailand time!
---
Hear from our Community Partners on the HERO Awards
Henry Koh,
Executive Director of ILGA Asia
"The HERO Awards are a tribute to the unwavering commitment of LGBTIQ activists who have dedicated their lives to defending and promoting the rights of our communities. At ILGA Asia, we recognise the importance of supporting and recognising these leaders so that they can continue to carry out their pivotal work."
Nachale Boonyapisomparn
Regional Steering Committee and Thai Foundation Board of APTN
"Recognizing all trans and non-binary heroes is revolutionary. Because mainstream history never taught us the legacy of trans people, it is our duty as activists for SOGIESC rights and trans rights to restore the legacy of trans people who put so much effort and dedication into advancing LGBTIQ+ human rights."
Davi Ardiansyah
Young People Living with HIV Officer of APN+
"You don't need big numbers to change the world and create impact. What you are doing right now is enough, even if you are only helping one person. When you give something with all your heart and soul to help and save a friend or a stranger, it is enough. Because one person is one life. And one life already matters."
---
Impact and result of HERO Awards 2022
The HERO Awards 2022 convened physically almost 500 participants from 30 countries covering celebrities, special guests, community representatives and advocates, members of Bangkok's diplomatic missions, corporate and entertainment field to pay tribute to the extraordinary contributions of individuals and organisations who have improved the lives of LGBTQI people, and people affected by and living with HIV throughout the Asia Pacific region. Through this platform, the public reached and viewed about 160,482,000 times through APCOM press release, media coverage, newsletters, and social media channels.
H.E. Dr Angela Macdonald
Ambassador of Australia to Thailand
"The Australian Embassy is proud to host the 2022 HERO awards event tonight, which recognizes outstanding service in HIV response across Asia and the Pacific. We have supported APCOM's work over many years. LGBTQI rights are human rights which we will continue to fight for in every forum. The work of human rights defenders and civil society groups like APCOM is crucial to upholding LGBTQI rights across the region,"
Stef Teng
Director of Diversity, Equity & Inclusion Asia, Warner Music
"The importance of what these brilliant individuals do in service of the broader community cannot be overstated. We believe in the power of self-expression and original voices to move the world for a better future. This underlies the intention of the HERO Awards which honors the experiences and inclusion of the LGBTQIA+ community and persons living with HIV."
---
What have other people say about
the HERO Awards?
Jeremy Tan (Malaysia):
Young Achiever Award Recipient 2022
Health, advocacy, and Youth Officer who empowers health organizations in Malaysia to integrate their healthcare model with HIV services such as testing, counseling, and referral of treatment.
"The proudest achievement in my career will always be the time when community organizations come together in helping a young MSM boy who desperately needs Post-exposure Prophylaxes (PEP) in the middle of the night after he had unprotected sex. The legacy of this story is that when community organizations work together, we are able to gather donations overnight for him to travel across states to get the medication and the community health center operated in the middle of the night to address his needs. The collective efforts in making sure that we are leaving no one behind made all of us proud."
Nikorn Chimkong
Director of Bangkok Rainbow Foundation
"The HERO Awards is regarded as a significant occasion, bringing together exceptional individuals from various nations to collaborate on the shared challenges of HIV and human rights. The ambiance of the event is exhilarating and invigorates the participants, energizing them to the fullest extent. Furthermore, the collaboration among all sectors, including communities, government, and business entities, both domestically and internationally, underscores the significance of dedicated workers and fosters a broader and more robust network of professional connections for the future."
---
Why people who have nominated think the HERO Awards is important?
These are taken from the 2022 nominations:
"
It is important to have HERO awards to recognize the work from the community members and individuals who hardly get recognition because of societal prejudice. This means providing a platform for them to showcase their works and communities to a place that is celebrated meaningfully.
"
"
HERO awards mean the acknowledgement of the people who strive to make a difference in HIV work or LGBTIQ progress. It also means that we saw and heard the effort of these remarkable individuals and would like to express our gratitude to the seniors who laid the path for the younger generation but also to celebrate the passion of youth in the journey of advocacy, community empowerment, and representation, etc. It highlights the notion of diversity, inclusivity, and appreciation toward the community.
"
"
They work for the community, but are rarely in the limelight.
"
"
It means allowing those who work silently for the goodness of our society getting the recognition and encouragement to continue doing the work they do.
"
---
Get busy nominating!
Nominations closes on Friday 5 May 23:59 Thailand time!
---
How would you like to support the event?
No matter who you are, how big your organisation, how small your agency, there's always room for you to contribute and be a part of the community.
Apart from the visibility gained from the event, supporters will help raise awareness of the human rights and strengthen LGBTQI communities in tackling stigma and discrimination, violence, harassment, inequality and inequity in the region. Furthermore, the contributions will provide immediate responses needed by the grassroots LGBTQI communities who are significantly affected by the COVID-19 outbreak in Asia Pacific under the campaign #CoronaAPCOMpassion COVID-19 Emergency Fund.
Finally, the supporters will advocate to form new real HEROes for our LGBTQI and HIV communities now and in the future. All of these means that you are also our HERO who never leaves us behind.
---
Share this