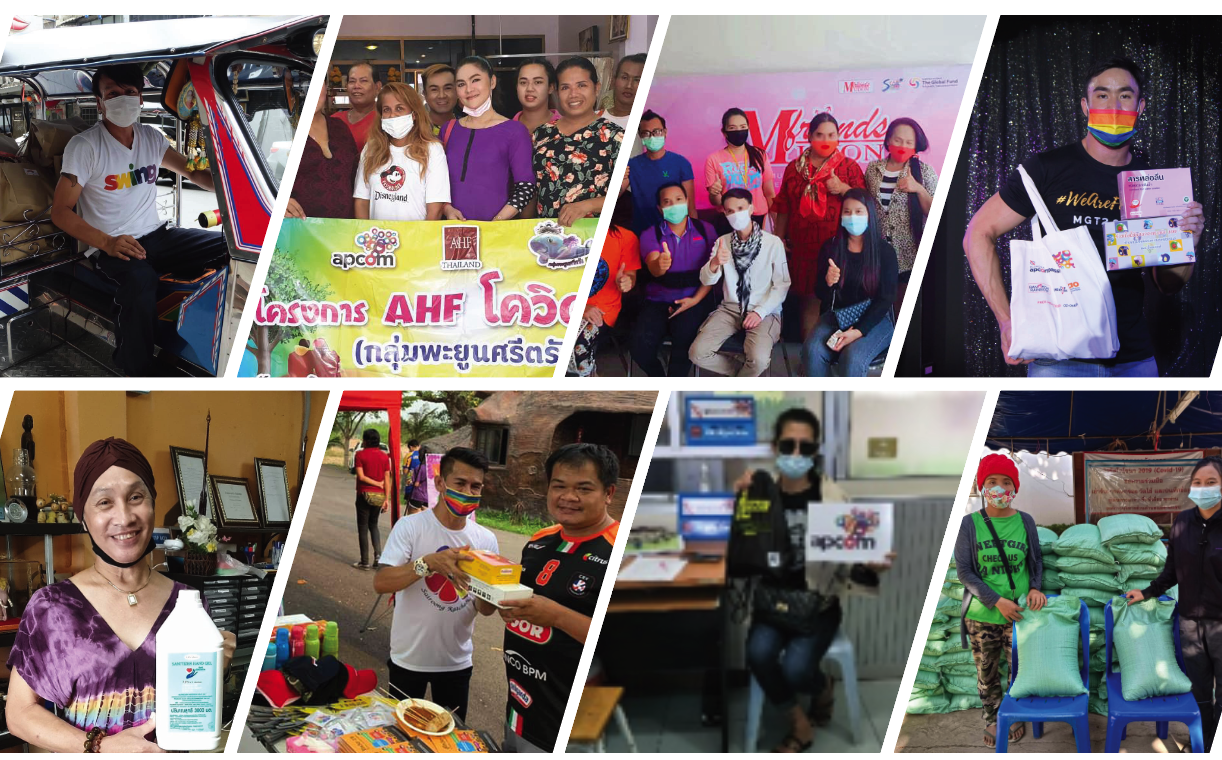 APCOM in partnership with eight community-based organisations in Thailand and special thanks to Mr. Rod Olete who provided his time to guide this project's research design and methodology are proud to launch Khormoon: Surveying LGBTQI+ situation during Covid-19 Pandemic, a community-led research that gathered 1,430 respondents. 
In the Thai language 'Khormoon' means 'data'. This peer-led initiative came from a series of conversations from community coordination started in April 2020, which APCOM co-chairs with The Poz Home Center to better support one another as we navigate through the pandemic. This is an initiative, supported by ViiV Healthcare, and the Solidarity Grant from the Atlantic Fellow and Equity Initiative, allows Thai community-based organisations to gather essential data from their beneficiaries about the challenges they encounter in accessing services during Covid-19, due to government measures when Thailand went into lockdown towards the end of March 2020.
"This initiative was very much a ground-up need, and APCOM was able to support the data gathering as well as equipping our community leaders with on-line data gathering. We know data is important for advocacy to duty bearers, and it is powerful for the community to be able to use their own data for their own advocacy."

Somchai Phromsombut, Executive Director, The Poz Home Center, and Co-chair of the Thai LGBTQI Coalition
Not only that, the data gathered also focus on 4 key areas of HIV services, socioeconomic, mental health and human rights issues, reaching gay men and other who are men who have sex with men (MSM) 857 (59.93%), transgender women, sex workers, migrant workers and people living with HIV (PLHIV).
The online data collection was done in a period of six (6) weeks. A total of 1,430 respondents across the country participated in the data collection. 838 of these were disclosed as PLHIV. Data were collected from Bangkok, Chiang Mai (Northern region), Chonburi (Eastern region), Ratchaburi (Western region), Trang (Southern region), and Udon Thani (Northeastern region).
The project has found some alarming issues in socioeconomic issues where the majority of the respondents have their income and job affected by the pandemic (93.08%). Despite this, more than half (58.43%) did not receive any government financial assistance. The project has found that the most urgent needs are personal expenses and steady income from jobs, this is directly linked with unemployment and reduced income.
On access to HIV services, the majority of respondents (66.26%) were worried that HIV prevention and treatment services would be difficult to access because of the imposed restrictions on travel and mobility, especially for PLHIV as they were worried about the supply of their antiretroviral (ARV) drugs. However, some community-based organisations were able to fill this gap by pivoting their services to online and using courier services.
During and after lockdown, respondents reported to have mental health issues mainly in anxiety, depression and helplessness, this may be caused by a number of factors including joblessness and/or loss of income. The data has shown that PLHIV having a dire situation in mental health issues in term of depression, anxiety, worry.
Moreover, there were 41 reported cases of domestic violence and 183 cases reported that they felt their human dignity was violated.
"Community generated data forms a body of evidence to the needs of the marginalised and vulnerable, made worse by the effect of the pandemic. The data also showed the amazing reach and resiliency of the community-based organisation during these difficult times. We look forward to working with the partners to present Khormoon to the duty bearers, to ensure that they will not be left behind."

Midnight Poonkasetwattana, APCOM Executive Director
---
Share this