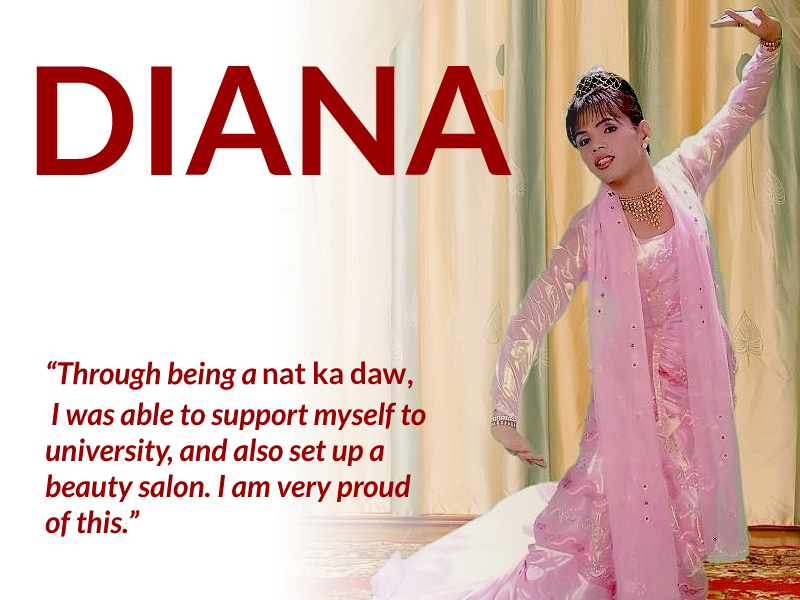 We were sheltered from the heavy monsoon rain in a restaurant in downtown Yangoon just a few meters away from the famous Bogyoke Aung San Market (Scott's Market).  Tha Zin, or 'Diana' as she preferred to be called, dressed in traditional clothes was eager to start the interview.
At times like these, is when you realise how courageous, dedicated and extra-ordinary people working in this sector are:
"I have always thought myself as a woman ever since primary school. I learnt how to beautify myself as a woman in middle school and was bullied by my four brothers because they feel ashamed of me. I was told to leave home because my father can not accept me being a woman.
I became a nat ka daw (spiritual dancer) within a group and people would pay us to dance to appease the spirits for good luck and fortune. I like dancing very much and have been doing that for a long time since I was in grade 9 and even get a prize at middle school.
Through being a nat ka daw, I was able to support myself to university, and also set up a beauty salon. I am very proud of this."
What was it like growing up knowing you are a woman?
"Throughout myself I feel grateful with everything that I have achieved because so many bad things happen to me. My brothers would punch and kick me when I wear women's clothes, my father throw me out of our house, when I was 14 I was raped by a school class mate, and when I went to university I had a very jealous boyfriend who didn't allow me to go out and would beat me if I do. It is not easy, but I can't help the way I am, and I never look down on other people."
How have you tried to overcome obstacles?
"I always try to be a good person and do good things for the community. I became a volunteer for one of the NGOs in Myanmar and gave care to HIV patients in one of the hospitals. The patients really like to have me there and I got to know them personally. But the hospital staff, were not so welcoming. There was an incident where one of the patients committed suicide and the staff were blaming me and tried to get rid of me, but the other patients wanted me to stay.
I then set up my own group called Royal Princess and provided care to people living with HIV and other diseases in Yangon General Hospital.
Is the name Royal Princess connected to your name "Diana"?
Yes! I happen to see read a magazine and there was one article on Lady Diana – in the picture she was touching HIV patients and was concerned for their welfare. She did not discriminate and she was a princess. I got inspired and in her honour I called myself Diana, and when I started the self-help group with 14 other people we agreed on the name Royal Princess in her honour too. Right now we have over 50 people in the Royal Princess self help group.
What is your reaction to incident in Mandalay where twelve gay and transgender people were arrested?
The police mistreatment during the interrogation to our community members caused spotlight on Myanmar.
I was in the newspaper on 16 August 1993 as I got arrested as I was thought to be a sex worker. There is a law that prohibits sex work and with this code they arrested me. But then I was in the court and learned that I am a man then they released me but on the 15th I got arrested again (as I had a 'reputation' for doing not good). The news article ruined my reputation and made it very hard for me to get a job – which was already limited to for transgender people in Myanmar.
Can you tell us what you're doing now?
I have my beauty salon and used to work as Program Assistant for Myanmar MSM Network (MMN). I have been involved with the network since the beginning contributing to the vision and mission development of the network and acting as treasurer. Many men who have sex with men and transgender people need help in Myanmar and I want to continue to help my community. v
Some of Diana's story was so moving and beyond what many people can comprehend. What is more extra-ordinary is that she has the courage and inspire other people – she told her story very proudly.
---
Special thank you to David Aye Myat Godwiller for interpretation.
---
Find out more about Myanmar MSM Network https://www.facebook.com/myanmar.msm.network
---
Selected articles on the Mandalay incidence
http://www.gaystarnews.com/article/asian-human-rights-commission-slams-t…
http://www.mmtimes.com/index.php/national-news/mandalay-upper-myanmar/75… 
http://ilga.org/ilga/en/article/obIEMUW16f
Share this