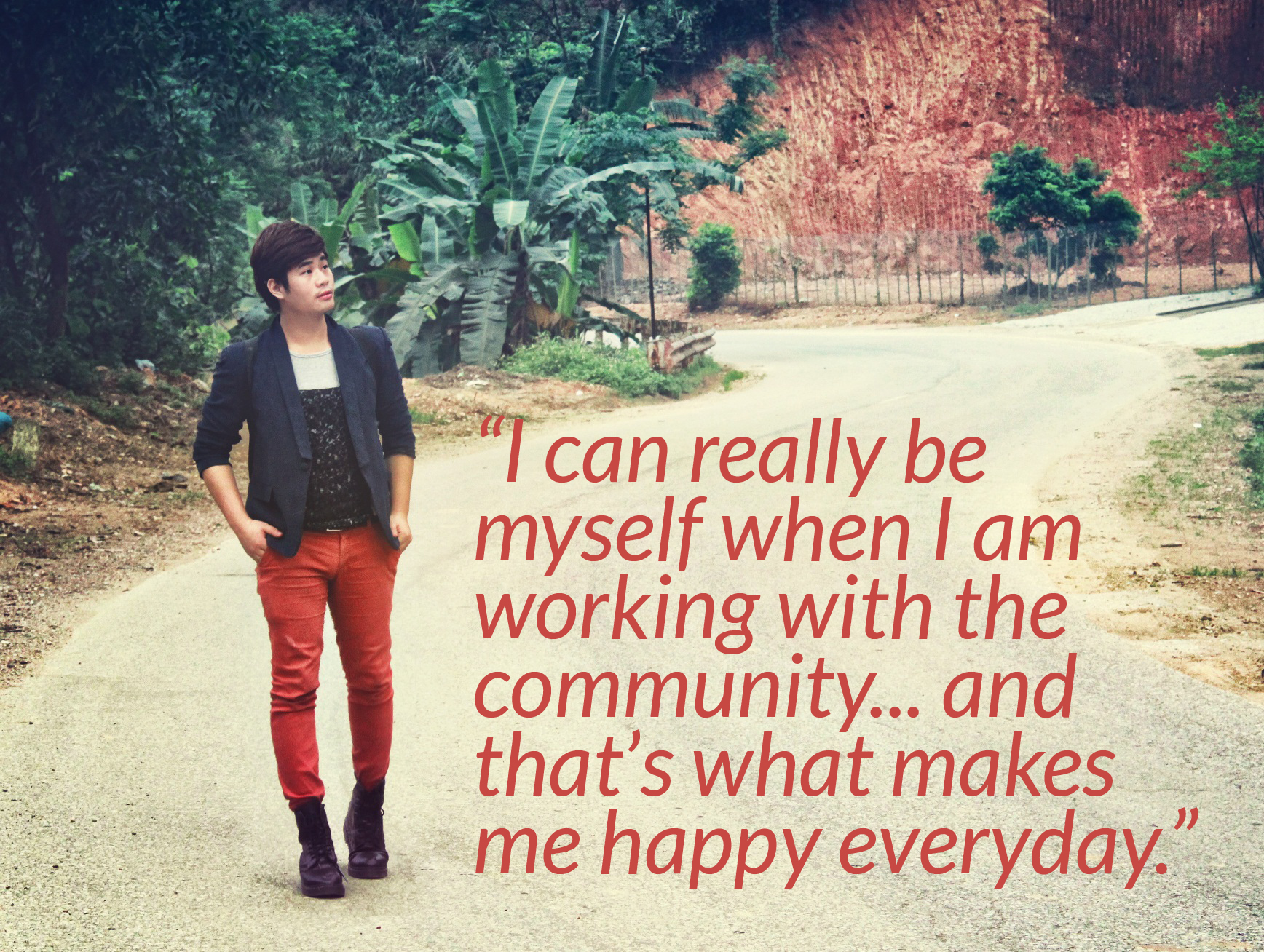 Many of you may know of Windy – perhaps you would have sat across from him in a meeting, you may have attended one of his renowned parties or maybe you are one of his one of his 3000 plus friends on Facebook?
Not sure?  Well let me introduce you to Windy, he is one of many Vietnamese youth dealing with the complexities of Vietnamese society's acceptance of MSM and transgender people. That said, the walls built up by sociocultural stigma and discrimination haven't stopped him from becoming a pioneering youth leader in the community.
Windy runs his own young MSM and transgender peoples' self-help group called Youth Dream, as well as his own website (www.iBOY.vn); an online shop; and an events business with a strong reputation among Vietnamese youth for throwing killer parties! He is also a Chairman on the National MSM Technical Working Group, a Chairman of the Youth Network on HIV/AIDS prevention in Vietnam and the Director of VSmile, a social enterprise. I had the pleasure of meeting this inspiring, young innovator during his visit to Bangkok on a hot, sunny afternoon while enjoying an iced green tea. 
We thought we would share this conversation with you, so that you can get to know him a little more.
This is the first of APCOM's new Limelight Series, focusing on everyday people, doing everyday activities within the local MSM and transgender community.
---
Could you tell us a little bit about where you grew up? What was your family like?
I grew up in Hanoi in a big family. I lived with my mum and dad, and 2 sisters and 2 brothers. It was a lot of people in one house, 7 people – and one bathroom. Now, I live about 2 hours away from my parents in urban Hanoi, but I try to visit them twice a month or so.
Are you open to your family about your sexual identity?
My mother perhaps knows… but my father isn't aware at all. My father has heart problems, so I'm worried that coming out to him could worsen his health. I am careful, so that my family doesn't find out.  Although with Facebook and social media, that is getting harder! Most of my friends and colleagues know about my sexuality though, and they are really supportive.
Is it easy to talk about your sexual identity in Vietnam?
It is easy to communicate [your sexuality] outside of the family; but inside the family, it is still taboo.
…When you come out to your friends, its easy for them to accept you – but it still might take a little time… When you come out to your family:  you hear of some many stories about being rejected, locked up, and attempts to 'reform' sexuality.
With so many barriers, how did you manage to become so active in your community work?
When I was 19, I found a part time job at a coffee shop for LGBT people. It was the first time I disclosed my sexual orientation as a gay person. After that, I became more popular among the community ever since I joined a local MSM drop-in-centre as a peer educator. I first considered it a part-time job, but the more I got involved, I realized young MSM and young transgender people don't have enough information on safe sex and life skills… I decided to form my own group, separate from the centre [Youth Dream].
Can you tell us a little bit more about Youth Dream?
Youth Dream is a self-help group for young MSM and transgender people in Hanoi. Youth dream runs activities such as peer education on sexuality and life skills… an online website, and community awareness events on stigma and discrimination…
There are four coordinating members in Youth Dream. One of us got rejected and disowned by their family. He was locked up and they tried to 'reform' him, but he escaped. The rest of us do not get any support from family: financial nor emotional support. This is the reason we started Youth Dream, we want to make sure that young MSM are getting support, if not from family then from the community.
What do you like about working with the MSM and transgender community?
I can really be myself when I am working with the  [MSM and transgender] community. I feel like I add value to the group, I'm supportive and I provide the help that young people need – and that's what makes me happy everyday.
I feel confident that I don't have to hide my sexuality in the community. It is a safe and comfortable environment.
You're not only a community worker, you're also an innovative entrepreneur. What do you like about business?
I started my online shop first, selling Korean cosmetics. I then started event organisation and occasional parties. Doing business gives me self-confidence… opportunities to meet people and network, and to communicate with customers. It provides me with income, so that I can become financially independent from my family.
Lastly, how do you see yourself developing in the future – what is your dream?
I want to further my education in public health and counseling. I'm still saving up money to prepare for that.
I want to continue to become more independent and develop my work into a social enterprise… I want to dedicate my work to young people.
---
Many thanks to Windy for agreeing to be interviewed for the APCOM Limelight Series and a special thanks to Tung Bui for assisting in translation.
---
Photo Caption: Windy with members and allies of the young MSM and transgender community in Hanoi, Vietnam.
Share this