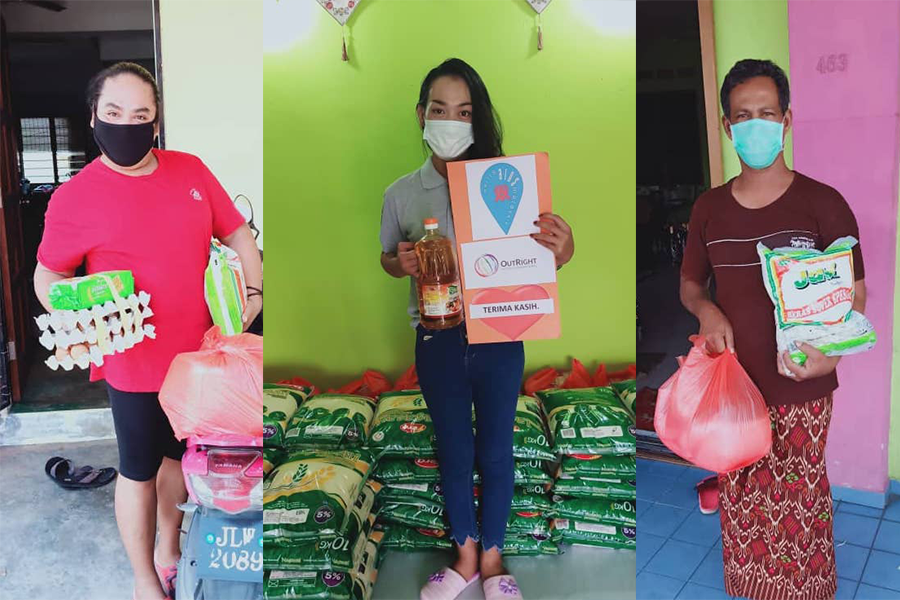 TGW receiving groceries donation during COVID 19
Contributor:
Khartini Slamah
Transgender Activist, 2017 HERO Awards recipient for Transgender Hero, Malaysia
---
I am Khartini Slamah, a Transgender woman from Sarawak, Malaysia with over 3 decades of advocacy for HIV issues as well as Transgender and Sex Worker rights. At present I am working with an NGO in the Southern part of Malaysia to reach out to the TGW/MSM/FSW community at the grassroots level to raise sexual health awareness with the aim of enhancing access to testing and treatment including PLHIV support in collaboration with the local department of health using their network of government clinics and hospitals. My work prior to COVID-19 outbreak were:
Outreach coverage to reach out to more of the TGW/MSM/FSW community members.
Encourage community members to access sexual health screening at government health clinics via various mediums covering both face to face outreach and online outreach using social media and apps to provide raise awareness about HIV/Hep C/STI etc.
Advocating for better community friendly health care services via continued engagement and ongoing dialogue with the local department of health to ensure the communities we serve have no problems in accessing sexual health services and treatment at the government clinics and hospitals we work with.
Advocating accessible HEP C treatment as there is a backlog in this area despite the government efforts to provide free treatment due to the limited quota for treatment
With the effect of COVID-19 outbreak, how did you pivot your life and work?
A lot of things had to be more focused on online methods for coordination and this was the only way we could continue our efforts to raise awareness and maintain communication with clients
The priority for me was the safety of the team under me and we cooperated with our partner government clinics to stay away during the height of the pandemic. Once the restrictions were relaxed my team had to learn how to practice new clinic SOPs of social distancing as they were basically frontliners too no different from the other healthcare workers at our partner government clinics.
Many clients who are not in stable forms of employment including some who were reliant on sex work faced challenges in making ends meet. Even clients who had regular jobs were affected by temporary closure of some businesses and factories. We had to change our paradigm of service to try to meet their basic needs first as what it the use of talking about sexual health to a hungry person who does not know where their next meal would come from. Thankfully we received groceries aid allocation from Malaysian Aids Council and SEED foundation to enable us to help the neediest of our clients.
What were the issues that you experienced during the lockdown?
It was undeniably a bit stressful when the Movement Control Order (MCO) was enforced in Malaysia, as I was stuck at my home in Kuala Lumpur and could not return to work in the city where I work in the Southern region, for almost 3 months. Our movement was fully controlled by the police and army. Roadblocks was almost everywhere in Malaysia. Luckily, I am backed by a reliable team who maintained constant communication with me.
My team was worried about our clients follow up at clinic and hospital as upon doctors advise many appointments had to be postponed until the COVID-19 cases had come under control. Fortunately, the disruption was only temporary.
As mentioned earlier during the height of the "lockdown" a major issue for our clients whose livelihoods were affected was simply where to get their next meal. Thankfully, we were able to provide some food (groceries) aid.
How have the trans people in Malaysia been affected?
Loss of means of survival in terms of income for those TGW who are involved in sex work and working in businesses/industries affected by the "lockdown" i.e. restaurants, hair salon, make-up promoter, bridal make up, self-street food vendors, factories, etc. This had a trickle-down effect on senior TGW who have no job and normally rely on community support from other TGW for their small home-based businesses.
Unable to pay house rental, utilities bills as they were unable to do sex work, conduct their usual businesses or were not paid salary due to employers forced to close during the "lockdown". Some even lost their jobs.
Difficult to access health and medical services and buying groceries because of the movement control order (MCO)
Fear of accessing health services as the pandemic meant our government clinics were handling such cases too.
Could not return home to their hometown to be with their family and could not send money to support their family like they normally do.
As you come out of the lockdowns, what services will you and the trans community require?
As the MCO has not ended yet, we focus on the daily needs of our clients such as
Fundraising for food aid to TGW including the elderly TGW who has lost income
To provide further aid on a case by case basis to help cover essentials like rental, utilities, and medication for severely affected cases.
Helping to make arrangement with doctors to get client medication who are out of medication stock.
Providing mental health support or counselling for those who needs it.
How has COVID-19 outbreak changed the way that organisations have responded to the needs of trans people?
Yes, since COVID-19 hit Malaysia, each individual or organization changed the way they worked i.e. staff had to do daily body temperature check when they enter the office as well as log in their details in a record book or using the government check in app.
We use face mask in workplace and public places and ensuring that hand sanitizer is used regularly, and social distancing of seating arrangement when they are doing work in the office.
Awareness and explanation on COVID-19 have to be included in our outreach. When a client is referred for health screening, they must follow the clinic SOP
Constant communication and collaboration with the local health department including knowing how to detect if there is a sign or symptoms infected COVID-19 and what needs to be done in such cases.
Looking beyond just the regular sexual health services and thinking about meeting the essential needs and mental health needs of clients
What are the worries from your community about the 'new normal'?
My main worry is how to survive and cover their essential needs when job security and business prospects are uncertain especially if they have debts or need to assist their families.
Fear of retrenchment due to the economic downturn due to the prolonged closure of business. And the sense of isolation and fear in this new era of quarantining and social distancing leading to mental health issues.
Are there any positive lessons learnt from the effects of COVID-19?
I would say the following:
How to handle mental health problem in the communities we work with
Increased use of online platforms for work matters and how it can enhance coordination
The advantages of being able to do outreach and awareness raising via social media and apps including being able to maintain contact with existing clients and still provide some form of support
How to fundraise or repurpose funds from donors to help the community with their essential needs
Importance of working closely with the department of health to ensure safety is maintained for clients and the outreach team amidst the pandemic
UNAIDS is currently developing a Global AIDS Strategy – is there anything you would like to add to this?
It is indeed an ambitious aim to end AIDS as a public health threat by 2030. In striving for this we should examine and understand the impact of these current COVID-19 pandemics on the 90-90-90 treatment goals which were a major part of the UNAIDS 2016–2021 strategy. With these lessons learnt as a reality check, the new Strategy being developed should include contingency measure for countering the possible impact of a similar global pandemic that could potentially derail our efforts to end AIDS by 2030. Essentially the crucial matter here is ensuring that people who are already being left behind in the global HIV interventions are protected from being further marginalised if such a worst-case scenario of a similar global pandemic should arise.
---
Share this