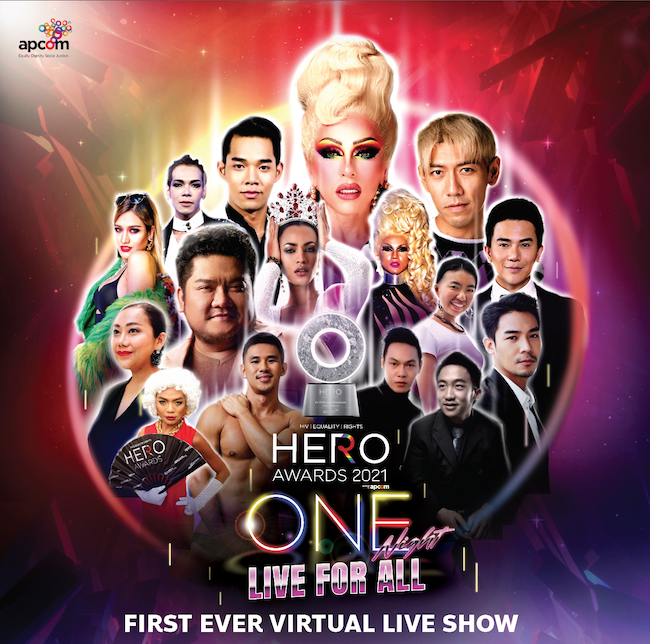 COVID-19 Hero Honourees
The Humsafar Trust
India
The Humsafar Trust (HST) is India's first community-based organization of LGBTQ+ in Mumbai since 1994 and working towards health and human rights of LGBTQ+. The Humsafar Trust was one of the petitioners in the Supreme Court of India that decriminalized same sex behaviours on 6th September 2018.
The Humsafar Trust has four verticals: Advocacy, Health, Capacity Building and Research. Its Advocacy unit works pro-actively with the families, law enforcement agencies, judiciary, political parties, educational institutions to mainstream LGBTQ+ issues. Its Research unit has an Institutional review board registered with NIH with Federal wide Assurance certification in place. Its Capacity building unit provides technical support to 27 States in India and builds capacities of communities to implement HIV interventions.
Humsafar has core competence in providing health services and manages 3 projects on prevention, care, support and treatment reaching out to over 7,500 Gay men, MSM and Transgender/Hijra communities through its four clinics in Mumbai. Humsafar currently implement the GFATM project that will reach out to online communities using social media with a component of Community System strengthening across the country. Humsafar has nurtured support groups such as YAARIYAN (Friendship) for young LGBTQ with a membership of over 8000 youth, UMANG(Joy) for LBT persons and 'SANJEEVANI" for persons living with HIV. HST also provides legal support, crisis management, mental health and nutrition counselling to its communities.
What one achievement your organisation accomplished that it is most proud of
The Humsafar Trust is a model of capacity building. While we provide technical support and capacity building in over 27 states in the country, we are really proud about capacity building of our communities. We have created a cadre of young leaders through supporting education, nurturing them as the next generation leaders. Individuals who started as outreach workers in Humsafar Trust are today holding prestigious positions and strengthening LGBTQ+ work in India and the region, taking the health and human rights of the communities forward.
What is the most challenging thing about the work of your organisation
Even though Section 377 of the Indian penal code (sexual acts "against the order of nature") has been read down, we are still a long way from achieving civil rights for the LGBTQ+ communities in India. The struggle to remove stigma and discrimination around people of alternate sexualities and people living with HIV is a major concern. Though the HIV treatment programme is very robust in the country, attitudes of health care providers become a stumbling block for the communities in accessing treatment. The fight against stigma and discrimination continues so that we can all be free and equal citizens of our country.
What work did your organisation do differently due to Covid-19
In march 2020 we got a message from a community person that she was left with 9 INR in her pocket, with no money for her food or rent. Covid-19 had hit us hard and conversations around LGBTQ+ were totally invisible and we are not part of the larger narrative. We immediately set up #humsafarfightscovid19 support programme. In the next 12 months we raised funds internally, from allies, corporates and our own communities. We wrote mails to over 300 persons and 185 of them send in donations. We raised around 200,000 USD through donations. We provided ration kits, made direct bank transfers for rent and emergency medical needs, provided mental health support and strengthened access to ART which was badly affected due to nationwide lockdown. In 12 months, time we provided support to over 44,000 individuals in 19 states of India. This entire initiative was totally managed by community volunteers and no part of funds was used on staff payments. Everyone worked free of cost as their contribution to the initiative. Humsafar also implemented an online campaign "Samajh" to increase COVID-19 understanding among LGBTQ+ communities. The campaign crossed the 3.5 million mark on social media. Humsafar tied up with various health care providers and conducted vaccination camps at Humsafar clinics in Mumbai for the LGBTQ+ communities. The campaign focused on trans persons as registering them on the national portal was a challenge and Humsafar successfully navigated through the system.
How has your organisation catered to the mental health needs of your staff
We have one full time mental health professional whose services are available -free of cost – to the entire Humsafar team across the country. The mental health support is accessible through online and physical visits depending on the needs of our staff. It has yielded very positive results helping Humsafar teams address their burnout issues, address issues of sexuality, relationship issues and dealing with families. It's been a great experience for all our team members.
What is your reaction to being nominated for the HERO Awards 2021
Our organisation knows APCOM since its inception in 2007 and has joined the APCOM teams throughout their journey. To be nominated for HERO Awards is a matter of honour and extreme prestige for our organization and we treasure this nomination as a recognition of our hard work for the last 27 years.
Despite the fact that the COVID-19 is still with us, what is a message that you would like to share with the communities in the Asia Pacific
We all feel that the worst is behind us and we are all slowly returning to our much-needed work on the ground. As communities we need to foster an exemplary approach by ensuring full vaccination and observing all safety protocols while we move forward. We move head cautiously as safety of our teams and communities and everyone is our priority.
---
Share this