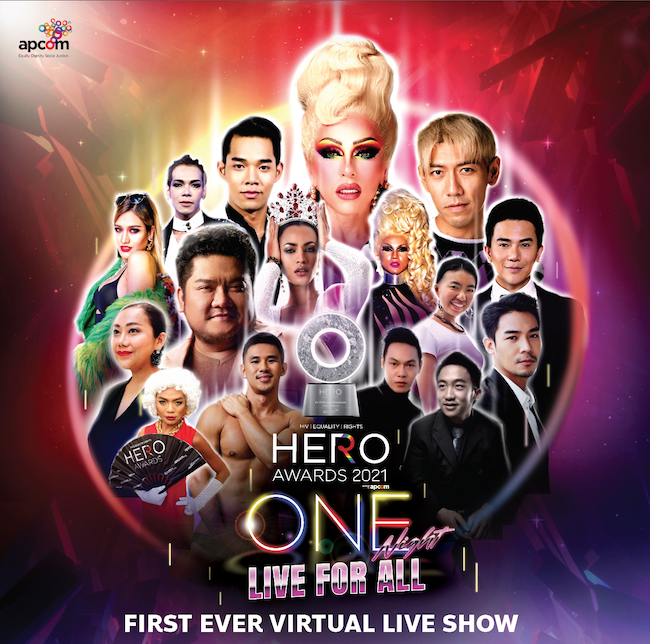 Bangkok, 20 November 2021, International Transgender Day of Remembrance
On the International Transgender Day of Visibility, APCOM Foundation, a leading Asia Pacific HIV and LGBTQI community organisation based in Bangkok, is proud to present our 5th HERO Awards under the theme "HERO Awards 2021: One Night Live for All". This year's HERO Awards ceremony will take place online due to the on-going pandemic, but promises spectacular shows to highlight and acknowledge outstanding HIV and LGBTQI advocates and allies from across Asia and the Pacific, and the amazing inspiring work they have been able to do despite the effects of Covid-19.
The eleven Awards include:
1. Business Ally
2. Covid-19 Hero
3. Community Ally
4. Community Hero
5. Community Organisation
6. Health & Wellbeing Hero
7. HIV Hero
8. Social Justice Hero
9. Transgender Hero
10. Young Achiever Award, and
11. Shivananda Khan Award for Extraordinary Achievement
"On this day, as we commemorate transgender people who were murdered around the world, we are humbled to be supported by many agencies who values the importance of the HERO Awards, and want to see the Asia Pacific region more equal for LGBTQI human rights, and to alleviate HIV amongst key populations,"
commented Midnight, APCOM Executive Director,
"visibility and voice is so important, and this platform shines a light on some of the incredible work that individuals and organisations in our region are doing despite the additional challenges that the pandemic bring. Thank you to our regional community partners, APN+, APTN, and ILGA Asia for their leadership and our sponsors for making this event possible."
The evening event promises to be packed full of shows and performances to raise funds to support LGBTQI organisations in the region that were badly affected by the Covid-19 pandemic.
This year's co-presenters are Joe Chonlawit from Voice TV, and Sira Siravitch, Bangkok's Diva Queen from Drag Race Thailand, who will give a peek at what's installed for PRIDE Thailand 2022.
We also have a special fashion show designed by FASH CCI of Srinakharinwirot University and modeled by our community partners and influencers, under the theme "step through crisis".
Drag Queens M Stranger of Stranger Bar, and Petchara from Drag Race Thailand will also spice up the event.
Ben Chalatit, Thailand's gay icon and UNAIDS National Goodwill Ambassador for Thailand will also give a special performance!

HERO Awards 2021: One Night Live for All
will take place through Zoom on
Friday 26 November 2021 19:30 – 22:30 Bangkok Time.
The event is free, however, please give donations so that APCOM can support LGBTQI individuals and organisations adversely affected by Covid-19.
---
HERO Awards 2021: Award Honourees
Benjamin Thain
(Malaysia)
Isikeli Vulavou
(Fiji)
Monrawee Ampolpittayanant (Lynn)
(Thailand)
---
Farhan Wilayat
(Pakistan)
Gopi Shankar
(India)
Nyampurev Galsanjamts
(Mongolia)
Aan Rianto
(Indonesia)
Ali Raza Khan
(Pakistan)
Bhoomi Harendran
(Sri Lanka)
Chase Tolentino
(the Philippines)
Nisha Ayub
(Malaysia)
---
---
Share this