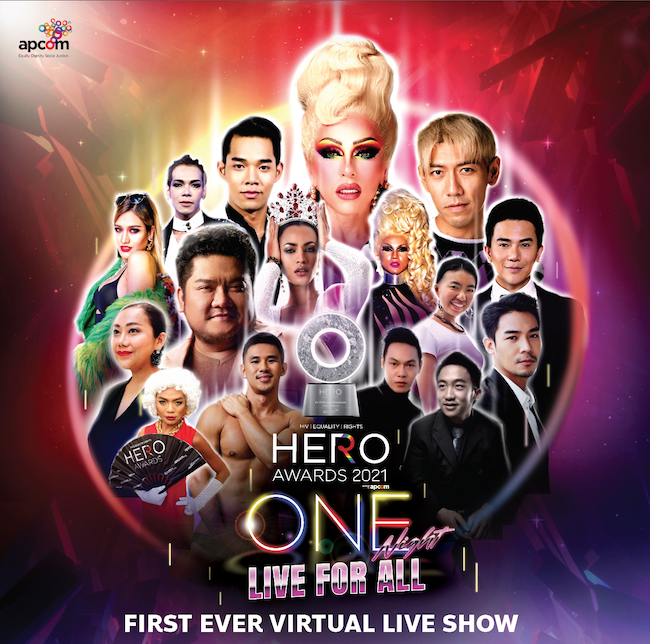 Community Ally Honourees
Benjamin Thain
Malaysia
I am a youngish-looking gay Malaysian man who recently turned 47 and still believes that there is good in everyone and life is meant to be lived.
Kind, is what my friends would first describe me to be. I may initially come across as a person with a serious demeanour but I have a rather prominent nurturing side. I believe that acts of kindness are the seed for values and good intentions in a person. I am also a believer of being authentic and leading by example, as such values are an integral part in character and relationship building.
I am a powerfully determined and passionate individual who has recently entered a new phase in life with a charged-up drive and refreshed perspective. Thus, the name "The Accidental Advocate" as my life switched course and I embark on my journey and work of purpose in HIV awareness.
I have been a vegetarian for the past 16 years and find joy in the culinary arts. Cooking has been my creative outlet and I run a part-time private dining business in Kuala Lumpur that I call, A Delectable Journey.
Please briefly let us know about your work
Creativity has always been my life blood and for the most part of my career. I've had my fill in corporate life and a good run as the owner of an integrated branding agency for 15 years.
My life as an HIV and men's sexual health awareness advocate began in 2019 when I was asked to create a national campaign for HIV and PrEP awareness (MSM) which I then further developed into an integrated program.
I develop and manage community programs and integrate those for maximum reach and optimal results. My approach is kept authentic and is often unorthodox. My past work experience entails strategic thinking and resource integration which I'm now able to adopt onto all my self-initiated and self-funded projects:
– LEV8 (prevention through education)
– Take Charge Today (MSM focused)
– Beyond 66 (ChemSex addiction recovery)
– Youth Empowered (youth-led sexual health awareness)
I am sensitive to budget management and aim for an optimal output with our limited funding. My mentoring nature strives to inspire and groom future thought leaders through regular sharing via live talks and video content. I am very hands-on as a guidance counsellor for sexual and mental health, as well as ChemSex addiction.
What one achievement you've accomplished that you're most proud of
I am pleased with the Take Charge Today initiative which saw an exponential rise in HIV awareness and PrEP uptake. What started as a campaign in 2019 became an integrated program that successfully penetrated across the racial, geographical and financial divide.
Take Charge Today marked many firsts for Malaysia:
Education in 3 major and colloquial languages
Event-based HIV testing
Effective use of social media and SEO
Geographical search engine for clinics
It elevated the efficacy of preceding programs in areas of heightened education, peer support, access to information and testing. It also prompted community participation through strategic partners, social groups, and Key Opinion Leaders.
What do you find most challenging about your work
One of my challenges is to break the blasé mindset and attitude of the community concerning HIV prevention and ChemSex addiction. I find it more apparent in an urban setting and amongst a supposedly more informed group of people.
In this age of Google, one can no longer put the blame on lack of awareness or information. And as an advocate, I find myself constantly having to strategize and adopt new approaches to encourage responsiveness towards this pressing issue.
We often find ourselves treating the problem when we should also focus on preventing it from becoming a problem in the first place.
What do you do to recharge your battery
I make time in the mornings to reflect and have a moment for gratitude practice. That moment where I pause, appreciate, and connect with the higher power is humbling.
I find it essential to recharge by having regular quality time with loved ones to replenish on love (so to speak). This keeps me grounded and helps bring me back to the purest joy of unconditional love.
I may not look it but I'm actually a homebody and it's therapeutic for me to keep my living space clean and positive. The process of cleaning is likened to decluttering the mind.
What is your vulnerability and how do you overcome it
Empathy can both be my strength and my vulnerability. I am at times left feeling conflicted internally and sometimes from external forces about how invested I am in case management.
The coexistence of empathy and vulnerability is inevitable, and I try to overcome it through my continual practice in mindfulness. Being mindful also helps me to stay aware of the interaction between 'going the distance' and 'taking it personally'.
I believe it helps to set boundaries and be steadfast in actions. Knowing that I will and have done my best helps reaffirm my choices and lessens the weight of feeling vulnerable.
You have been nominated for the Community Ally category. What was your reaction?
I am elated and shaken with gratitude upon receiving news that I have been nominated for such an acclaimed award. The first thought in my mind was that the projects that I've been working on will finally get a platform to be seen and elevated.
I am excited as this is also a great opportunity that would connect me with my global peers, form stronger alliances and learn how to elevate my planned projects to greater efficacy.
It also validates and acknowledges my efforts and vision, and it serves as a driver in my work of purpose moving forward.
This is a milestone that leaves a strong imprint in my path and marks the beginning in my life of purpose.
Despite the fact that the COVID-19 is still with us, what is a message that you would like to share with the communities in the Asia Pacific
"Let us live with caution, and not in fear."
In many ways, the Covid-19 pandemic has opened the world's eyes on a virus that directly and indirectly affected us. It warranted the responsiveness of everyone on the planet, it shone light on stigmatization and, most importantly, it helped us to be mindful and cherish the Now. Taking lessons from this life altering pandemic, let's practice vigilance and empathy moving forth.
My heart goes to all whose life was affected by Covid-19. I pray that you will find strength and I hope that in time we will all surface stronger.
---
Share this