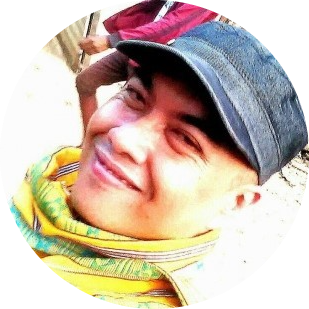 Contributor : Fanny Syariful Alam
Regional Coordinator of Bandung School of Peace Indonesia, an IVLP USA 2020 Alumni, an awardee of Australia Awards Short Term Awards for Democracy Resilience 2021
This essay is presented as a writing project after the completion of the fellowship of Journalism Writing for Freedom of Religion and Faith, conducted by Pantau Foundation and the Germany Embassy from March to May 2021
"When I pray, I still wear 'Peci'[i] and Sarong [ii]as a male always wears for praying"

Ayu Chantika a transwoman in Brebes, Central Java
She tells her story when conducting her Islamic prayer based on her parents' and preacher's teaching. She continued:
"I used to learn about Islam in my nearest mosque despite my bad experience to be alienated by my friends due to my behavior that is different from theirs".

Ayu Chantika a transwoman in Brebes, Central Java
Riri Wirayadi, a transwomen activist for Srikandi Pasundan reports similar experiences:
"I have been quite irreligious currently despite my belief in God's existence. I used to be in a church for quite a long time, but the existence of religions in the current time prevails to discriminate those who are different, especially the gender minorities. But God stays in my heart, so that I keep praying, no matter what the situation is"

Riri Wirayadi
Also Retsu, a transman who lives in Bandung highlights the importance of religion in his life:
"According to me, religion or belief affects everyday live. I used to seek for the most suitable religion before deciding to continue following Islam. I learned Islam very comprehensively in 2014. At that time, I was still unclear about my gender identity".

Retsu
Retsu prays daily, secretly wearing the male attire, such as Peci and Sarong at home. However, on the 2021's Idul Fitri[iii] festival day, he openly wore the male attire for the first time to pray and sat together with his brother in the male's line.
During the friday prayers, Randy, a 28-year old gay man, was reluctantly listening to the preacher who mentioned that LGBT people remained unacceptable in the world[iv] and that their prayers would not be accepted by God.
The majority of Indonesians across all religions consider LGBT practice sinful. In 2018, despite requesting people to show their empathy for the group, the former Religious Affairs Minister, Lukman Hakim Saifuddin, supported the condemnation of LGBT, adding that all religions rejected LGBT communities and that it was every religious leader's duty to guide them so they will change their ways[v]
Gender Minority's Rights for Spirituality and Religiosity in Indonesia: Ideal vs Reality
Spirituality is a part of human rights. Hence, the function of spirituality is determined by certain existing factors: love as a source of understanding and happiness, ability of living under norm values, profound non-violence and solidarity of spirituality with other entities. [vi] Similarly, religiosity is a part of human and civil rights, secured by the government through their constitution and relevant laws.
In terms of religion and belief, The Indonesian Constitution UUD 1945, article 28E paragraph (1) states "Everyone has a freedom to select their religion and to pray based on their choice, to select their education and teaching system, to select their nationality, to select to live in their territory and to leave it as well as to have their right to return". In the same article, the second paragraph states that everyone has the right "to the freedom to believe his/her faith and express his/her views". Furthermore, art. 29 para 2 assures that the State secures its people's freedom of worship according to their own religions.
In addition, Indonesia ratified the International Covenant on Civil and Political Rights (ICCPR) through the Law No. 12 of year 2005. Art 18 para 1 of the Law mentions that everyone has the right of freedom of thought, conscience and religion. It covers one's freedom to choose a religion or belief and the freedom, either individually or in community, to manifest their religion or belief in worship, observance, practice and teaching. Meanwhile, Act 2 – para 1 of the ICCPR states that each state party to the Covenant undertakes to respect and ensure that all individuals within its territory and subject to its jurisdiction have the rights recognized in the Covenant, without distinction of any kind, such as race, color, sex, language, religion, political or other opinion, national or social origin, property, birth or other status.
In the last years these constitutional rights, mainly the rights of Lesbian, Gay, Bisexual, and Transgender (LGBT), were increasingly attacked. LGBT people face various forms of discriminations and hatred which classify them as possessing a deviation from sexual behaviour. A neuro-psychologist from Al-Azhar University, Indonesia, Ihsan Gumilar said that LGBT is a mental illness as well as an occurrence to infect others. He underlined this issue when meeting in the Taskforce Coordinating Forum of Prevention and Anticipation against Pornography of the Ministry of Female Empowerment and Children Protection (PPPA)[vii]. Furthermore, the story in Padang, West Sumatra, reveals another shocking experience after an arrest of 18 gay couples by the Municipal Police[viii]. They were forcibly enrolled in the programme of psychology and rehabilitation by the Agency of Social Services, which surprisingly leads to a similar religious exorcism called "Rukyah" for their recovery[ix]. Shockingly, the Chief of the National Commission of Human Rights explicitly said that the proposal of banning LGBT activities did not violate the existing law. He added that it was proper when rehabilitation was conducted without violence, was non-discriminatory and as long as it did not deny the LGBT their basic rights[x] .
Many people oppose LGBT as the group is always associated with religious values, which eventually religiosity as well as their spirituality being questioned. For example, the Chief of PB HMI (Islamic Student Association), Mulyadi P. Tamsir, confirms that institutionally they strictly defy LGBT due to their incompatibility with religious values and Indonesian culture[xi] . Some Christians think that the Bible describes homosexuality as a sin and conclude that, regardless of the human rights perspectives, Christians must firmly decline any LGBT relation as well as same sex marriage which is against the marriage law settled by God[xii].
On 18 February 2016, the Indonesian religions assembly, comprising Islam, Catholicism, Buddhism, and Confucianism stated their rejection of LGBT based on their interpretation of holy sources and also confirmed that LGBT action is part of a sexual deviation[xiii]. The Deputy of the General Secretariat of the Indonesia Council of Ulama stated during the press conference that "LGBT activities have been unsettling the society and has negative impacts on Indonesian social orders". To support that, the religions assembly considered LGBT activity to contravene the Indonesian Constitution UUD 1945 art 29 para 1 and the Law no. 1 about Marriage.
What do people say about this Phenomenon?
Human rights discussions should indisputably cover religiosity and spirituality of gender minorities, particularly in view of the perspectives of Islam and Christianity that reject LGBT groups and their way of life. In contrast, some supporting stories can still relate to their religiosity and spirituality. What shapes them? Humanity and empathy.
"There is nothing to debate about the spirituality of LGBT since they are equal to others by gender normative consideration"

Arif Nur Safri
a Moslem intellectual who works with Pesantren Waria Al-Fatah[xiv], Yogjakarta. He underlines that the majority in Indonesian society underestimate the acceptance of gender minority spirituality and religiosity. However, some interact with LGBT in different ways by seeing them as humans who deserve respect and appreciation, accepting them not only as human beings with diversity in gender, but also as religious entities who should enjoy their basic human rights.
Spirituality is not always identical with religion. It goes beyond religion, making people aware of universal values and seeing friends in gender minorities the same as others. This is stated by Neng Hannah, a female Moslim intellectual and preacher who joined the Indonesian Congress of Women Preachers. Relating to prayers of the gender minority, she said "Praying is absolutely a personal relation between someone and his/her God. Nobody can judge that some people's prayers would not be accepted by God." She finally recalls her experience when meeting a transwomen society in Rumah Singgah (shelter) Kebaya (Keluarga Besar Waria Yogyakarta, Yogyakarta Transwomen Family) initiated by Mami Vinolia. "I visited her in Jogjakarta in 2016. Mami Vinolia is very close to people with HIV and AIDS. Her house becomes the shelter for those who suffer and are neglected due to HIV/AIDS. This is what I feel in Islam, a religion to know Allah (marfatulah) through good attitudes, connecting compassion and love (silathurahim). From silatuharim, it continues to share happiness with each other. It is a reflection of religion".
Studying Christian Theology and counseling some of his LGBT friends, the Christian priest, Pdt. Herawan Rudijanto, S.Th does not see any significant problems with LGBT addressing their faith, spirituality and religiosity. "They can be connected with God and conduct their praying activities as the gender majority does". Despite him seeing LGBT sexually disoriented due to his fundamentalist theology comprehension, he is less judgmental. He adds: "I think a religious community who handles the gender minority community should be welcomed due to most of Indonesians' unacceptance of the group". Therefore, he emphasizes the importance of a homogenous community in religion as a suitable medium in the Indonesian context, such as Pesantren Waria and the transwomen church
Furthermore, gender diversity and sexuality are God's undeniable bless. It is believed that society with its gender diversity and sexuality owns spirituality as well as faith in religiosity. All of us as humans are very unique creations of God. A woman Christian preacher, Pdt. Obertina Johanis stated: "Principally, praying to God, regardless of religion or belief is a basic human right and unrelated to gender and sexuality. Unfortunately, binary perspective about gender and sexuality in Indonesia, to reflect only male and female accepted as official gender identity, encourages a marginalization towards other people with diverse gender identities. Most of them are labeled 'deviation' or 'abnormal'. Thus, they are alienated or unaccepted in most praying houses".
In addition, official Catholic teaching (magisterium) emphasizes that all Catholics are summoned to participate in holy actions consciously and actively without differentiation of gender and sex based on Sacrosanctum Concilum No 48. It is also mentioned by a Catholic Pastor who graduated from the Pastoral University, Gregoriana Italy, Pastor Postinus Gulo, OSC. He refers to the Catechism of the Catholic Church 2357-2359, which confirms that those with 'gender specialty' should be summoned in pure life in front of God and be treated with respect as well as love and wisdom. Consequently, the development of sincere religious services for specific gender identities, such as transwomen and transmen are considered good and wise.
Humanity without exception. However, …
Never are people differentiated from their sexes in terms of praying to God, particularly the gender minorities. Spiritually, most of them accept themselves just the way they are. They are tough, strong in spite of most Indonesians rejecting them. In general, people should respect their dignity as humans as well as their rights, including their spirituality and religiosity. However, sometimes reality bites and most of them still encounter discrimination and stigma repeatedly.
Indonesia has Pancasila[xv], the Indonesian state philosophy based on Five Principle: Indonesian unity or nationalism; humanity, democracy; social justice and belief in one God. Within it, the country is supposed to be humanist as most religions respect all humans, including their rights for spirituality and religiosity. Specifically, another principle from Pancasila, Just and Civilized Humanity, implies that the country's implementation of its ideology is based on humanity. Furthermore, all five principles are generally secured in each prevailing law.
If Indonesia implements most of the laws based on humanity principles, all of the citizens, including those in gender minorities, are supposed to be entitled to their rights without any restriction. In particular, the country has provided legal protection for freedom of religion as stated previously through the Indonesian Constitution UUD 1945, art. 28E para (1) and art. 29 para 2, as well as ratified the International Covenant on Civil and Political Rights (ICCPR) through the Law No. 12 year 2005, particularly Art 18 para 1 about the right of freedom of religions and beliefs.
In contrast, most people still underestimate and stigmatize gender minorities. Are they allowed to do this based on their religion teachings? Or worse: how can state apparatuses' conduct induce criminalization of the gender minorities'? Despite the country's firm laws and regulations, the Indonesian government still has some challenge to overcome the situation in order to create concise fairness for gender minorities in terms of religion and spirituality rights.
---
[i] Peci is a cap widely worn in Brunei, Indonesia, Malaysia, Singapore, the southern Philippines and southern Thailand, most commonly among Muslim males, https://en.wikipedia.org/wiki/Songkok
[ii] Sarong is the most common design of the Indonesian sarong is woven cloth with checkered motifs, usually used by Muslim men for Shalat prayer. This kind of sarong cloth is stitched together to create a tubular skirt-like lower garment, https://en.wikipedia.org/wiki/Sarong
[iii] Idul Fitri is the earlier of the two official holidays celebrated within Islam (the other being Eid al-Adha). The religious holiday is celebrated by Muslims worldwide because it marks the end of the month-long dawn-to-sunset fasting of Ramadan, https://en.wikipedia.org/wiki/Eid_al-Fitr
[iv] https://magdalene.co/story/adakah-ruang-bagi-lgbt-untuk-beragama
[v] https://www.thejakartapost.com/news/2018/10/17/indonesian-religious-minister-denounces-lgbt-but-calls-for-peoples-empathy.html.
[vi] Noer, Azhari, Kautsar, Spiritualitas dan Hak Asasi Manusia, Ushuluna: Jurnal Ilmu Ushuluddin | Vol. 3 No. 1 June 2017
[vii] https://www.republika.co.id/berita/p3dlbf384/lgbt-adalah-penyakit-mental-dan-bisa-disembuhkan
[viii] (Public Order Enforcers or Satpol PP)
[ix] https://www.bbc.com/indonesia/indonesia-46305541
[x] https://icjr.or.id/icjr-kritik-pernyataan-komnas-ham-tentang-pelarangan-lgbt-tidak-melanggar-ham/
[xi] https://www.republika.co.id/berita/dunia-islam/islam-nusantara/16/01/23/o1eer5394-hmi-lgbt-bertentangan-dengan-nilai-agama-dan-budaya
[xii] https://www.ndcministry.org/inspire/12mi/pandangan-gereja-tentang-lgbt
https://www.republika.co.id/berita/nasional/umum/16/02/18/o2qk3w330-majelis-agamaagama-tegaskan-tolak-perilaku-lgbt
[xiv] Pondok Pesantren Waria Al-Fatah is a Madrasa in Yogyakarta, Indonesia for waria (transwomen) people. Shinta Ratri founded it with two other waria in 2008, after several waria lives were claimed by the 2006 Yogyakarta earthquake. The madrasa had roughly 40 students and provided housing for about 10 women. In the madrasa, waria can dress as men or women according to their preference during prayers. https://en.wikipedia.org/wiki/Pondok_Pesantren_Waria_Al-Fatah
[xv] https://www.britannica.com/topic/Pancasila
Share this