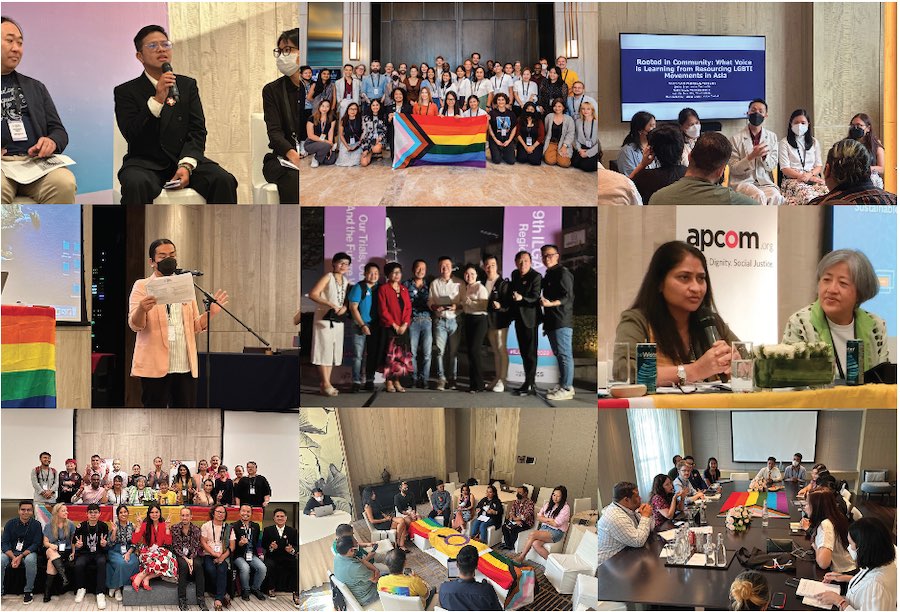 The 9th ILGA Asia Conference that took place from 28 November 2022 to 2 December 2022 in Ho Chi Minh City in, Vietnam.
Convened by ILGA Asia, the 9th ILGA Asia conference in the year 2022 gathered more than 400 participants in person in the new normal during the COVID-19 pandemic, where members and allies of LGBTQI organizations meet to share their experiences, best practices, and strategies and build alliances and partnerships.
APCOM team participated in several sessions at the ILGA Asia conference 2022 including;
Donor pre-conference, Marriage Equality pre-conference
Building a common agenda to advance bodily autonomy in Asia session
Identifying strategies for LGBTQI civil society engagements on ADB safeguards policy review for SOGIESC inclusion session
Meeting with US Special envoy to advance the human rights of LGBTQI+ persons
Regional LGBTQI + Network meeting
At the Conference, APCOM profiled its work and the country partners' work. We highlighted that the partnership between LGBTQI organizations is crucial to mobilize collective action and to advance the rights of people with diverse SOGIESC. Besides showcasing our work at the sessions, APCOM highlighted multiple issues, including human rights issues of LGBTQI people in the Asia Pacific region.
On 1 December, marking the World AIDS Day commemoration and our 15th Anniversary celebration, APCOM in partnership with ILGA Asia, held a Reception for the participants at conference venue, New World Saigon Hotel, Ho Chi Minh, Vietnam.
Congratulations to the ILGA Asia team, the local host ICS Center and volunteers for making this event happen despite the pandemic. Congratulations to also to the Government of Vietnam for banning LGBTQI conversion therapy.
There is a need for space like ILGA Asia Conference in order to build increased and enhanced strategic partnerships. Further, there require more efforts around expanding research and data collection work for evidence-based advocacy with stakeholders for shaping policies and programs in the region.
---
Reflection Pieces from the Communities
Share this