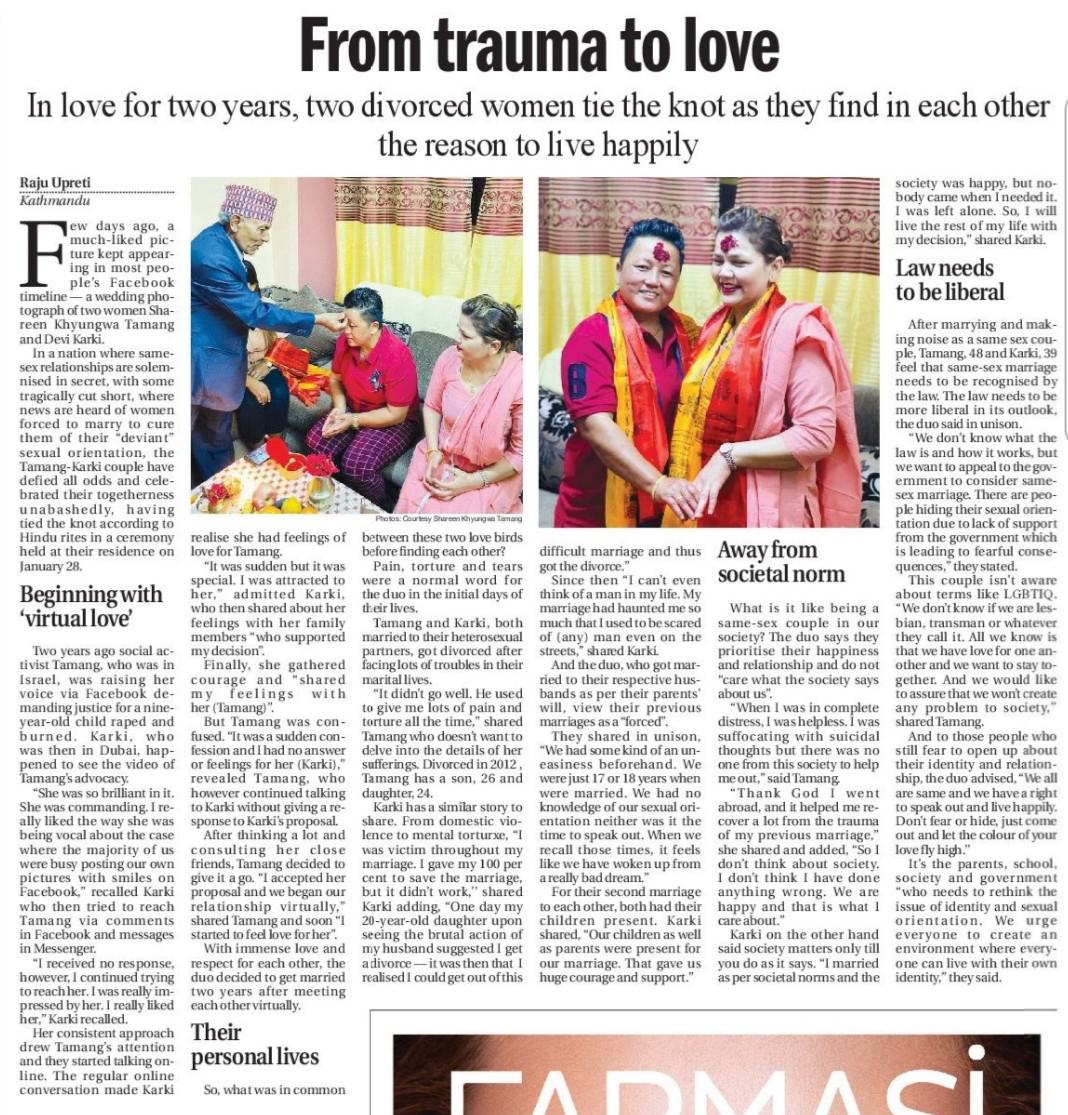 ---
"I strongly urge the Government of Nepal to play a proactive role and legislate, without delay, for marriage equality. A marriage equality law should be inclusive of all LGBTIQ people."

Manisha Dhakal / Executive Director of Blue Diamond Society
Nepal is yet to achieve marriage equality despite the right to equality guaranteed by the new constitution of 2015. In fact, marriage equality seems further away than ever due to regressive new legal provisions (civil codes) enacted by the government. These legal provisions have made it even more difficult for lesbian, gay, bisexual, transgender, intersex, and queer (LGBTIQ) people like us to get legal recognition and live with dignity.
The National Civil (Code) Act of 2017 establishes marriage as being between a man and woman. Section 67 of the civil code defines marriage as "a man and a woman accepting each other as husband and wife," and is thus a major obstacle for marriage equality. This provision contravenes the language and spirit of the constitution which establishes the principle of equality and nondiscrimination.
In 2007, the Supreme Court ordered the establishment of a same sex marriage committee. After a long study the 7-member committee drafted the same sex marriage report in favour of the LGBTIQ community in Nepal. The report was submitted to the Prime Minister's office in 2014 which forwarded it to the Ministry of Women, Children and Senior Citizens (MOWCSC). Unfortunately, progress is stalled by the successive governments and between MOWCSC and the Ministry of Law.
During the 2nd cycle of the Universal Periodic Review (UPR), Nepal 'noted' the recommendation on Marriage Equality from Brazil. In the 3rd UPR cycle, Nepal received three recommendations on marriage equality from Iceland, Spain and Uruguay, which are as follows:
Iceland: Adopt marriage equality legislation, extending full marriage rights to same-sex couples (6.37)
Spain: Amend the Civil Code in order to recognize marriages of same-sex couples by strengthening the principles enshrined in the 2015 Constitution to protect the LGBTI community (6.46)
Uruguay: Amend the legislation that generates discrimination on grounds of sexual orientation and gender identity and review the definition of marriage in the Civil Code to guarantee equal access to this right (6.31)
Nepal has yet to decide to support or note the aforesaid recommendations.
While many LGBTIQ couples are coming out in social media and are having marriages publicly. Many LGBTIQ people still face discrimination, harassment, and mental health issues because of the lack of marriage equality, which prevents them from getting social and legal recognition to spend their lives with the person they love.
My organization, Blue Diamond Society (BDS), has assisted countless couples who escaped from their homes and/or were tortured by their families simply for being LGBTIQ or for wishing to spend their lives with the person they love. We know that many LGBTIQ people have left the country and chosen to live in countries where they are treated as equal and allowed to marry whom they love, regardless of sex or gender. Many LGBTIQ people who are denied the opportunity to marry their loved ones have experienced mental health issues and higher rates of suicide.
I strongly urge the Government of Nepal to play a proactive role and legislate, without delay, for marriage equality. A marriage equality law should be inclusive of all LGBTIQ people. In addition, this law should address adoption rights and citizenship rights for the adopted children, same tax-free provisions as heterosexual couples, divorce rights, property transfer to widow(ers), spouse visa rights for foreigner who are married to Nepalese LGBTIQ individuals.
We are people of diverse gender identity, sexualities and sex characteristics. We also want love and want to form a family. Our SOGIESC should not be an obstacle to marriage equality.
At BDS, we are people of diverse gender identities, sexualities, and sex characteristics. We also want to be able to love whom we want. We also want to form families with whom we love. We are asking for equal rights, not special rights. Our sexual orientations and gender identities should not stop us from marrying whom we love. We hope the Government of Nepal sees us and hears us!
Recently, BDS launched a music video from well-known singer Mr Sugam Pokharel during IDAHOTBI 2021, where we have featured relationship, love and marriage.
---
About our contributor
Manisha Dhakal is a transgender woman. Her gender pronoun is she/her. She is an LGBTI rights activist from Nepal and has been involved in Nepal's LGBTI rights movement since 2001 through different projects on HIV/AIDS, human rights activism, constitutional campaigns, advocacy, capacity building, academic research, LGBTI child rights and others. She was the first trans woman in the Nepal Country Coordination Mechanism (CCM).
Manisha is currently the Executive Director of Blue Diamond Society (BDS), Nepal's pioneer LGBTIQ rights organization & president of the Federation of Sexual and Gender Minorities of Nepal. Regionally, Manisha is one of the founding members of the Asia-Pacific Transgender Network (APTN). She was one of the former Co-Chair of the ILGA Asia Board. She is also a board member of IRGT; A Global Network for Trans women and HIV. She was awarded the "Nai Ram Laxmi" National award in 2010 for her contributions to the LGBTI movement in Nepal.
On 21 December 2007, the Supreme Court of Nepal issued a landmark verdict directing the government to enact laws enabling equal rights to LGBT citizens. Manisha was involved in court pleadings on this case on behalf of LGBTI people before the Supreme Court. Manisha possesses a master's degree in finance from Shanker Dev College, Kathmandu.
---
Stories of Marriage Equality Movement in the Region
---
Share this