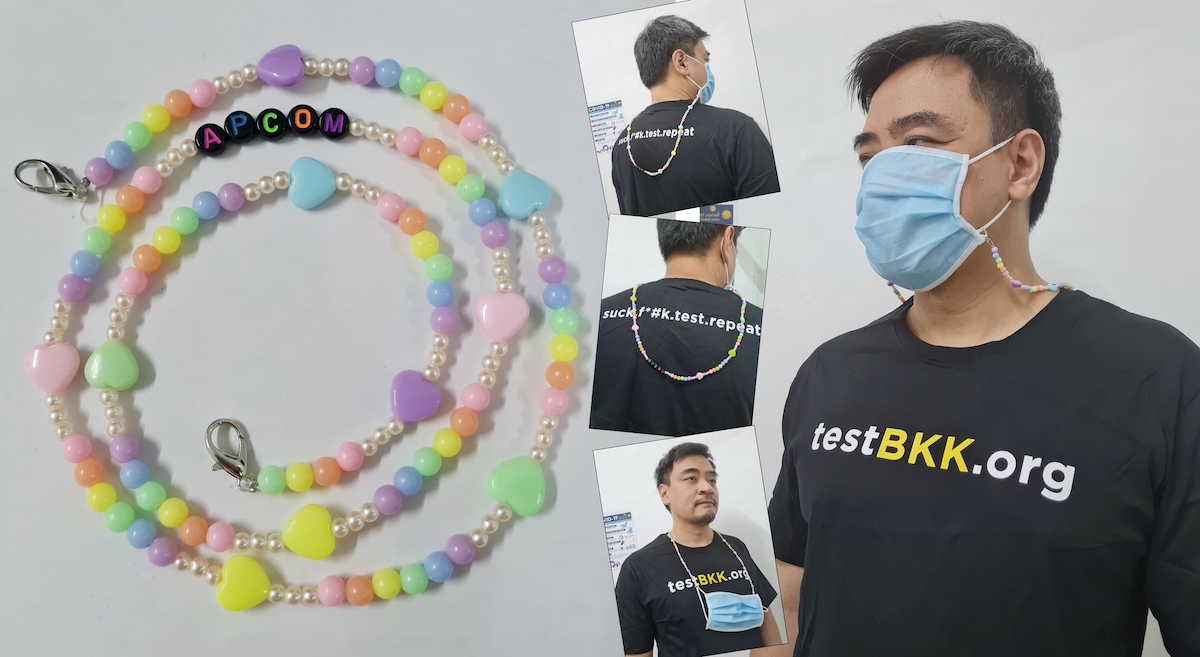 Contributor:
Jam (Chatsuda Hanbang)
---
Prior to Covid-19, I had a weekend hobby as a small vendor in an open-air market in Bangkok selling gifts, bikinis and fashion dresses. I also love to go camping and I like making clay miniatures and toy accessories.
In Bangkok, where it can be very polluted, people would often wear sanitary face masks. Now, in the unprecedented era of the Covid-19 pandemic, sanitary face masks became a normal health requirement to protect from Covid-19 infection. However, despite the protection that the mask offers, occasions would inevitably occur when we need to remove our mask such as during meal time or when drinking our favorite milk tea with boba pearls.
I found it so frustrating as I don't know what to do with the mask – where to put it so it won't get dirty or get lost, and I want to reduce mask waste. I saw some mask straps being sold; they were cute but with the same boring design. So, I thought of making them myself and sell them. Those straps can be a special gift for many people as well.
I've always been very hands-on and I like to make things since I was younger. It all started when my mum bought me a Barbie doll that came with a set of kitchenware. When I lost the set, I couldn't afford to buy a new one, so I started to make it from clay. That is how I got into crafts work. Handicrafts make me relaxed, I get more creative and when the piece is completed I feel a sense of accomplishment.
I would like to recommend making the mask strap necklace yourselves. This will help you to keep your mask clean and it's also good for relieving stress and improving your mental state. Let's see how you can do it yourself at home.
Materials:
String (desired length or about 1.5-2 foot)
two necklace hooks
two stoppers
scissors 
pliers 
beads (be as creative as you like)
Process:
Make sure to cut the string based on your desired length
Insert the stopper into the string, followed by the necklace hook
Reinsert the string back to the stopper and push the stopper to the necklace hook.
Using pliers, press the stopper to lock the necklace hook in place.
Choose your beads design and colour palate. Insert the beads one by one until the end of the string is reached.
Once you inserted the beads for the full length of the string, insert the stopper on the string, followed by the necklace hook.
Reinsert the string back to the stopper and push the stopper to the necklace hook.
Hook your mask strap to your facemask.
You see, it is not hard at all! I get design inspirations from around me and also online, but you should feel free to experiment. I have made more than 100 mask straps already, and I sell them on my Instagram account and Line Shop, and some of them were even shipped to Barcelona to sell in my friend's shop. People loved the cute designs and the strings were in high demand last year but I couldn't keep up with the supply because I do this as a hobby, not as a job. I love doing handicrafts and I didn't want this to become a routine, so I stopped taking orders.
This activity helps with my mental health and be in my own bubble until the strap is finished. I hope this activity can also help you relax.
---
---
2nd Anniversary of APCOM's Special Series on the COVID-19 Effect:
APCOM staff share their activities for maintaining good mental health
Click on the photo to read their articles.

Try them out, and if you have other tips that you'd like to share – please contact us at [email protected]
---
Share this