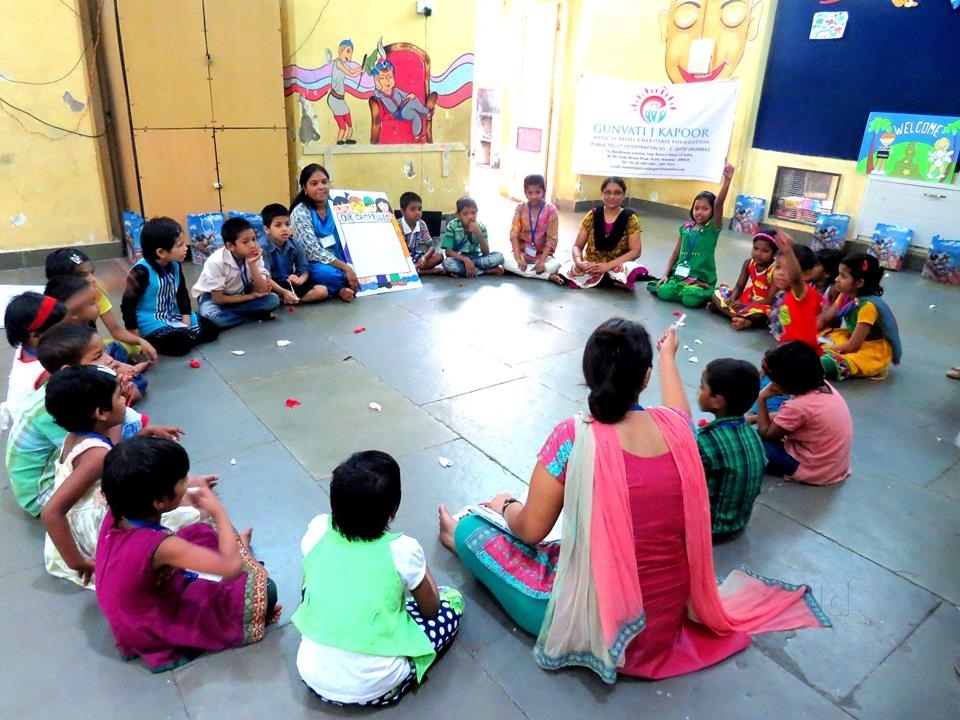 Contributor:
Deepak Tripathi
Committed Communities Development Trust (CCDT), India
---
My name is Deepak Tripathi, from India, short name Deepak, which is a Hindi word which means 'source of light' or 'to give light to others'. Outside my NGO work, I do freelance training, I make documentary movies and conduct interviews with television celebrities. I serve as an anchor in events and functions.
In December 2019, I started working with Committed Communities Development Trust (CCDT),as a Senior Program Officer, having moved from the corporate world. I never thought I would fall in love with this organization within this short period. Now, I feel that I am connected to this organization for ages.
CCDT was founded in 1990, and will be celebrating our 30th anniversary this year. We're based in Mumbai, and focuses on four key areas; 1. HIV/ AIDS. 2. Adolescent empowerment 3. Child Protection.4. Maternal and Child Health.
After the COVID-19 outbreak in India, the CCDTmanagement team developed "COVID -19 Safety operational measures/plan," which included all precautionary measures for the staff to follow during the COVID -19 periods:
Staff working from home since day one of the COVID -19 lockdowns;
Human Resource team has been supplying all necessary pieces of equipment (laptops, flash drive, etc.), and assisting staff online to enable staff to work from home.
Staff meet on online platform to keep each other posted with their daily work and routines.
Regular support provided to outreach team who are in the field, senior also pay visits and support the team during the activities.
Staff have been keeping social distancing between them and other people outside of their homes.
The senior management team has been closely working and coordinating virtually with all staff and addressing their professional and personal concerns.
Currently in Mumbai, the coronavirus lockdown has eased, however, there has been a rise in infections every single day. This ongoing crisis has continued to affect CCDT work and activity or event implementation. Regardless, CCDT outreach staff has been conducting outreach activities every alternate day, and supplying essentials to its target population including food packages and PPEs. Also, the senior staff and outreach workers are in regular touch via phone, and WhatsApp, with the beneficiary and target population to monitor their health conditions and well-being amid COVID-19 period.
COVID-19 awareness program for the marginalized and vulnerable communities
Fundraising campaign to gather resources or fund for deprived communities, daily wagers, and migrant workers.
Supplied food kits, which consist of nutritional food, first aids kits, to daily wagers, and migrant workers located in slum areas.
Supplied nutrition kits or bags to the 500 individuals and their families and those who are living with and affected by HIV/AIDS.
Distributed daily essentials to 545 tribal families located in 22 tribal hamlets of Maharashtra.
Supported a few maternity homes in Mumbai in setting up of isolation and quarantine rooms for patients infected by COVID-19.
Donated medical equipment and 3,000 PPE kits to hospitals and Isolation units in Mumbai.
Do you think without NGOs, would the state have been able to respond as quickly and to the people that they serve?
From my perspective, most NGOs in India, including CCDT, play a crucial role to continue improving the health and well-being of their target population or beneficiaries, especially during the natural crisis or disasters, including the COVID-19 crisis.
After the COVID-19 outbreak in Mumbai, CCDT has acted very quickly to protect its staff and target population from COVID -19 infections. CCDT staff had immediately reached out to their target population and beneficiaries and advised them to take adequate precautions to prevent COVID-19 infections. Besides this,CCDT staff have been supplying PPEs and daily essentials to their clients and target population to contribute to deal with this COVID-19 pandemics.
What were challenges of CCDT operations under COVID-19 lockdowns?
Since staff have to participate in virtual meetings, it had created a bit of challenge to a few staff located in outskirts of Mumbai who have poor internet connection or less tech-savvy. Staff working from home has limited access to files, including hard and soft copies, which is stored in the office and centralized office server, respectively – this affected staff productivity.
COVID -19 pandemic has significantly changedCCDT staff routine work, including the outreach work to marginalized and vulnerable communities in Maharashtra. This situation added a layer to already existing problems and stresses, which affected the staff's mental health. However, CCDT management and the human resources team have been regularly providing guidance and advice to its Managers, Outreach workers, and other staff, to look after their physical and mental health.
What are the 'new normal' for operation after COVID-19?
CCDTwould continue running local campaigns to mobilize resources and funds for future emergencies or crises.CCDT has a plan to reach out to International or Foreign donors for additional funds to sustain the organizational activities. It would also reach out to private/ corporate sectors located in India for developing meaningful bilateral relationships.
CCDTwill expand its work beyond its current coverage. It means it will reach and serve marginalized and vulnerable communities all over the state of Maharashtra and contribute to transforming their lives.
What could we learn from COVID-19?
In my opinion – this unprecedented situation has affected NGO worker's routine work. They have had to alter their work schedules to perform their professional roles and responsibilities.
COVID -19 has come as a surprise to me and everyone, and has changed the way we live and things we did daily. The lockdown has reminded me the importance of actually appreciating the things and people that we take for granted, but what it has taught us is the spirit of togetherness and giving a helping hand to others – not expecting anything in return – and helping where one can.
This situation has allowed me to learn mundane things, and at the same time, it pressed me to self-assess and reflect on the emotional upheavals created by COVID-19. It has come to show us that money and material things are not as important as human life and caring for each other in times of need. It has shown that all we need is each other to make the best of the worst-case scenario. We are in a crazy point in history but we will get through it together. I know a lot of us are stressing about several things amid COVID -19 lockdown period. I think the best we could do right now is to stay healthy physically and mentally and take necessary precautionary measures to protect ourselves from COVID-19.
---
For more information on CCDT:
Website: www.ccdtrust.org/
---
Share this