Contributor : Chartlada Sangakij (JJ)
APCOM Creative Communications and Media Assistant
---
JJ has a fashion design degree from Bangkok and has creative and wild streaks. She enjoys working at APCOM. In her own words: "It feels nice to finally have a job that combines art and community together."
The photo that I submitted was taken when I was working in Bhutan in 2019. It was during winter and you can see I am next to the heater. I wanted to capture the moment of being vulnerable. As you look closely you can see dark spots on my legs from leeches. I thought it made a nice pattern on my skin and I didn't mind so much.
I was not that comfortable with my body when I was younger, but when I grew up and saw more naked bodies, I found out that we don't all look like people in the beauty magazines and that made me more body confident. I like to dress up and have an out-going personality and I love meeting new people.
Now I love my hips and butt the most, but when I was young I hated being pear-shaped. I get most compliments on my hips and butt. When people commented on my figure, I was not shy to say "I know!" I now realise that my body shape is rather unique in Thailand and it stands out, which I do love.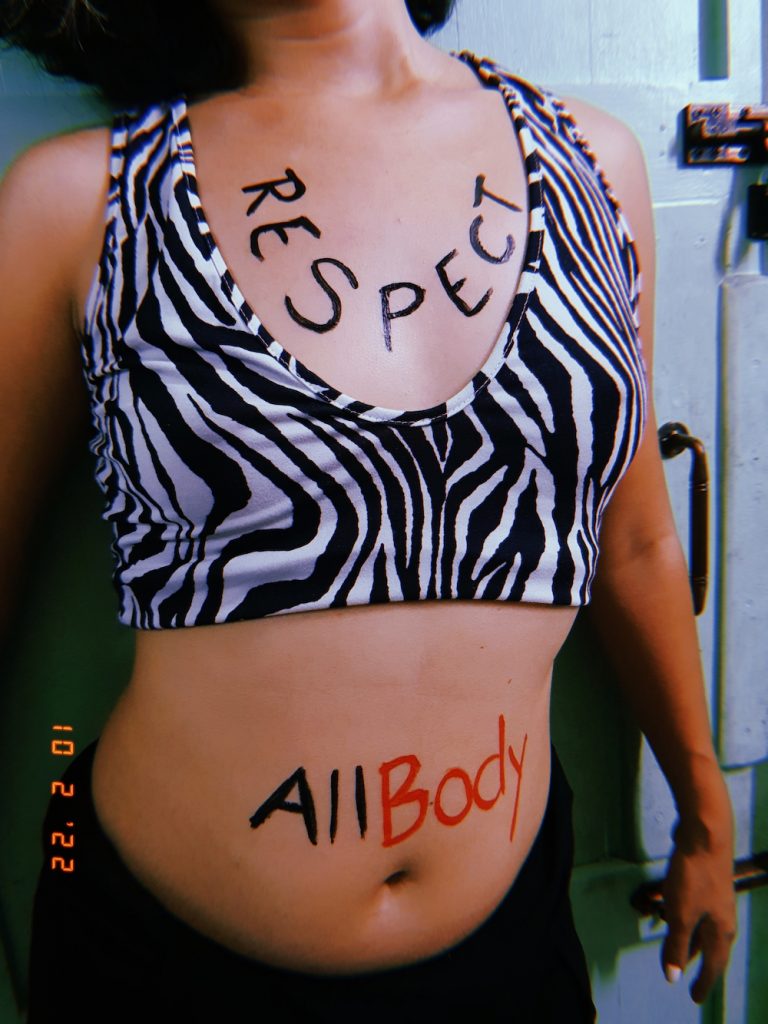 When I was younger, I wished I was taller an wanted to have bigger boobs. Now I wish to have curly hair, so I have recently permed it.
For this campaign, I want everyone to see the beauty in diversity. You should feel comfortable and confident in what you wish to submit. You don't have to go nude if you feel uncomfortable.
My photograph expresses my vulnerability and, as we all struggle in this long journey of growth and self-acceptance, I hope people can feel they can express any emotions they have or relationship they have with their body.
---
How to take part in the campaign?
Through any of your online activities, please message about body positivity with the hashtag #apacAllBody. The best way is to speak up about body positivity on your private or public platforms. Give your opinions and motivate people.
You can share through our social media as well
Photograph – Post your photo(s) that show how proud you are with your body and hashtag #apacAllbody together with other hashtags you would like to support. For example, #mybodymypride, #realsizebeauty , etc.
Nude photo: Full naked, half naked or showing only some body part(s).
For the skin color & texture matter, we suggest you show your bare skin.
Wear body fit clothes: You can show your body shape through fabrics as well
Body paint: Paint or write word(s) or short messages on body part(s) for example back or belly
Signboard: Write word(s) or short messages on a paper or tablet, taking a photo with you (naked or with clothes on) holding it.
Video – Instagram Reel or TikTok no longer than 20 seconds.

Duration
14 February – 25 November 2022
Exhibitions
Your submission may be chosen for two exhibitions planned in June and November 2022!
If you are interested in sponsoring this campaign to show solidarity for a more equal and just society for LGBTQI human rights, and people living with HIV, please contact APCOM on [email protected], facebook.com/apcom.org, twitter.com/apcom
---
Share this