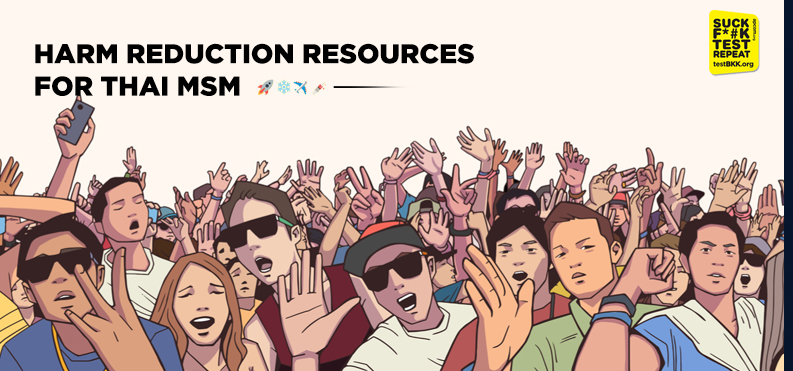 testBKK, APCOM's flagship HIV testing campaign targeted to young gay men and other men who have sex with men (MSM) in Bangkok, has released the first and only chemsex-oriented harm reduction interventions that is presented in Thai language and targeted to MSM population.
While the emerging gay communities may in urban cities in Thailand potentially reduce gay-related social stigma and enhance health information sharing, they can also predispose gay men to certain risk behaviours. One such example is the consumption of illicit drugs such as ecstasy, crystal methamphetamine (meth) and GHB. Often, these recreational drugs are consumed to enhance the pleasure of sexual activity, which is referred to as chemsex or high-fun (hi-fun).
A number of studies on chemsex show that gay men who reported being involved in substance use also reported avoiding use of condoms during intercourse which leads to increased sexual risk-taking, increased episodes of STIs and increased risk for HIV infection. Gay men living with HIV who engage in chemsex or drug use are at higher risk for missing ART doses and for developing HIV resistance. In addition, gay men who take part in chemsex are likely to face other physical drug-related issues such as insomnia, decreased resistance and weight loss as well as potential mental health problems such as anxiety, depression, psychosis and suicidal tendencies.
As a response to the chemsex situation among MSM in Thailand, testBKK has developed non-judgemental, non-coercive harm reduction information resources in Thai language in order to assist MSM who engage in chemsex and any other kind of illicit drug consumption in reducing drug-associated harm and to encourage them to access HIV testing, prevention, and treatment services.
The resources include:
"Safer Hi-Fun" Guidance (testBKK.org/hifun), which provides a Q&A-formatted advice to avoid and reduce health and safety risks when engaging in a chemsex


Alcohol and Drugs Information Hub (testBKK.org/safeparty), which contains facts and figures on 15 different substances known to be used among Thai people. The information includes the substances' effects, interactions among different substances and with the antiretroviral medications, safety and health cautions, as well as lists of support and counselling services. Crystal meth, ketamine, GHB, ecstasy, poppers – the popular substances to be used for chemsex in Thailand – are enlisted in the Hub.
Ever since the launch in November, the "Safer Hi-Fun" Guidance and "Alcohol and Drugs" Information Hub have been visited more than 6,600 and 59,000 times, respectively.
Moreover, testBKK will also soon release harm reduction PSA video and "How to Organise Safer Chemsex Party" booklet in January 2019. All of these resources are funded by Elton John AIDS Foundation (EJAF), with supports from OZONE Foundation (Thailand), Mainline (the Netherlands), Gay Men's Health Collective (UK) and many other local and international harm reduction experts.
testXXX Campaign
testBKK's outreach volunteers, dressed as sexy flight crew, disseminating condoms and water-based lubricants at White Party Bangkok – Asia's largest gay new year party
In 2014, TestBKK was born as a pilot TestXXX campaign in Bangkok. Today, the campaign has contributed to more than 10K testing uptake by young gay men living in Bangkok through its five testing clinic partners. Its Facebook page has 71K followers.
In 2016, TestXXX expanded to Ho Chi Minh City (Saigon) under collaboration with CARMAH; and TestSGN was born. In less than a year, the campaign has contributed to 1,1K testing intake through their clinic partners.
In 2017, TestXXX branched out to Manila. TestMNL is joining the family under cooperation with LoveYourself. Expansion to Jakarta (TestJKT), Yogyakarta (TestJOG) and Hong Kong (TestHKG) followed in September under the collaboration with GWL-INA and AIDS Concern Hong Kong, respectively.
EJAF's support to APCOM
EJAF is one of the foremost independent AIDS charities in the world. EJAF funds frontline programmes that help to alleviate the pain – whether physical, emotional or financial – of those living with, affected by or at risk of HIV/AIDS, and to continue the fight against this worldwide pandemic so that no one is left behind. APCOM's testBKK campaign is supported by EJAF's Grant from 2015 to 2018 to expand APCOM's widely-acclaimed regional city-based HIV testing campaign from the pilot city, Bangkok, Thailand and expand to other cities in Indonesia, the Philippines and Viet Nam.
APCOM Executive Director Midnight Poonkasetwattana: "testBKK's existing and upcoming chemsex-related harm reduction resources are aspired to contribute to more Thai MSM who use drugs having access to essential information to reduce potential harms and being empowered to seek HIV-related health-seeking behaviour."
Thomas Brigden, Elton John AIDS Foundation: "testBKK's harm reduction resources can potentially be a model for other organisations in Thailand and in the region to consider producing more community-based harm reduction interventions to other marginalised population in the future."
Drug policy experts and harm reduction activist chimes in on the launch of the resources with positive notes.
International Drug Policy Consortium, Regional Director – Asia, Gloria Lai: "The work APCOM has done on chemsex is great. I hope IDPC and APCOM can work together further on this, perhaps towards the direction of policy advocacy."
Mainline, Chemsex Project Leader, Leon Knoops: "[Harm reduction page on testBKK.org] is an important website. [It] looks very [stylish] and the content is non-judgmental [to people who use drugs]. We at Mainline feel very honored to be on the list of supporters (of testBKK)."
ENDS | Contact: Andrey Tran, Media and Communication Officer | [email protected]
Share this