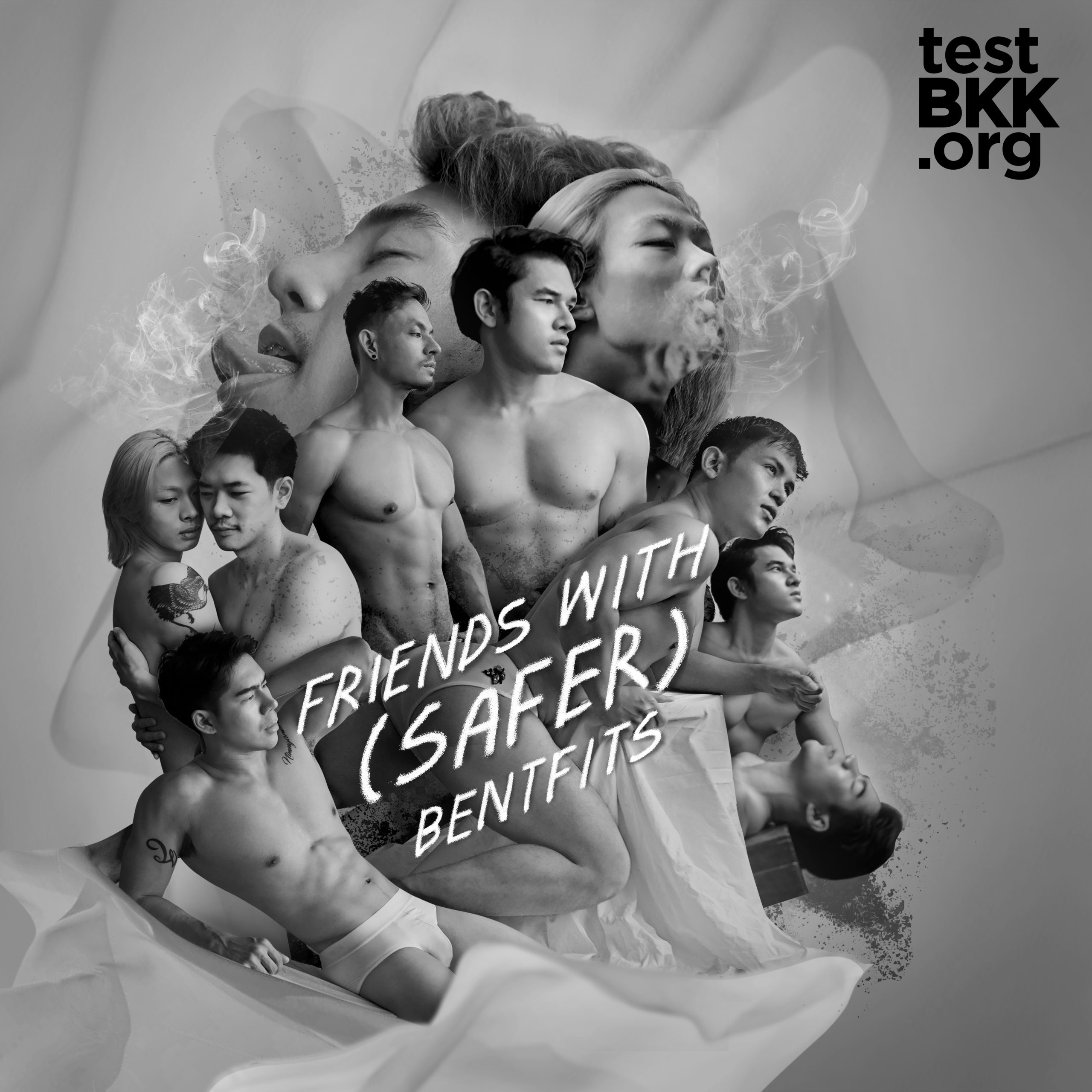 "With the on-going Covid-19 restrictions, it is even more important that we continue engagement with our community online. Our team is finding innovative ways to engage the young gay men not to neglect their sexual health, and to make it part of their well-being. Our team has also integrated messaging on living with HIV and enjoying sex, working together with the Poz Home Center,"

Midnight, APCOM Executive Director
Hope the Lunar New Year celebrations went well, and that the Year of the Tiger will bring lots of happiness and prosperity to you all!
Despite the Omicron variant causing havoc globally, APCOM's testBKK team is proud to launch its new campaign today on testBKK's Facebook, Twitter and website. The campaign is called "Friends with (Safer) Benefits" aimed at the wide spectrum of young men who have sex with men (MSM) – including young men living with HIV, and those that engages in sexualised drug use. The campaign idea "Friends with (Safer) Benefits" emphasises the many roles of our 'friends' in the community that is of mutual benefits; from companionship to casual sex. The campaign photoset exudes closeness, intimacy, and sense of fun and emphasied that knowing your HIV status, and sexual practices, you can still have an active sex life in a safer way.
The campaign has four main messages which is then linked to where our young queer and gay men can get more information and seek services from HIV testing, prevention and treatment:
Encouraging the use of different HIV prevention tools, such as condoms and lubricant, and PrEP when having fun
Making regular HIV testing and visiting the sexual health clinic as part of their health check up
Living with HIV doesn't stop you from having and enjoying sex
Having sex and enjoying sex is normal and not to be shy to discuss your sexual health
The campaign features models that are also influencers that our target audience follows online – particularly on Twitter and OnlyFans.
Meet the models/influencers
Moss (@mossensripen) is a model that has various magazine published over the course of 10 years and gathered more than 210,000 followers on Instagram.
"I am happy to be a part of a project that aim to help society. On the set I have learned something new and the team have given me great advices, it was an eye-opening experience for me and open up my view on the bigger society."

Moss
Fame (@f_fame_famous) is openly gay and actively advocating for HIV prevention on his platforms. He competed on Mr. Knight Diamond 2021 contest and won first runner up. He has over 102,000 followers on Instagram.
"It was fun working on the set and I am happy that I'm a part of a campaign that make people love themselves more. HIV isn't as scary as everyone might think, the sooner you get tested the sooner you could act,"

Fame
Anawin (@iiam_anawin) was featured on various e-magazine. He is openly gay and actively talk about HIV across his platforms. He is a dog lover and works at a dog shelter on the weekends. He has 30,700 followers on Instagram.
"I am glad to work with testBKK team once again, after working on the "Boyfriend" campaign. In this campaign we have to communicate more with our body and this campaign not only raising awareness on HIV but also sex positivity too, which is something new for Thais"

Anawin
"We work closely with the APCOM's testBKK team to ensure that messaging on living with HIV, and on undetectable equals untransmissible is not only accurate but that the image is also a positive one to destigmatize HIV and people living with HIV. We are after all sexual beings."

Somchai Promsombut, Executive Director of the Poz Home Center, the oldest organization run by and for gay and transgender people living with HIV in Bangkok.
APCOM's testBKK would like to thank you PEPFAR/USAID/EpiC and FHI 360 for supporting this campaign.
---
Find out more about previous campaigns of testBKK
Deltanu TH
Deltanu TH have gathered 505,507 views across Deltanu TH and testBKK channel on Youtube. The campaign was a mini series of gay and queer lifestyle in Bangkok, featuring testBKK influencer Ten Ten (@tentensib), Adam (@adamashmiller), Jaywalk (@jaywalkk), Rally (@rallyteerakarn), Tean (@teand), Good (@krtasl). The series raises awareness on HIV testing, prevention and U=U messages by inserting the key messages within each episode and being used for target advertising on Facebook to increase HIV blood test.
Boyfriend campaign
The campaign that use online influencers primarily on Twitter to raise awareness on HIV prevention, testing, and treatment by acting out like a boyfriend giving advice to their partner to regularly get tested, use protection and encourage to get on PrEP prescription.
---
Share this