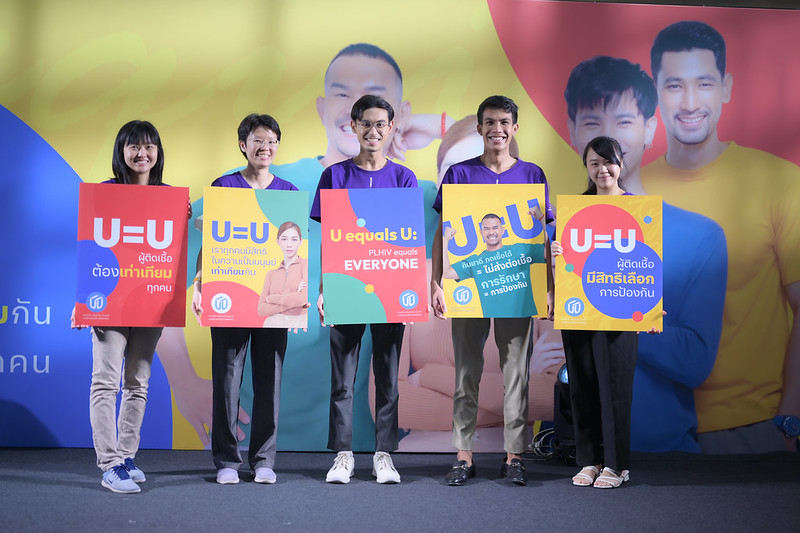 Images credit: IHRI Flickr
Thailand national endorsement event for U=U on this year's World AIDS Day . The event titled "The Declaration of U=U: Equal healthcare system for all, people living with HIV equals everyone" was participated by many representatives from all sectors, such as, the Assistant to the Public Health Minister, UNAIDS's Asia Pacific Regional Director, Government of Germany, Ministry of Education, Ministry of Labor, universities, civil society, healthcare providers and people living with HIV (PLHIV).
The event demonstrated Thailand's commitment in advocating U=U as a main strategy to end AIDS, through public communication and together committing that the healthcare system must be equal for all and people living with HIV equals everyone. In addition, the event raises public awareness about adopting U=U messages to combat stigma and discrimination related to HIV and gender diversity and change perceptions about people living with HIV.
Thailand has also established U=U Strategy Working Group to guide and monitor U=U implementation as endorsed by the National AIDS Committee in June 2022. National U=U Guidelines and National U=U Training Curriculum will be developed early 2023 with equal inputs from among civil society organizations, healthcare providers, policy makers, and people living with HIV.
The event shared here is just one of key movements we have planned to move forward U=U in Thailand.
As part of the U=U strategy, in-depth interviews and focus group discussions with people living with HIV (PLHIV) and their partners, nurses, doctors, and PLHIV peers in 5 provinces were completed a few months ago. Some documentaries will be developed from the information received as well as what each of the stakeholders think about the 'values' that U=U bring to ending HIV-related stigma and discrimination in Thailand.
"Education and knowledge on U=U can bring about change so that HIV myths are being conveyed. We need to ensure equality, and the right to health is for everyone."

Professor Kath Kangpiboon,
Faculty of Social Administration, Thammasat University
"Know your HIV status, start treatment early, suppress the virus and be worry free.
If you are HIV positive you should immediately get on treatment, and get your viral load testing after six months.
U=U means you can live a normal life, you can still have sex and won't be able to transit HIV to your partner or your unborn child.
You need to test whether the result is positive or negative. We will look after you."

Supunnee Jirajariyavej, MD
Department of Internal Medicine,
Taksin Hospital, Bangkok
"From a legal perspective, Undetechable = Untransmittable means equality and equity, free from stigma and discrimination, and self-stigma.
We can all live together with respect and dignity as human beings."

Chantima Thanaswarngkul
Chairman of the Subcommittee on Promotion and Protection of AIDS Rights,
Senior Prosecutor, Office of the Attorney General
"We are all living with a risk of getting sick, however, in the case of HIV, if you are positive you can quickly be linked to treatment and will be able to continue your work and live a normal life. Thus, all stakeholders must have an open mind and not create obstacles for people living with HIV to employment. I want us all to know and help communicate U=U to the wider society."

Manus Kosol
Chairman of the National Congress of Thai Labour (NCTL),
Advisor to the Minister of Labor
"Those who are at risk to HIV, people living with HIV, all populations from different nationalities should all have swift and equal access to health services for HIV testing and linking to ARVs for our goal that you can't transmit HIV virus if your viral load is undetectable."

Sophon Mekthon, MD
Vice Minister, Ministry of Public Health

Voice from PLHIV
"Today we demand that policymakers both in the public and private sectors stop harassing us by requiring HIV testing for job application, education and ordination. Such a requirement is a human right violation and grotesque. We would like to send our message to the Ministry of Public Health that it must do what it can to prevent health facilities from selling health checkup packages that include HIV. It has been used to violate basic human rights of and discriminate against people living with HIV/AIDS, hindering them from education and employment. We must review the beliefs we have held and revise these obstructive policies so as to enable equality. No one shall be oppressed, excluded or discriminated against on the basis of diversity. If pursued, we will be able to contribute to reducing stigma and discrimination and ending AIDS in Thailand.

We would also like to remind our PLHIV fellows that being positive is indeed a good thing as the earlier we know our status the sooner we get to start treatment. That will lead to viral suppression and the same quality of life as those not living with HIV. We know that as U=U or Undetectable equals Untransmittable even without condom. We also want to demand that healthcare providers be confident to amplify this message as that will relieve the anxiety of those living with HIV and their partners who might be concerned that they could pass on the virus to others. On the other hand, it is also good for those who tested negative as they can prevent themselves by using condom, PrEP and PEP, in addition to clean needles."

Apiwat Kwangkaew
Chairperson, Thai National Network of People Living with HIV
---
---
Share this